Ever since the hit TV show "Below Deck" hit the screens, folks have been getting a sneak peek behind the scenes of a crewed yacht charter. Now, while the show might amp up the drama a bit, it offers a decent glimpse into what a luxury yacht vacation is all about.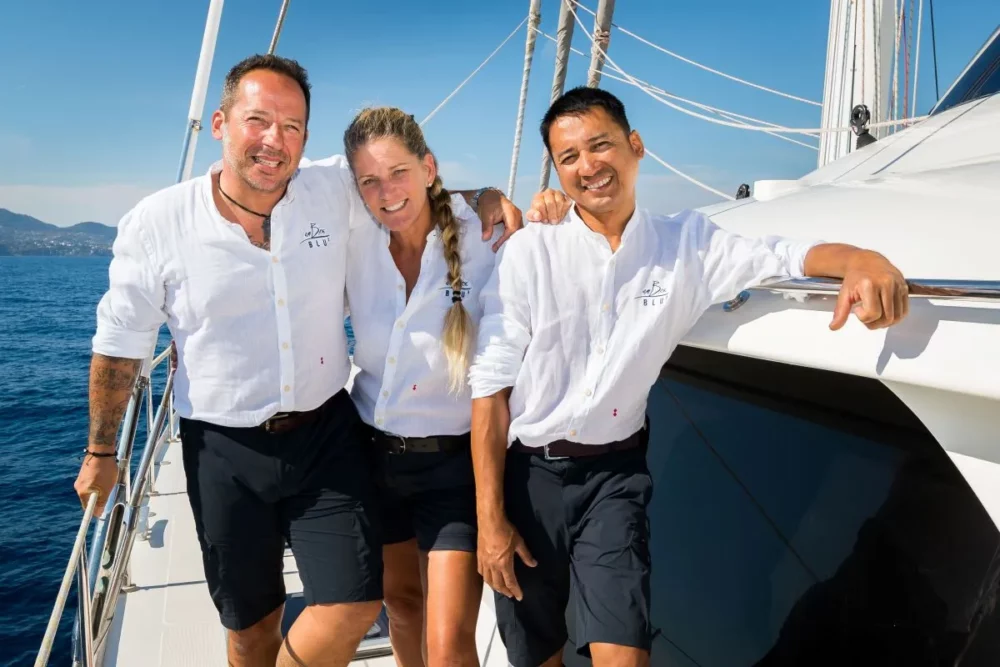 Who are the People Behind a Crewed Yacht Charter?
If you're planning a luxury crewed yacht charter, you may wonder who will take care of you during your trip. The main crew are a Captain and Chef. However, larger yachts have more crew members to serve you.
Captain. The leader of the crew and expert navigator ensures your safety and takes you to the most beautiful destinations.
Chef. Master of culinary delights, who will create gourmet meals tailored to your preferences.
The Steward and or Stewardess. Your concierge is onboard, taking care of all your needs and ensuring your comfort.
Deckhands. Keep everything shipshape, making sure the yacht is in top condition.
The Engineer. This person keeps the engine and all systems running smoothly, ensuring a smooth sailing experience.
These dedicated professionals are the backbone of your luxury crewed yacht charter. They provide impeccable service and ensure you get what you need. Whether on an all-inclusive charter or a honeymoon-crewed yacht charter, the crew is there to enhance your experience.
The Captain – Leader of the Crewed Yacht Charter
On a luxury crewed yacht charter, the captain is the one who takes the helm and leads the crew. They are responsible for navigating the yacht safely and playing a crucial role in creating the ultimate charter experience.
With their expert knowledge of the seas, they know all the best destinations. They can even take you to breathtaking spots, leaving you in awe. The captain also ensures your safety, comfort, and enjoyment throughout the trip. Trust their expertise and let them guide you to unique, off-the-beaten-path destinations.
Chef – Master of Culinary Delights
The chef on a luxury crewed yacht charter is truly a master of culinary delights. With their skill and creativity, they take dining to a new level. Whether on an all-inclusive charter or a honeymoon crewed yacht charter, the chef will cater to your every culinary desire.
They will also create gourmet meals tailored to your preferences, using only the freshest ingredients and showcasing their culinary expertise.
Furthermore, each meal, from breakfast to dinner, will be a memorable experience. You may even discover that the meals onboard surpass those of fine restaurants.
Steward or Stewardess – Your Concierge Onboard
The steward or Stewardess on a luxury crewed yacht charter is like your personal concierge onboard. They are there to ensure your comfort and care for your needs. They provide an immaculate cabin for and arrange activities and excursions that are equally enjoyable. In other words, they are extremely dedicated to making your experience unforgettable.
Need a cocktail by the pool? The steward/ess will have it ready for you. Forgot your sunscreen? They'll make sure you have it.
They are there to anticipate your every need and provide impeccable service throughout your charter. Relax, and let the steward/ess take care of you on your luxury crewed yacht charter.
Deckhands – Keeping Everything Shipshape
Deckhands are the unsung heroes of a luxury yacht charter. Although they may not be in the spotlight like the captain or chef, they still play a crucial role. They keep everything running smoothly behind the scenes. These hardworking individuals are responsible for maintaining the yacht's cleanliness and ensuring all equipment is in top condition.
Deckhands work tirelessly to ensure that every aspect of your charter experience is perfect. Overall, they do the most crucial aspect of your comfortable stay, from scrubbing the decks to polishing the silverware.
In addition, their attention to detail and dedication to their craft ensure you can relax. Indeed, you'll enjoy your time onboard without worrying about anything.
Engineer – Keeping the Engine Running Smoothly
The engineer on a luxury crewed yacht charter is the professional who keeps everything running smoothly behind the scenes. While you may not interact with them as much, their role is essential to the success of your charter experience.
They are responsible for consistently maintaining and troubleshooting the yacht's engine and all its mechanical systems so you can have a smooth sailing experience.
Moreover, the engineer's expertise keeps the yacht in top condition. Regular maintenance and emergency repairs provide safety and comfort throughout your trip.
How a Crewed Yacht Charter Benefits the Guest
The crew on a luxury yacht charter provides an exceptional experience for the charter guest. The crew is there to take care of you and make your time on board truly special. Whether you're on an all-inclusive charter or a honeymoon yacht charter, you'll definitely have a great vacation.
Tips for Working with the Crew
Meanwhile, remember a few tips if you are working with the crew. Remember these pointers for a great relationship with the crew and a smooth sailing vacation that benefits everyone.
Firstly, communication is key. Make sure to communicate your preferences, needs, and any special requests. The crew will gladly accommodate your requests and cater to your every need. This lets you have a comfortable stay.
Additionally, showing appreciation for their hard work and dedication is essential. A simple thank you or compliment can go a long way.
Lastly, be respectful of the crew's boundaries and privacy. These dedicated individuals work tirelessly to ensure your sailing experience is seamless and enjoyable. Acknowledging their personal space contributes significantly to fostering a positive and harmonious environment on board.
As for gratuities, follow the guidelines suggested by your yacht broker. They will have up-to-date information about each yacht and crew.
Following these tips will consistently ensure a smooth and enjoyable experience with your luxury yacht charter crew.
Please call us today at 1 (321) 777-1707 or describe Your Vacation Vision to help you plan your fully-crewed private luxury yachting vacation! Inquire as soon as possible about your custom, crewed yacht charter.
You make the memories. We make the arrangements.