5 Grenadines Yacht Charters available for Summer 2015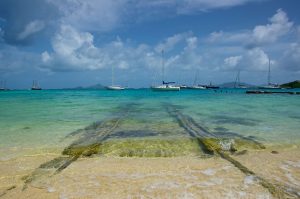 St. Vincent & the Grenadines
St. Vincent & the Grenadines is a nation of 32 islands located in the Lesser Antilles between St. Lucia and Grenada. The largest and northernmost island is St. Vincent which has a forest-covered mountainous interior that is dominated by La Soufriere, a 4,000ft tall active volcano. On the south-west coast is Kingstown, the nation's capital.
The remaining Grenadines lie to the south of St. Vincent. The largest and most populated are Bequia, Mustique, Canouan, and Union Island. Young Island is a small private island right off the coast of Kingstown, St. Vincent. Smaller inhabited islands include Mayreau, Palm Island, and Petit St. Vincent. The Tobago Cays is a marine park located to the east of Mayreau and is a collection of five tiny islands, sheltered lagoons, and coral reefs…8 Must-See Islands in the Grenadines
Caribbean's Top Dive & Snorkel Destination
St. Vincent & The Grenadines is considered one of the top dive spots in the Caribbean by Sport Diver's Magazine. Magnificent shallow-water reefs, full of color and life, are perfect for snorkelers, esp in the Tobago Cays. The islands in the Grenadines are a dream for scuba divers, whatever your level of experience. From easy shallow reef dives to drift dives, wreck dives, and even cave dives.
The Grenadines offer a great variety of underwater habitats: walls, rock formations, coral reefs, sandy slopes and beds of seagrass – each attracting its own unique form of life and each welcoming you to explore… Scuba Yacht Charter Vacation
List of Grenadines Yacht Charters available this SUMMER
The following yachts will be available in the GRENADINES this summer:
BLUE PASSION – available JULY 22 thru SEPT 14
60ft Sailing yacht
Sleeps 8 Guests in 4 Double(s), 1 Twin(s)
Online brochure and Rates http://www.cyabrochure.com/ebn/268/pboX/2826/1
Provides on-board Scuba equipment and instruction
PARADISE – available JUNE 17 thru mid-OCT
62ft Sailing yacht
Sleeps 4 Guests in 2 Queen(s), 1 Single(s)
IMAGINATION – avail. JUNE as Capt. Only & avail. July 19 thru AUG 3 fully-crewed
46ft Catamaran sailing yacht
Sleeps 6 Guests in 1 Queen(s), 2 Double(s)
Provides on-board Scuba equipment and instruction
FOXY LADY – available JULY 10 thru SEPT 4
62ft Catamaran sailing yacht
Sleeps 8 Guests in 4 Queen(s)
LONDON SKY – available AUG 17 thru AUG 31
62ft Catamaran sailing yacht
Sleeps 8 Guests in 4 Queen(s)
Provides on-board Scuba equipment and instruction
Luxury Yacht Charters, a division of CKIM Group, will help you plan your luxury yacht charter vacation from start to finish.
CONTACT US at (321) 777-1707
You make the memories. We make the arrangements.