Croatia in the Adriatic Sea is the Mediterranean as it once was." Over the past decade, Croatia has become a trendy sailing area in the Mediterranean. Croatia catamaran charters are also growing in popularity. More crewed catamarans are available for charters throughout Croatia.
While there are many to choose from, we've highlighted a few catamarans currently sailing in Croatia that we're sure you'll like.
Catamarans like these are perfect for sailing the Mediterranean's shallow coves and reaching off-shore islands such as those in Croatia's Dalmatia. They typically carry any desired water sports equipment and gear for nearly any adventure.
In addition, these Croatia Catamaran Charters have plenty of luxurious deck space for spending quality time together soaking up the sun or enjoying gourmet meals.
Types of Crewed Catamarans
Sunreef sailing catamarans range from the 102-foot Ipharra and the 80-foot Bundalong to the 60-foot Vulpino.
The latest Lagoon Catamarans like Adriatic Dragon the Lagoon 77. And many Lagoon 62s. In addition to Lagoon 56s, 51s, and 50s. And a few smaller boats.
Fountaine Pajot's Lisa of the Sea, a 2020 67-foot Fountaine Pajot.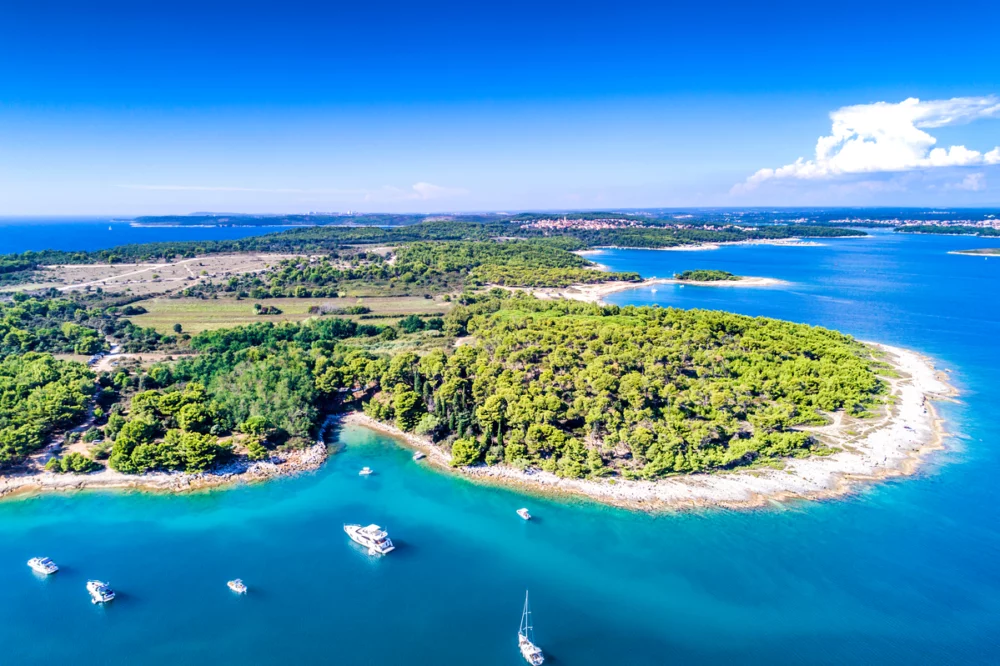 Croatia Catamaran Charters – A Perfect Yachting Destination
Croatia Catamaran Charters are the perfect way to experience the beautiful Croatian coastline and its stunning islands. From the iconic city of Dubrovnik to the charming island of Hvar, Croatia is a paradise for yachting enthusiasts. In fact, Croatia has become one of the most sought-after destinations for yacht charters in the Mediterranean, with hundreds of small islands, sheltered bays, stunning scenery, and crystal-clear waters.
The country's mild climate and gentle sea breezes make for an ideal sailing environment, with longer sailing seasons than other countries. Enjoy admiring ancient, walled cities and monuments, discovering hidden coves, exploring the nightlife, and relaxing on the beach.
Bespoke Marinas
For those looking for a truly luxurious experience, Croatia is home to some of the most exclusive marinas in the Mediterranean. From Dubrovnik to Zadar, many high-end marinas have luxurious facilities and amenities. These marinas offer everything from private moorings to luxury spa treatments and gourmet restaurants.
A few of the marinas are:
Marina Punat, Krk Island
D-Marin Mandalina, Sibenik
Marina Kornati, Biograd
What is There to See and Do in Croatia?
Croatia has everything from its stunning crystal-clear waters to breathtaking sunsets. You can explore a range of cultural experiences, including ancient churches, charming fishing villages, and charming towns.
Island hop. You can explore some of the world's most beautiful islands on a luxury catamaran charter in Croatia. Island-hop through the Dalmatian Coast and visit sites such as Hvar, Korčula, and Vis. There are also plenty of smaller islands with secluded beaches that make for perfect swimming and snorkeling spots.
Adventure. If you're looking for adventure, then Croatia is the ideal place. Go jet skiing, scuba diving, fishing, or kayaking. Go on a day trip to Plitvice Lakes National Park for spectacular views of cascading waterfalls and lush forests.
Nightlife. There are plenty of nightlife options in the evening, with lively bars, clubs, and live music venues.
Some Popular Islands to Visit
All of the islands in Croatia are gorgeous. However, there are a few that stand out.
Brac should be on your list.
This small island is home to picturesque villages, incredible beaches, and secluded coves. It's a great place to relax, soak up the sun, hike, or explore the island's lush greenery. While you're there, check out the impressive 15th-century Fortina fortress.
Another great island to visit is Hvar.
This popular tourist destination offers stunning beaches, luxurious resorts, and vibrant nightlife. If you're looking for some culture, head to Stari Grad, where you can find ancient Greek and Roman ruins. You'll find plenty of wineries and restaurants perfect for a romantic dinner or special occasion.
Vis Island is stunning.
Next, visit Vis Island, known for its olive oil production and stunning views of the Adriatic Sea. Tour the many vineyards here and visit the Blue Grotto, a breathtaking underwater cave near Komiza. The nearby Biševo Island is also worth exploring, with its rugged cliffs and beautiful bays.
Don't miss Dubrovnik!
A must-see on your Croatia catamaran charter should be the stunning city of Dubrovnik. Here you can explore cobbled streets, ancient monuments, and beautiful beaches. Visit the nearby Elaphiti Islands, which include Sipan, Lopud, and Kolocep Islands. On these charming isles, you can find tranquil bays, lush forests, and the ruins of old stone villages.
No matter what type of vacation you are looking for, Croatia catamaran charters have something to offer everyone. With its stunning coastline, vast array of islands, and amazing culture, it's no wonder why this country is one of the best yachting destinations in the world.
Sailing Areas in Croatia for Croatia Catamaran Charters
Croatia's most famous islands (Korčula, Hvar, and Brac) are between Split and Dubrovnik. Here are the major sailing areas in Croatia:
Split Sailing Area
Split is the second biggest city in Croatia and is the biggest city on the Adriatic coast. Its ancient sights, sandy beaches, and rich nightlife make this a superb sailing location.
Dubrovnik Sailing Area
Dubrovnik is an ancient walled city and one of Croatia's most preferred tourist destinations. Situated on the southern Adriatic Sea coast, it is a very picturesque city called the "Pearl of the Adriatic."
Zadar Sailing Area
The city of Zadar is in the Dalmatian coast region. It is a small city with just over 75,000 people, as per the 2011 population census. What the city lacks in size, it makes up for in beauty and history.
Sibenik Sailing Area
Croats around the ninth century established this fortified town by the sea. Šibenik has 242 islands, islets, and above-sea reefs. The most numerous group of islands is the wonderful Kornati.
Kvarner Sailing Area
Located between the northern Croatian Littoral mainland and the Istrian peninsula, Kvarner Gulf, also known as Kvarner Bay, is a bay in the northern Adriatic Sea. The bay is a part of Croatia's internal waters.
Istria Sailing Area
Istria, the land of rolling hills and fertile plains, is the largest peninsula in the Adriatic Sea, located at the head of the Adriatic between the Kvarner Gulf and the Gulf of Trieste.
What Is Good About a Catamaran Vacation?
Catamarans are the perfect choice for a yachting vacation in Croatia, offering many features that make them ideal for exploring this fantastic destination.
One of the best things about catamaran vacations in Croatia is that they offer plenty of space and comfort. They also feature many luxurious amenities like cabins, lounges, galleys, and showers, so you can have all the comforts of home while on the open seas.
Catamarans are also incredibly stable on open water, making them great for people who may feel uneasy on smaller vessels. The wide beam of catamarans offers superior stability and smooth sailing, which makes for an enjoyable cruising experience for everyone on board.
Furthermore, many catamarans are equipped with powerful engines that enable them to cover more ground in less time. This is great for those looking to explore the many islands that dot Croatia's coastline, allowing you to visit multiple spots in a single day.
Croatia Sailing Itineraries
We would love to help you create a personalized Croatia sailing itinerary. Click here and here for a few examples. We will work closely with you and your group to craft an itinerary based on your interests and desires. All itineraries are subject to change depending on the weather conditions during your trip.
Please call us today at 1 (321) 777-1707 or describe Your Vacation Vision to help you plan your fully-crewed private luxury yachting vacation! Inquire as soon as possible about your custom, crewed yacht charter.
You make the memories. We make the arrangements.