On Croatia group ship charters, families and groups of friends can join mini-cruises around the pine-scented Dalmatian islands on the turquoise Adriatic. Departing from either Split or Dubrovnik, these luxurious modern boats take up to 36 guests. We visited several boats to find out more.
Adriatic Sun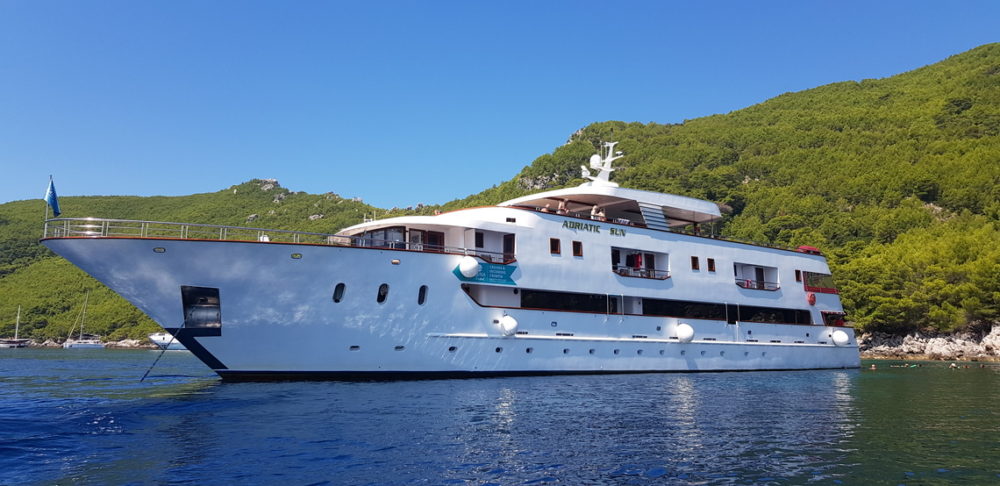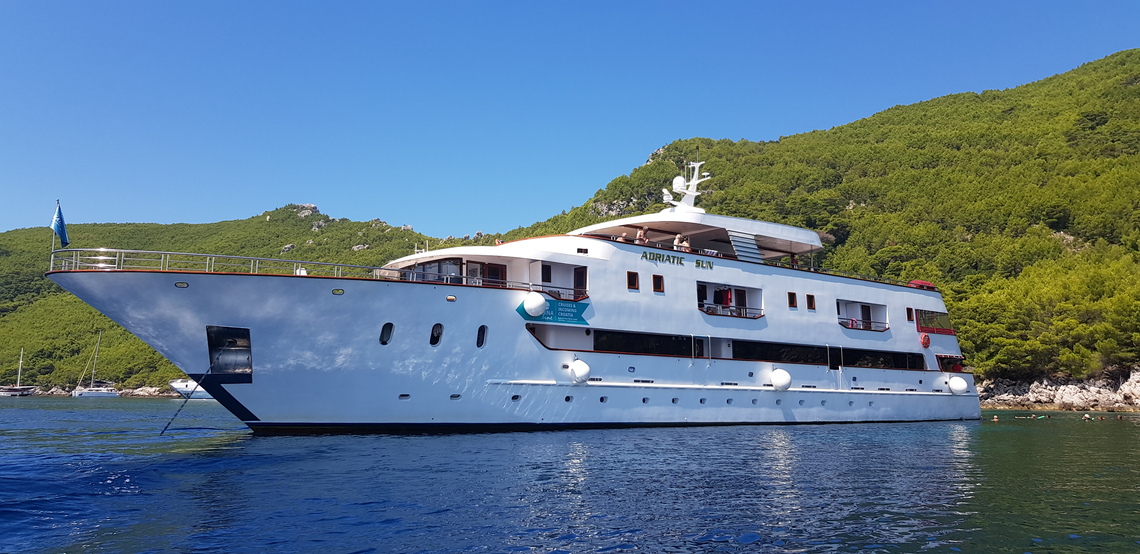 In the sunny seaside village of Krilo Jesenice, just outside Split, local families have worked in shipping for generations. Historically, they captained salbunjeri (boats for transporting sand). Nowadays, the village has some 180 modern vessels, offering Croatia group ship charters. Owner-captain Nikola Vuković welcomes us aboard Adriatic Sun, which first sailed in 2018. It has 18 cabins, accommodating 36 guests on one-week trips from Split.
Comfortable cabins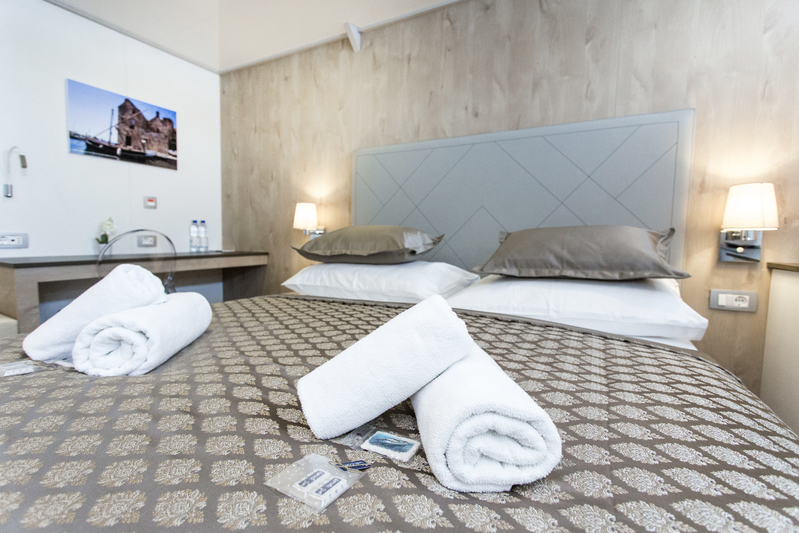 Cabins have either one double bed or two singles, wooden floors, TV, safe, air-conditioning (which you can regulate), and an en-suite bathroom with a glass-sided shower. Each of the upper cabins has a private sea-view balcony with a table and two chairs. Lower cabins have oval porthole windows, but no balcony.
Activities on the islands
"The boat runs on a motor and can reach 13-14 knots (15-16 mph), though generally, we cruise a little slower", says Mr. Vuković. After breakfast, boats often stop in a bay for a morning swim, before proceeding to that day's destination. "Different ports offer different activities – cycling, hiking, sea-kayaking, scuba-diving or wind-surfing. Some guests want a leisurely vacation, others are more active". On the stern, there's a swimming platform, with drop-down ladders for access into the sea. Upon the spacious Sun Deck, you have a Jacuzzi and sunbeds.
We ask Mr. Vuković which port he likes best. "There isn't one, that's like asking a father of seven children which is his favorite", he replies. "Younger guests normally say Hvar, older guests prefer Trstenik (on Pelješac, home to Croatia's top vineyards) because it's small and peaceful."
Dining aboard
Guests have breakfast and lunch on the boat, in the light and airy salon, at round tables, seating eight. "Vegetarians and vegans, we can cater to everyone, if they tell us their requirements in advance", says Mr. Vuković. "We're in a different port every evening, so guests like to dine out, and we recommend several good restaurants". Mini-cruises conclude with a Captain's Dinner, so guests can enjoy their last evening together, with live music and a special menu.
Aquamarin
Next, we meet Ivo Mladin, owner-captain of Aquamarin, a similar but slightly older boat. He shows us the cabins, much the same as those on Adriatic Sun, though here cushions and paintings are in shades of blue and turquoise, to reflect the boat's name. "In some cabins, it's possible to add a third small bed for a child", Mr. Mladin explains. "Generally guests like Hvar best, because it's the liveliest port", he says, adding with a smile, "But they like everything – we have lots of return guests."
Aurelia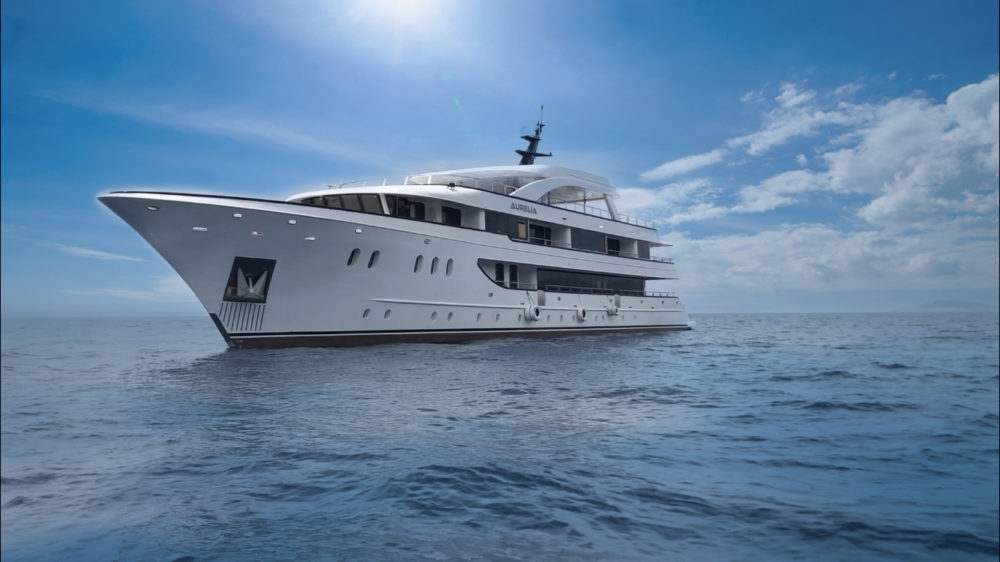 Finally, we see Aurelia, owned by Zoran Jeran, the newest and most luxurious boat offering Croatia group ship charters. Like the others, she has 18 cabins for 36 guests. She will sail for the first time in 2021.
The salon is indeed impressive, with wood-and-marble inlayed floors, white leather sofas, and big round wood-and-marble dining tables, lit by glass-ball pendant lamps. The cabins too feature white leather upholstery, and their bathrooms have massage showers and elegant white oval hand basins.
On the stern, there's a white-and-grey mosaic-tiled plunge pool, and on the Sun Deck, a Jacuzzi and open-air bar. Up here, it's easy to imagine sipping sunset cocktails on a balmy summer evening, before disembarking for a candle-lit dinner on one of the glorious Dalmatian islands. Which is your favorite port, is for you to decide.
Please call us today at 1 (321) 777-1707 or describe Your Vacation Vision to help you plan your fully-crewed private luxury yachting vacation! Inquire as soon as possible about your custom, crewed yacht charter.
You make the memories. We make the arrangements.