Located in the northeastern Aegean Sea, the beautiful island of Lesbos sits in the heart of the Greek islands and boasts stunning beaches, sunny skies, and abundant untouched natural beauty. Lesbos has something to offer every type of traveler, whether you prefer exploring the streets of an ancient city or enjoying white sand beaches. Make plans now to explore Lesbos Greece, on a private luxury yacht charter.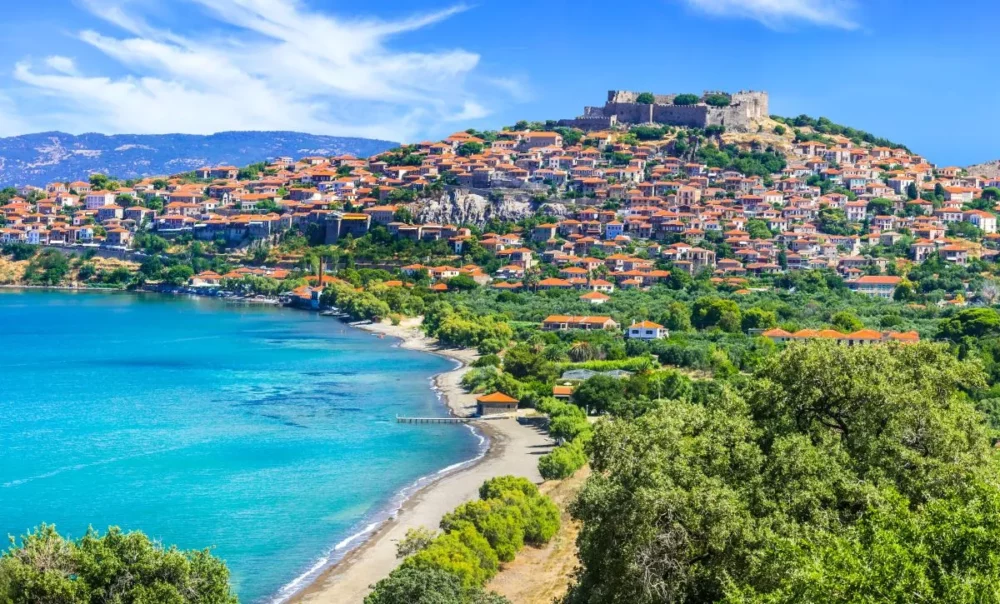 About Lesbos Greece
Lesbos may be known for being famous as a mythological home to Sappho, a lyric poet. In mythology, Lesbos was also said to be one of Circe's islands, and it was here that Odysseus stopped after leaving Troy on his way home to Ithaca.
Arriving by boat in Lesbos, you will first notice Mytilene town. Many shops, cafes, bars, and restaurants make the town lively from early morning until late at night.
With its olive groves and mountains, the island of Lesbos is a spectacular place to visit. This Greek island is home to many beautiful villages, such as Molyvos, a traditional village perched on the slopes of a hill. You will have an incredible panoramic view of the Aegean Sea from here. An imposing medieval castle, originally built to protect the village from invaders, dominates the skyline. It is a fantastic place to take photos for your Instagram page!
Things to Explore in Lesbos, Greece
You can enjoy many activities, including snorkeling, scuba diving, and sightseeing. Savor drinks at sunset and visit quaint villages like Plomari while cruising along Lesbos' shores. As previously mentioned, Mytilene town is also a lovely village to see. Many shops, cafes, bars, and restaurants make this town lively from early morning until late at night.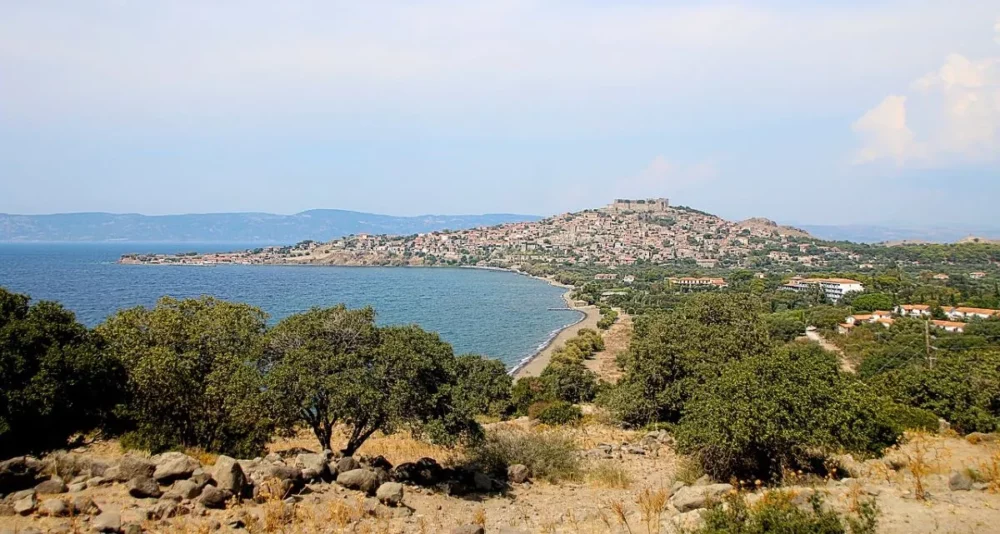 Families looking for fun can hike to secluded bays and caves, go snorkeling, or scuba dive to see sunken ships' marine life and ruins.
Lesbos Greece, is also an ideal destination for couples looking for an island getaway. There are many activities that are intimate such as private massages, thermal spas, dining, and simply relaxing on your yacht.
Helpful Apps and Links for Greek Travels
Getting around foreign countries can be difficult when you don't speak the language. That's why we recommend downloading Google Translate and a free VPN before you travel. It's also important to know that mobile data isn't as readily available or affordable in other countries. So, if you plan to use your smartphone for browsing and information, research which carriers will work with your phone while you're away from home.
The Visit Greece app for iOS is an excellent resource for general travel information. Remember that some free online resources aren't available in every country, so it's helpful to bookmark some websites before your trip.
Dining in Lesbos
You'll have an amazing time in Lesbos Greece, no matter what you do. But if you want to have dinner ashore, there are plenty of dining options, from fine dining to relaxed beachfront grills. Throughout Lesbos Island, you'll find plenty of fine restaurants that serve delicious Greek cuisine. Whether it's seafood or meat dishes with fresh vegetables and herbs grown in island gardens. A Mediterranean-style dinner at one of these locations will be an experience not soon forgotten!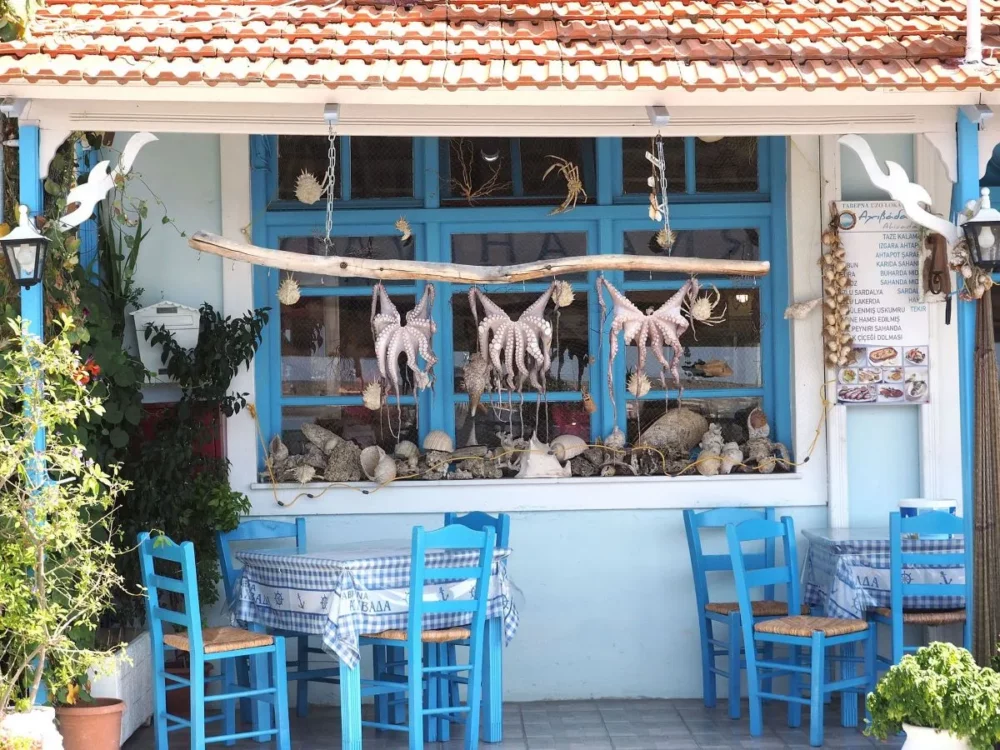 Shopping in Lesbos, Greece
When you're not exploring historic sites or sampling Greek wines and cuisine, spend time shopping on Lesbos. The Greek island is famous for its artisans and pottery makers. Sample local craftsmen's wares at one of many shops and galleries scattered across town. You can also find artisan items that are handcrafted from pithos clay, which is nearly 3,000 years old!
Museums
The island's modern art museum houses temporary exhibitions and permanent collections. Most notably, there are works by artists such as Picasso and Chagall. Immerse yourself in the masterpieces—from sculptures to paintings to prints—and learn about famous Greek artists.
The New Archaeological Museum of Mytilini has a collection dedicated to Hellenistic and Roman Lesvos when the island flourished. Exhibits include mosaic floors, frescoes, and other finds from Roman villas and sculptures.
Visit the World of Ouzo Museum of Isidoros Arvanitis and learn about the history of Ouzo, the national drink of Greece. You will even have the chance to witness the production process.
Explore Lesbos, Greece: Nightlife and Beach Bars
Lesbos is a fantastic place to kick back and enjoy drinks and live music. In fact, the best beach bars line Mytilini's beachfront, and each offers something different. In the port town of Mytilene, BarCode is famous for its great selection of spirits, killer cocktails, and hip ambiance, with jazz, soul, swing, and funky tunes playing until late. The seating area outside in the small alley feels very romantic and intimate, especially at night.
Another great beach bar with an excellent location is Parasol on Skala Eresou Beach. It is open all day until late and serves a variety of coffees, fresh breakfasts, snacks and beverages, and, of course, awesome cocktails.
Please call us today at 1 (321) 777-1707 or describe Your Vacation Vision to help you plan your fully-crewed private luxury yachting vacation! Inquire as soon as possible about your custom, crewed yacht charter.
You make the memories. We make the arrangements.