Traveling now in tropical waters, Exumas-Bahamas Yacht Charters MIDNIGHT-MOON is your own private floating retreat.
The Exumas
The Exumas are an archipelago of 365 cays and islands, beginning 35 miles southeast of Nassau. Once called Yumey and Suma (names of Amer-Indian origin), the islands have changed over the years.
Today, the Exumas encompasses three major areas. The areas are Great Exuma, Little Exuma, and The Exuma Cays.
Each area offers a uniquely Bahamian experience. Great Exuma and Little Exuma have laid-back surroundings. The Exuma Cays are also a playground for the rich and famous, boasting numerous private homes and luxury resorts. The Exumas are also rich in history, as British Loyalists settled them with their slaves following the American Revolution.
The Yacht MIDNIGHT-MOON
MIDNIGHT-MOON, a sleek and modern 85-foot Horizon, is an amazingly comfortable yacht.
Moreover, this luxurious cruising yacht offers the comfort, privacy, amenities, and space one would typically only find on much larger motor yachts without the associated running costs.
The main deck has all the primary living areas, such as the aft deck. It has lounging for 8, a bar, and ample storage lockers. Additionally, the large saloon offers seating for 8, separate inside formal dining for 8, and a gourmet galley.
The flybridge is a fantastic place to gather for afternoon drinks. It has large comfortable dining/lounging for up to 10, a well-equipped bar with seating for 5, a day head, and a separate BBQ area.
MIDNIGHT-MOON Accommodations
MIDNIGHT MOON accommodates 8 guests in 4 spacious staterooms. Relax in bespoke comfort in the main-deck master king-size suite, or get comfortable in one of 3 additional queen-size suites. Note that one queen-size bed can be separated into two twin beds.
Exumas Yacht Charters MIDNIGHT-MOON | Water Toys
As for water fun, MIDNIGHT-MOON offers a nice variety of toys from which to choose, such as:
30-foot center console Scout tender and 15-foot RIB (for towing)
Towable tube
Floating mats
SUP (2)
Fishing gear
Snorkel gear
Wakeboard
Sea Bobs
Beach games
Crew
MIDNIGHT-MOON's crew will immediately help you feel relaxed and welcomed in your luxurious floating home. The Crew will intrigue and entertain you with their great sense of humor, excellent hosting skills, and passionate love for life as they take you on an adventure of a lifetime.
Captain Eddie grew up boating with his family on the Long Island Sound and lakes throughout western Connecticut. He began sailing in the Narragansett Bay and Rhode Island Sound out of Newport after moving to Rhode Island. After delivering boats from Rhode Island to Florida and the British Virgin Islands, he turned his passion for the sea into a lifestyle.
Chef Danielle learned to cook by following her Italian Grandmother and Chef mother around the kitchen. From there, she continued to learn from hands-on training with chefs in many restaurants in New England and Florida. She loves to create new twists on classic dishes using fresh and local ingredients.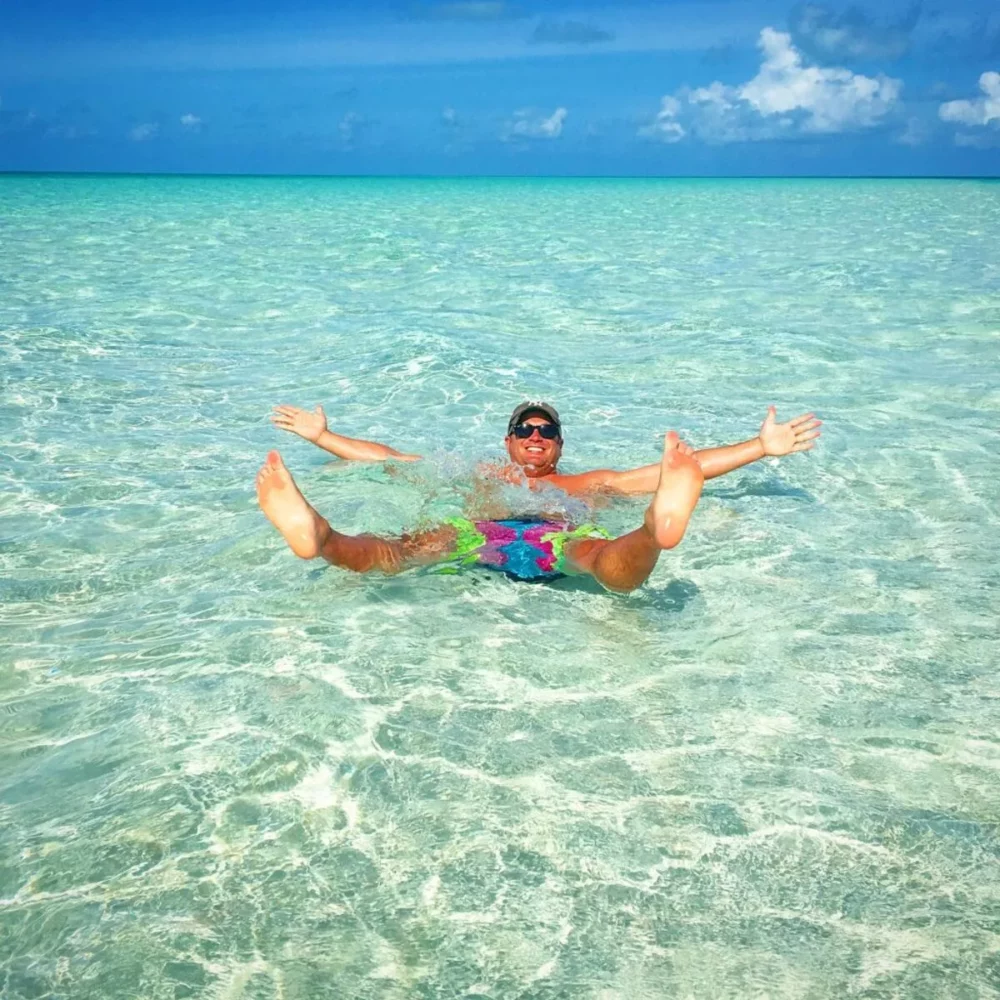 Exumas Yacht Charters MIDNIGHT-MOON | Sample Itinerary
Here is one sample itinerary for a vacation aboard MIDNIGHT-MOON.
Day 1: Depart Nassau – Norman Cay (38 NM)
Leaving Nassau behind, head southeast towards Norman Cay. Once a drug smuggler's headquarters, it offers a chance to snorkel the wreck of the notorious drug dealer's airplane. Explore the crystal-clear waters and unwind on the pristine beaches. Kite surfers will find the conditions perfect here.
Day 2: Norman Cay – Warderick Wells (21 NM)
The next destination is Warderick Wells, located in the Exuma Cays Land and Sea Park. This protected area is renowned for its untouched beauty and exceptional anchorages. Immerse yourself in the stunning marine environment as you hike the Boo Boo Hill trail or relax while viewing a massive sperm whale skeleton. Don't miss the opportunity to swim with magnificent spotted eagle rays in the surrounding reef.
Day 3: Warderick Wells – Compass Cay – Staniel Cay (8 NM, 5 NM)
En route to Staniel Cay, stop at Compass Cay, a place known for its crystal-clear waters that make boats appear to float in mid-air. Enjoy the extraordinary beauty of this spot. Spotting nurse sharks and unwinding on white sandy banks is a must-do here.
In the afternoon, continue to Staniel Cay, where you can dine out and savor the delightful blend of Bahamian and Continental cuisine at the Staniel Cay Yacht Club Restaurant.
Day 4: Staniel Cay
Staniel Cay offers a wealth of exploration opportunities. Discover crystal-clear waters, pristine reefs, deserted islands, and white-sand beaches. Visit the iconic Thunderball Grotto, featured in the James Bond movie "Thunderball." And, of course, spend some time with the famous swimming pigs. Staniel Cay Yacht Club provides options to rent golf cars and explore the island.
Day 5: Staniel Cay – Bell Cay – Hawksbill Cay (15 NM, 8 NM)
As you sail towards Hawksbill Cay, pass by Bell Cay, where you can snorkel at an amazing reef called "The Aquarium." The vibrant marine life will leave you in awe. Hawksbill Cay is an uninhabited island with soft sand beaches, picturesque harbors, and enchanting bays. Explore the untouched beauty and soak in the tranquility.
Day 6: Hawksbill Cay – Highbourne Cay (17 NM)
Highbourne Cay is a hidden gem with eight pristine beaches waiting to be discovered. Rent a golf car to explore the island or indulge in a memorable dining experience at one of the finest restaurants in the Exumas. Relax on the deserted pieces of paradise or stroll along the sandy shores as you bask in the island's natural splendor.
Day 7: Highbourne Cay – Rose Island (33 NM)
Set sail for Rose Island on your final day, just three miles before Nassau. Delight in a day of snorkeling, exploring the vibrant underwater world. Witness an unforgettable sunset with the iconic Atlantis Hotel on the horizon, creating a picture-perfect moment to conclude your journey.
Day 8: Rose Island – Nassau (3 NM)
Sail back to Nassau.
Please note that all itineraries are subject to weather conditions, and routes are flexible to ensure safety.
The Islands are calling you! Answer today and reserve your vacation aboard MIDNIGHT-MOON.
Please call us today at 1 (321) 777-1707 or describe Your Vacation Vision to help you plan your fully-crewed private luxury yachting vacation! Inquire as soon as possible about your custom, crewed yacht charter.
You make the memories. We make the arrangements.