Let Motor Yacht Grande Amore become the "great love" of your life — a love you will want to return to again and again. You will be in love the first time you see this gorgeous yacht. From bow to stern, every inch of Grande Amore's 145-foot length will delight you and up to eleven of your friends and family. So, pack your bags for a Grande Amore Greece charter.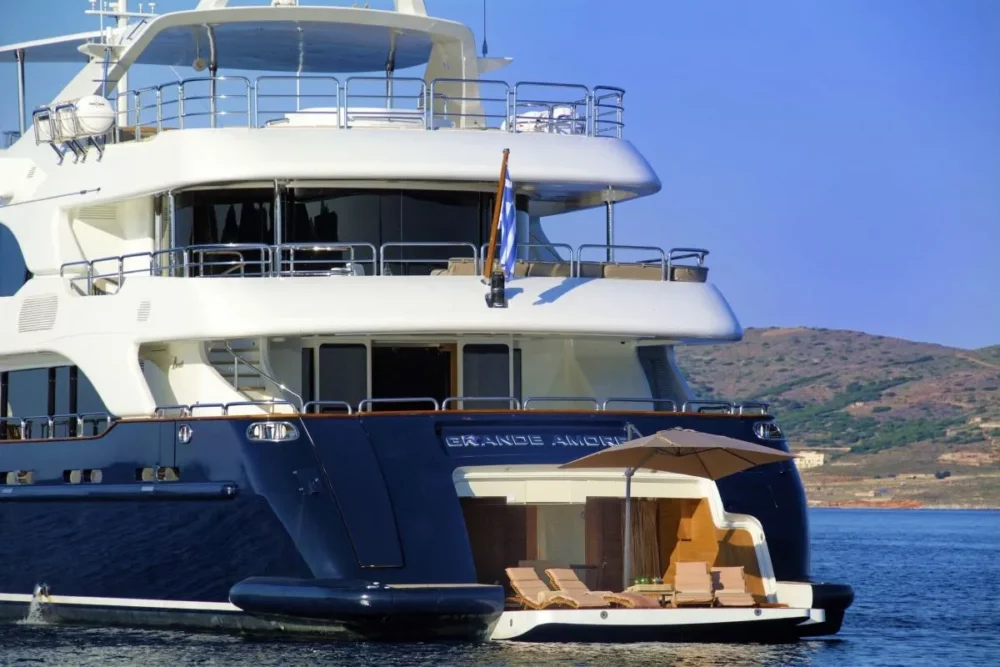 The interior showcases contemporary decor, while full-height sliding doors on the main and upper decks create an airy interior atmosphere. Moreover, an elevator connecting all three decks ensures that Grande Amore is fully wheelchair accessible.
Outside, a beach club adds a private space for relaxing and soaking up the sun.
Two Full-Beam Master Suites
Six well-appointed staterooms provide luxurious comfort. Most impressive, there are two master staterooms. In addition, there are two double staterooms and two twin cabins. All staterooms feature en-suite bathrooms, showers, audio/visual equipment, and safe boxes.
The first full-beam master suite is forward on the main deck. This impressive suite receives plenty of natural light from large circular panoramic windows. This suite also features:
An ultra-king-sized bed (195 cm width x 200 cm length)
Stunning 270-degree views. See the Greek Islands in the comfort of your suite!
The master suite with a door can separate from an adjacent office room. The office has an individual sound system, a TV, a large window, a library, and ample storage space. It also has a laptop computer, a printer, and a mini-fridge.
State-of-the-art audiovisual equipment
A large wardrobe area with a sofa behind the bed
A large circular desk with ample storage space and two chairs.
Access to a private terrace
"Hers" & "His" ensuite bathrooms. 'Her' bathroom has a shower, and 'His' bathroom has a shower and a wheelchair-accessible Jacuzzi tub.
There's another impressive full-beam master suite on the upper deck aft. It is wheelchair accessible and has amenities such as:
An ultra-king-sized bed (205 cm width x 200 cm length)
Certainly, one of the most impressive features of Grande Amore: A stunning spacious sky lounge with large panoramic circular glass doors offering fantastic 270-degree views.
Dumbwaiter (mini elevator) with connection to the Galley for easy and fast service
A comfortable armchair
Wardrobe and ample storage space
A minibar/fridge
Soundsystem and television
A large ensuite bathroom with a shower
Water Toys to Play All Day
Since the waters around the Greek Islands are warm nearly year-round, take advantage of a host of new water toys! Your yacht charter includes the following:
Three-person and two-person Jetski Seadoos.
Floating island
2 Seabobs
1 Jet Surf
2 SUP inflatables
1 Sofa (towable inflatable) 3 persons
1 Banana (3 persons)
Two pairs of water skis, suitable also for Monoski (for adults, beginners, and advanced)
One water ski for kids
Two inflatable tubes
One wakeboard
One kneeboard (FREE on request before booking)
Various inflatables (FREE on request before booking)
Snorkeling and fishing gear
In addition to all of the water toys, there's a gym on board with an extensive array of equipment.
Your Professional Crew
The highly trained, nine-member crew is ready to make your Greek Islands Yacht Charter one you will never forget. The Captain loves organizing all kinds of activities onboard and onshore, and the Chef will delight you with his unique cuisine. The other crew is available to provide whatever you need.
GRANDE AMORE Greece Charter | A Day Aboard
Imagine yourself aboard GRANDE AMORE. The sun peeks over the horizon, casting a golden hue across the tranquil waters of the Aegean Sea. A new day begins, where privileged travelers wake up to a symphony of gentle waves and the promise of unparalleled luxury.
As the first rays of sunlight filter through the curtains of the staterooms, guests gently wake from their slumber. Each suite boasts large windows that frame the stunning panorama of the Aegean Sea. The gentle lapping of waves against the yacht's hull is the only reminder that they are on a floating resort vessel.
Breakfast with a View: A Culinary Journey Begins
The scent of freshly brewed coffee wafts through the corridors, guiding guests to the yacht's elegant dining area. A lavish breakfast awaits, artfully arranged with an array of locally sourced fruits, pastries, and artisanal cheeses. While enjoying a leisurely meal, guests marvel at the stunning scenery that unfolds before them.
Exploration and Adventure: Tailoring the Itinerary
After breakfast, guests discuss the activities for the day. Whether wandering the enchanting lanes of a quaint island village, diving into crystalline coves for snorkeling adventures, or exploring ancient ruins, the yacht's attentive crew orchestrates each traveler's desires into tailor-made experiences.
Lunch Al Fresco
The midday sun invites guests to the yacht's outdoor dining area, where a sumptuous lunch awaits. A skilled chef transforms the finest local ingredients into delectable masterpieces celebrating Greek flavors with a modern twist.
From grilled seafood caught that morning to vibrant salads bursting with colors, every dish is a testament to the yacht's commitment to culinary excellence.
After lunch, guests can enjoy various activities such as water sports, sunning on the deck, or indulging in a refreshing nap in the air-conditioned stateroom.
Sunset Soirée: An Evening to Remember
As the day draws to a close, the decks are transformed into a magical setting for an unforgettable sunset soirée. Guests gather to toast with exquisite cocktails handcrafted by the yacht's skilled mixologists. The sun paints the sky with a symphony of colors. Music drifts through the air, adding a touch of elegance to the ambiance.
The evening culminates in a culinary journey that rivals the splendor of the sunset. The yacht's world-class Chef curates a gourmet dinner highlighting the flavors of the Greek Islands.
In addition, courses are paired with carefully selected wines. The dining experience unfolds against the backdrop of the starlit sea. Each bite is a testament to the culinary artistry that defines yacht GRANDE AMORE.
Retreat to Elegance: Embracing the Night
While the stars twinkle above and the gentle sea breeze envelops the yacht, guests retire to their elegantly appointed staterooms. The sound of the sea becomes a lullaby, ensuring a restful night's sleep as they eagerly anticipate the adventures and luxuries that await them on the next day of their journey aboard the Grande Amore.
Guests are treated to a symphony of experiences that transcend ordinary travel. The yacht's impeccable service, exquisite cuisine, and breathtaking surroundings create a tapestry of luxury. Travelers glimpse a world where opulence meets the serene beauty of the Greek Islands.
Reserve Your GRANDE AMORE Greece Charter
Secure your vacation aboard luxury yacht charter GRANDE AMORE. A world of opulence and discovery awaits amidst the Greek Islands' azure expanse. Reserve your charter now for an unforgettable journey of luxury and exploration.
Please call us today at 1 (321) 777-1707 or describe Your Vacation Vision to help you plan your fully-crewed private luxury yachting vacation! Inquire as soon as possible about your custom, crewed yacht charter.
You make the memories. We make the arrangements.