You can experience a Greece-Croatia Charter on M/Y MARLA. Where your dreams of an amazing vacation become a reality, embark on a unique journey filled with opulence, adventure, and discovery as you navigate the beautiful waters of Greece and Croatia. It's time to indulge in the finest comforts, explore enchanting destinations, and create memories that will linger for a lifetime.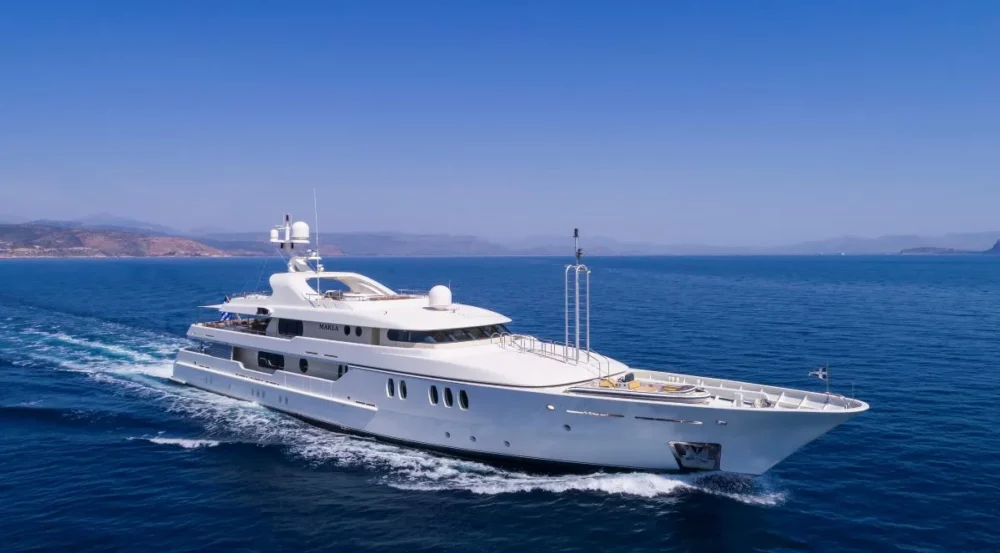 Step Aboard and Embrace Luxury
As you step onto the deck of M/Y MARLA, immerse yourself in a harmonious blend of luxury and comfort. The motor yacht's sleek exterior showcases graceful lines and flawless design, while its interior offers comfortable furnishings and cutting-edge entertainment amenities.
Whether you desire to enjoy cherished moments with family and friends or forge new connections, the Greece-Croatia charter aboard M/Y MARLA promises a voyage that is second to none. As you glide through the breathtaking landscapes of the Greek or Croatian islands, each passing moment offers postcard-worthy views.
Lavish Accommodations
M/Y MARLA accommodates up to 12 guests in distinctive style across six lavish staterooms, including a master suite.
From the opulent master suite to the inviting double and twin cabins, every living space exudes elegance. Each stateroom features its own ensuite bathroom, complete with top-tier amenities that ensure your utmost comfort and convenience.
Meet Your Captain
Captain Manolis Klimataras, a distinguished figure in the luxury yacht industry, will expertly guide your voyage. With his in-depth knowledge of the Mediterranean waters, Captain Klimataras is indeed well-versed in the wonders of this region.
He will expertly guide Greece-Croatia charter M/Y MARLA to secluded bays where nature's splendor takes center stage. He also knows where to find the most secure anchorages, providing a haven of serenity on calm seas.
While Captain Klimataras leads the way, a team of eleven dedicated crew members stands ready to ensure your vacation unfolds seamlessly. During your time aboard, the crew will meet your every need.
Savor Culinary Excellence
Dining aboard M/Y MARLA is certainly a delight. The elegant dining room sets the stage for unforgettable meals. Chef George Kalavros, a culinary virtuoso, crafts a menu that tantalizes your taste buds.
Chef George is well-versed in all cuisines, such as Greek, Italian, and French. He also creates personalized dishes that cater to your dietary preferences; every bite celebrates flavor.
Beyond indulging in exceptional dining experiences, you'll also have the pleasure of savoring distinctive cocktails expertly crafted by your dedicated personal bartender.
Experience Aquatic Thrills
No Mediterranean luxury yacht charter is complete without an array of water toys at your disposal. You'll want to jump in the inviting Mediterranean Sea and enjoy water toys such as:
Two-seater and three-seater jet skis
F5S Seabob for underwater exploration
Nautibuoy Platforms for tender and jet ski docking, ideal for sunbathing
Lift foil for exhilarating aquatic experiences
Dive gear sets for rendezvous diving adventures
Water skis for adrenaline-pumping rides
Wakeboards, windsurf boards, and SUP boards for various watersports
Snorkeling equipment to discover vibrant marine life
Towing donuts, bananas, gyro tubes, and more for thrilling group activities
Gym equipment, including free weights, kettlebells, and pilates balls for fitness enthusiasts
Exploring on a Greece-Croatia M/Y Marla Charter
In addition to the relaxing experience on board M/Y MARLA, you will also discover the hidden treasures that Greece and Croatia offer. From ancient historical sites to breathtaking natural landscapes, your journey will overflow with unforgettable destinations.
Greece: A Mythical Tapestry of Wonders
Santorini: This iconic Greek island is famous for its stunning sunsets, whitewashed buildings, and azure-domed churches. Explore the charming villages of Oia and Fira, relax on pristine beaches, and indulge in local cuisine overlooking the Caldera.
Mykonos: Famous for its vibrant nightlife and cosmopolitan atmosphere, Mykonos offers a blend of picturesque beauty and modern luxury. Wander through the narrow streets of Mykonos Town, relax on the golden beaches, and experience the island's lively energy.
Athens: Immerse yourself in ancient history by visiting the Acropolis, home to the iconic Parthenon. Explore the historic Plaka neighborhood, enjoy traditional Greek cuisine, and discover the city's rich cultural heritage.
Corfu: A lush paradise with Venetian architecture and crystal-clear waters. Explore the Old Town's charming streets, relax on beautiful beaches, and discover the island's rich history.
Croatia: A Coastal Haven of Beauty
Dubrovnik: Dubrovnik's well-preserved city walls and historic architecture transport you to a bygone era. Walk along the city walls, visit Fort Lovrijenac, and enjoy the stunning Adriatic views.
Hvar: An enchanting island with lavender fields, vineyards, and historic charm. Explore Hvar Town's medieval streets, visit the Spanish Fortress, and enjoy the island's vibrant nightlife.
Split: Home to the UNESCO-listed Diocletian's Palace, Split offers a blend of ancient and modern attractions. Wander through the palace's labyrinthine streets, relax on Bacvice Beach, and explore the bustling markets.
Plitvice Lakes National Park: A natural wonderland of cascading lakes and waterfalls. Walk along wooden pathways and bridges to experience the park's unique beauty up close.
Korcula: Often called a mini-Dubrovnik, this island boasts medieval architecture, serene beaches, and a rich maritime history. Explore the charming Old Town and indulge in local wine and cuisine.
Your yacht charter vacation on M/Y MARLA provides the perfect platform to explore these captivating destinations. Let the beauty of these countries unfold before you as you sail through their azure waters and embark on onshore adventures.
Please call us today at 1 (321) 777-1707 or describe Your Vacation Vision to help you plan your fully-crewed private luxury yachting vacation! Inquire as soon as possible about your custom, crewed yacht charter.
You make the memories. We make the arrangements.