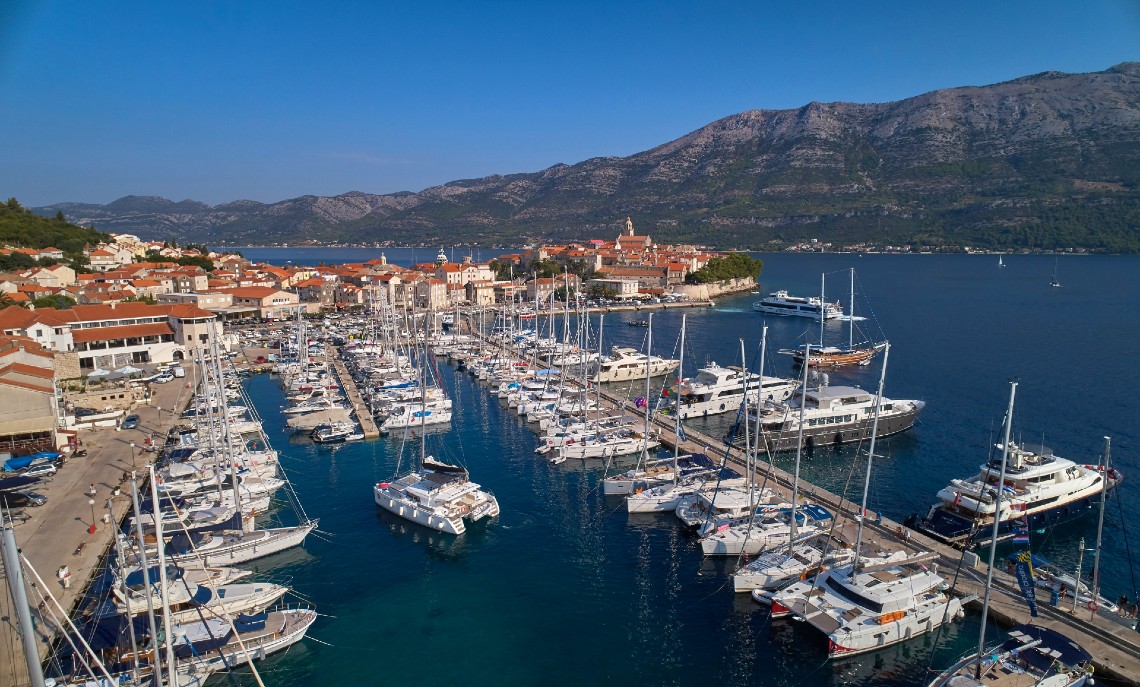 Korcula island, which is part of South Dalmatia, lies approximately halfway between Split and Dubrovnik. Certainly, Korčula is steeped in history, culture, and natural beauty. The main settlement, Korcula Town, sits on a small peninsula protected by medeival fortications – as a result, it is often called "Little Dubrovnik". Korcula's second town, Vela Luka, lies in a deep sheltered bay on the island's west coast.
In addition, Korcula offers excellent white wines. The little-known Grk grape variety hales from Lumbarda. In the same vein, the esteemed Posip grape grows in the vineyards of Cara and Smokvica .
Korula is quite beautiful and has an easily accessible coastline. Moreover, sailing down the windy sea channel between Korcula and Peljesac is especially exciting.
Things to See and Do
Firstly, explore Korcula Old Town. See the town walls, with forts and towers, and the main square, home to the majestic Cathedral. Also visit the Marco Polo House, supposedly the birthplace of the world-renowned explorer.
Secondly, attend an after-dark show of the Moreska, a traditional sword dance, performed on summer evenings in Korcula Town.
Go sea kayaking around Korcula's coastline and surrounding islets with Korcula Outdoor.
Sail over to Badija islet, home to a Franciscan monastery, pebbly beaches, and wild deer.
Try windsurfing in the sea channel between Korcula and Peljesac, where wind conditions are ideal.
Go wine tasting. Visit Bire to sample Grk wine in Lumbarda, and likewise Toreta to try Posip wine in Smokvica.
Feast of Creative Mediterranean dishes at Michelin-starred LD Restaurant in Korcula Town; and also try local homemade specialties at rustic Konoba Maha near Zrnovo.
Finally, if you are in Vela Luka, visit the Vela Spila (Big Cave). It was inhabited in prehistoric times. Archaeological excavations have unearthed early tools, jewellry, fossils and bones. It lies a 20-minute walk from Vela Luka bay.
Marinas and Ports
ACI Marina Korcula. Situated next to the historic center of Korcula Town, this marina has 159 berths. Amenities include an ATM, laundry, bathrooms, free Wi-Fi, a hair salon, grocery store, and restaurant.
Marina Korkyra in Vela Luka opened in summer 2020. It has 135 berths, a bar and restaurants.