Get ready to experience the ultimate luxury aboard Greece catamaran charter BOOM – a Lagoon sailing catamaran yacht making waves in the stunning backdrop of Greece. The renowned Lagoon Catamarans is a world leader in crafting cruising catamarans, and they designed this beauty. So, you're in for a treat with this cutting-edge yacht that redefines comfort and style on the open waters.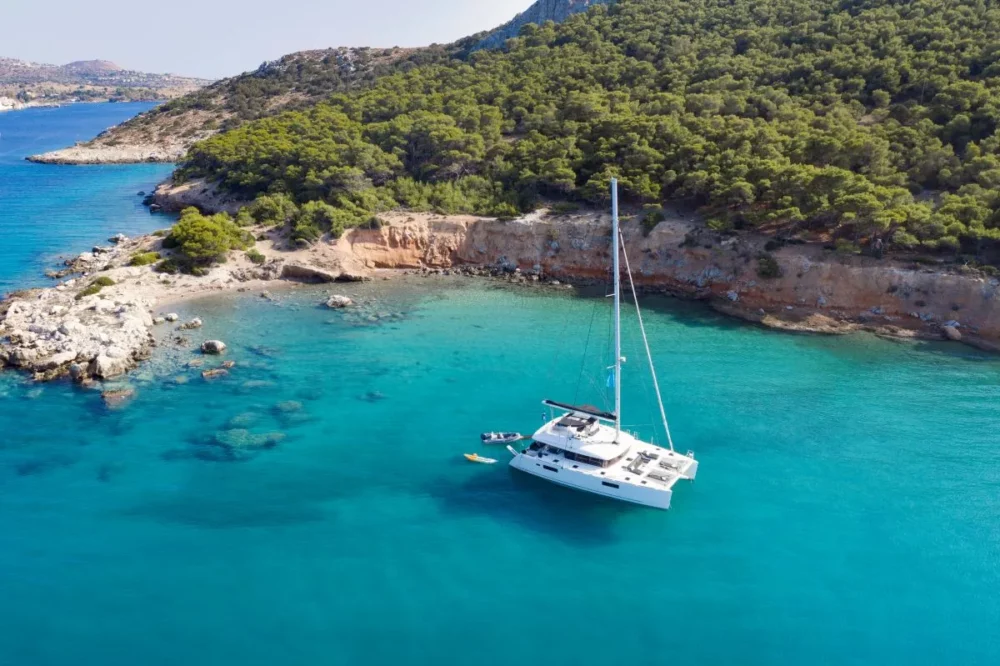 The Yacht | Catamaran Charter BOOM
Picture stepping onto the decks of Greece catamaran charter BOOM and immersing yourself in pure luxury. At 56 feet, BOOM has all the high-tech features and modern comforts that make Lagoon famous. It's not just a yacht; it's an experience that brings together the best of the best.
And, of course, let's not forget the breathtaking Greek islands. BOOM offers plenty of outdoor spaces for you to soak in the stunning scenery. Whether you're chilling on the bow's seating area or taking in the panoramic views from the Flybridge, every spot on this yacht is a front-row seat to the magic of sailing in these enchanting waters.
But Greece catamaran charter BOOM is not just about luxury and water fun. It's also a masterpiece of design, offering indoor and outdoor living spaces. The Flybridge is a gem, offering breathtaking views and a serene spot to unwind. And with a wide array of water toys, you'll never run out of things to do.
Accommodations Aboard Catamaran Charter BOOM
BOOM sleeps 10 guests in four elegant queen-bed cabins and one twin cabin. All cabins have air-conditioning for your comfort. And when it comes to entertainment and connectivity, you're in for a treat. Imagine a curated Video Library, a top-notch Stereo system, TV entertainment, Icemaker, a fax scanner, printer – all connected to WiFi 4G internet for your convenience.
Water Toys
Catamaran Charter BOOM has got you covered if you're an adventure seeker. Get ready for heart-pounding fun with a range of water toys and sports. Glide through the water with Seabobs, test your balance on Stand-Up Paddleboards, explore with kayaks, feel the rush with Water-skiing and wakeboarding, and dive into the underwater wonderland with snorkeling gear. It's a playground of excitement waiting for you.
The Crew
To make your journey even more special, the S/Y BOOM comes with a fantastic crew of three who know how to take care of their guests. With exceptional hospitality skills, they'll make you feel right at home and ensure your trip is nothing short of incredible.
Foodies, you're in for a treat too! There's a professional chef on board whipping up mouthwatering dishes using the finest ingredients. And don't worry, they're flexible with meal planning, so your taste buds are in for a real adventure.
Greece catamaran charter BOOM isn't just a yacht – it's a ticket to extraordinary memories. So, get ready to set sail and let the charm of the Greek islands blend with the magnificence of BOOM for a sailing experience like no other.
The Destination | Greece
Greece offers abundant activities and experiences that cater to every type of traveler.
The captivating beauty of the Cyclades islands, with iconic spots like Santorini and Mykonos, lures sailors with their whitewashed architecture against a backdrop of vibrant sunsets. The tranquil waters of the Ionian Sea offer idyllic stops at Corfu, Paxos, and Lefkada, where emerald-green bays and coves provide a serene haven for relaxation.
Immerse yourself in the rich history by exploring ancient ruins such as the Parthenon in Athens. Stroll through charming villages, where cobblestone streets lead to quaint tavernas serving delectable Greek cuisine.
Greece's cultural heritage is evident in its lively festivals, from traditional music and dance to lively celebrations of local cuisine. Every island boasts its unique charm, offering a diverse tapestry of experiences to explore.
As the sun sets, the magic of Greece continues to unfold. Sip on local wines while gazing at the shimmering reflections on the water's surface. Sunsets in Greece are simply magical.
Whether in a serene cove or at a lively beach party, Greece's experiences beautifully complement the luxurious voyage on S/Y BOOM.
Please call us today at 1 (321) 777-1707 or describe Your Vacation Vision to help you plan your fully-crewed private luxury yachting vacation! Inquire as soon as possible about your custom, crewed yacht charter.
You make the memories. We make the arrangements.