Greece motoryacht Charter HELIOS is a spacious, luxurious power yacht with a dedicated crew ready to serve YOU!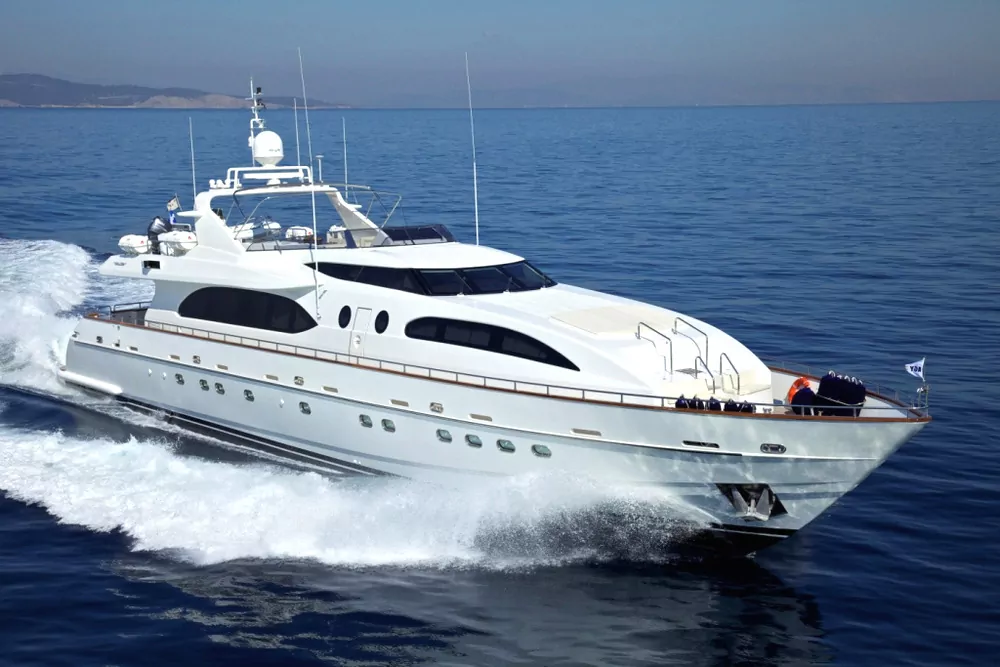 The Yacht
Motoryacht HELIOS (God of the sun) is a spacious and luxurious yacht charter. Moreover, from the motor yacht's master suite to her large decks, and fabulous sundeck, guests enjoy royal service day and night.
From the glowing onyx bar to the spa pool widescreen television, Helios redefines relaxing and entertaining on a superyacht. Her striking design and contemporary styling provide unparalleled accommodations and amenities for up to 12 guests. Air-conditioning throughout keeps everyone comfortable indoors.
The Helios charter experience becomes complete with her talented and professional crew. They will stand by to ensure that your holiday is an unforgettable experience.
Accommodations
Luxury yacht HELIOS offers spacious accommodations for up to 12 guests in 5 cabins, comprising one master, three double cabins, and two twin cabins, all beautifully decorated with light timber paneling and subtle LED lighting. HELIOS is the ideal charter yacht for large families or groups of friends to explore the Mediterranean comfortably.
Water Toys and Tenders
Should you want to take to the water or explore onshore, HELIOS has:
4.6m Novurania tender
waverunner
waterskis
tubes
wakeboard
kayaks
snorkeling gear
Allow the CKIM Charter Brokers to help bring your Greece motoryacht Helios to life!
Here are other available yachts:
Greece Charter Areas
Indulge in an unparalleled voyage as you embark on a luxurious yacht charter in the enchanting Greek Islands. Indeed, this is a realm brimming with some of the most captivating destinations on Earth. Each corner of this sunny paradise has a mesmerizing blend of history, natural beauty, thrilling escapades, and sandy beaches.
The initial burst of color that greets your senses is utterly awe-inspiring. Brilliant white homes adorned with cobalt-blue domed roofs mirroring the surrounding sapphire waters create a captivating harmony. A kaleidoscope of colorful fishing boats along the shores further enhances the coastal allure.
As the golden sun embraces you on the deck, its warmth envelops you in the sense of relaxation and bliss that is second to none. This nautical expedition promises to etch indelible memories into your heart.
Cyclades Islands
The Cyclades unveil a world of breathtaking beaches and quaint villages, where the iconic imagery of whitewashed homes and cerulean-domed churches becomes a reality. Famous islands such as Santorini, Mykonos, and Ios showcase Cycladic beauty, inviting you to experience the best of Greece.
While visiting the Cyclades, be sure to explore ancient Delos and watch the sunset in Santorini.
Ionian Islands
A tapestry of beaches, vibrant traditions, and a rich history graces the Ionian Islands. Corfu's lush landscapes, Lefkada's pristine shores, Kefalonia's wild beauty, and Zante's picturesque settings have remnants of ancient civilizations. While on your holiday you can explore this land's amazing past.
While in the Ionian Islands, visit iconic beaches such as Navagio Beach in Zakynthos and Myrtos Beach in Kefalonia.
Saronic Gulf Islands and Surroundings
Nestled in the Saronic Gulf, islands such as Aegina, Poros, Spetses, and Hydra are timeless and elegant. Each island is unique, from Aegina's archaeological gems to Poros's tranquil hideaways, Spetses' cosmopolitan flair, and Hydra's captivating simplicity.
Exploring the Saronic Islands through their cuisine allows you to savor the unique flavors of the Mediterranean, connecting you with the local culture and traditions of this enchanting region. While visiting, try local wines and ouzo, lamb and goat dishes, or pistachio-based sweets and pastries.
Sporades
The Sporades archipelago, with gems such as Skiathos, Skopelos, and Alonissos, paints a picture of serene landscapes and azure waters. These islands offer a tranquil retreat, inviting you to bask in nature's embrace. Explore the Blue Cave on Alonissos, relax on Lalaria Beach, Skiathos, or hike to Kastro on Skopelos.
Dodecanese
The Dodecanese islands, including Rhodes, Kos, and Patmos, blend historical richness and Mediterranean allure. Explore ancient ruins, embrace vibrant local cultures, and lose yourself in the island's way of life.
Please call us today at 1 (321) 777-1707 or describe Your Vacation Vision to help you plan your fully-crewed private luxury yachting vacation! Inquire as soon as possible about your custom, crewed yacht charter.
You make the memories. We make the arrangements.