Embark on a voyage of timeless elegance and modern comfort aboard GREECE Motor-Yacht Charter Marla. With its classic lines and cutting-edge technology, Marla indeed offers an experience that seamlessly blends sophistication with the latest amenities. Let's delve into the captivating features and offerings that set Motor-Yacht Marla apart.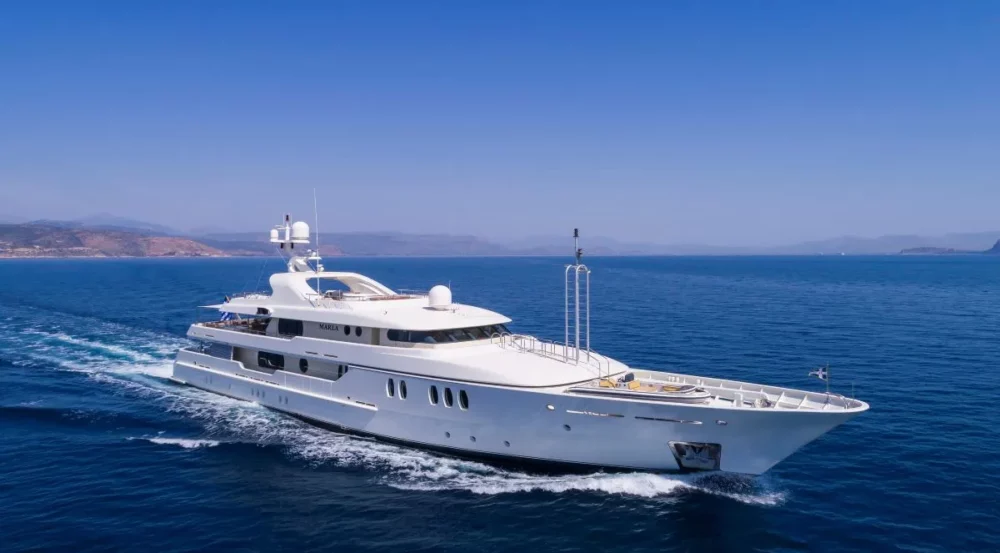 Motor-Yacht Marla | The Yacht
Motor-Yacht Marla stands as a testament to classic design, seamlessly intertwined with the comforts of the modern world. Meticulously maintained to an impeccable condition through frequent refits, this vessel boasts the iconic touch of Terence Disdale's design. The yacht's exterior exudes an air of timeless grace, while the interior perfectly balances opulence and functionality.
As you step aboard, you'll be welcomed by unique artworks adorning the yacht's interiors, enhancing the sense of refinement that permeates every corner. Marla goes beyond aesthetics with its Zero Speed Stabilizers, ensuring a smooth and comfortable cruise even in choppy waters. In addition, an 18ft Nautica tender stands ready to whisk you away for seamless onshore transfers.
Accommodations on Greece Motor-yacht Charter Marla
The yacht's staterooms are a symphony of luxury and comfort. Marla accommodates up to 12 guests in six lavish rooms. The master suite on the main deck offers a spacious haven complete with an office area and ensuite bathroom facilities. Below the deck are two double cabins and two twin cabins, one with an additional Pullman bed, providing ample space for relaxation and reprieve.
Water Adventure Awaits with Marla's Toys
Marla is more than a yacht—it's an aquatic playground brimming with excitement. Its impressive water toy collection includes an 8m Novurania Chase tender for swift shoreline access, a 6m Nautica tender for coastal exploration, and jet skis for high-speed thrills.
Glide on water skis, test your balance on wakeboards, or snorkel with provided gear. Additionally, for windsurfing and stand-up paddleboarding, Marla offers boards to catch the wind or serenely glide. Then enjoy the playful tubing options, like donuts and bananas, add laughter to the waves.
Marla includes toys such as:
Tender Novurania Chase 8m with engine 220HP (2015).
Tender Nautica 6m with Yamaha 115 HP engine.
Two jet skis (Kawasaki 2-seater 2016 & Yamaha 3-seater 2017).
Three pairs of water skis and one single ski.
Two wakeboards.
Four sets of dive gear (rendezvous diving only).
Three windsurf boards.
2 SUP boards.
Towing donuts, bananas, gyro tubes, and various others.
Snorkeling equipment.
The Crew of Greece motor-yacht Charter Marla
Motor-Yacht Marla is graced by a carefully curated and professional crew led by Captain Manolis Klimataras. Their dedication to impeccable service ensures that your every need is met and your voyage is nothing short of extraordinary. While on your holiday, you need not worry about a thing in their capable hands.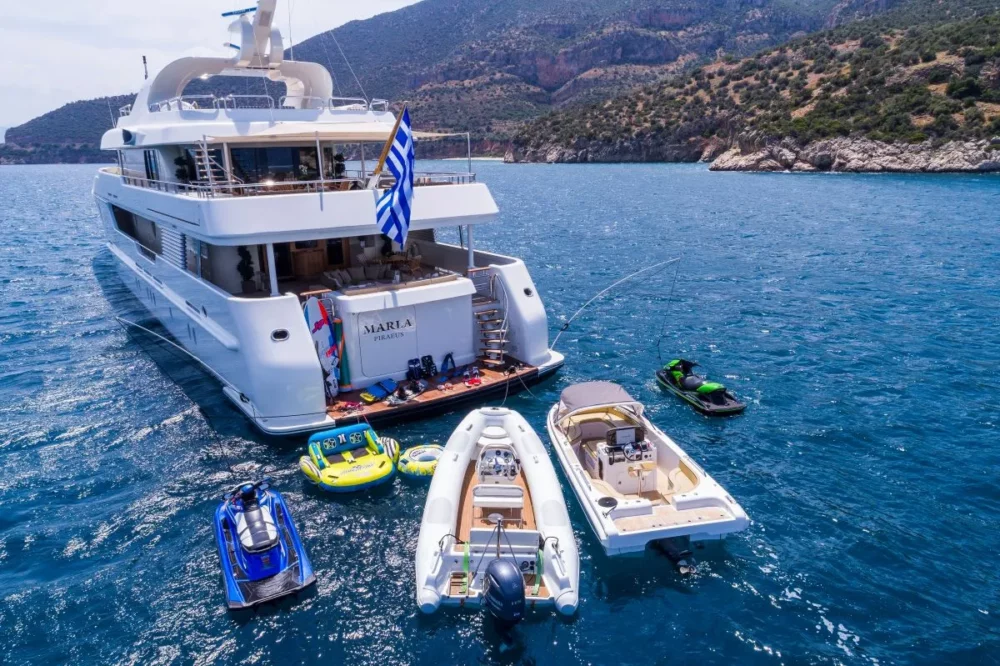 Unveiling Greece's Treasures
Greece Yacht Charters. It's no secret why Greece is still one of the world's most magnetic destinations for luxury yacht charter vacationers. Three thousand years after laying the foundation for civic and social refinement, Greece still offers views unparalleled in the Mediterranean Sea. In fact, your experiences will fill years of storytelling.
You will find golden and quiet beaches and endless crystal blue waters. In addition, there are whitewashed houses, famous traditional tavernas, nightclubs, sightseeing, unforgettable sunsets, and much more.
Book Your Vacation on Greece Motor-Yacht Charter Marla
Are you ready to immerse yourself in a relaxed luxury yachting experience? If so, contact us today to set sail on an unforgettable adventure that will fill your life with years of captivating stories and cherished memories. Moreover, the allure of Greece awaits—don't miss your chance to experience it aboard the luxury of Motor-Yacht Marla.
Please call us today at 1 (321) 777-1707 or describe Your Vacation Vision to help you plan your fully-crewed private luxury yachting vacation! Inquire as soon as possible about your custom, crewed yacht charter.
You make the memories. We make the arrangements.