Welcome aboard Greece Power Catamaran CRAZY HORSE, the ultimate power catamaran that will take you on a sensational Greek Islands yacht charter vacation! This is the place to be if you're looking for a taste of luxury mixed with epic comfort. Get ready for a cruising experience like no other!
Cruise to Paros, Ios, Milos, and Mykonos on this 78ft Lagoon power catamaran for an unforgettable holiday.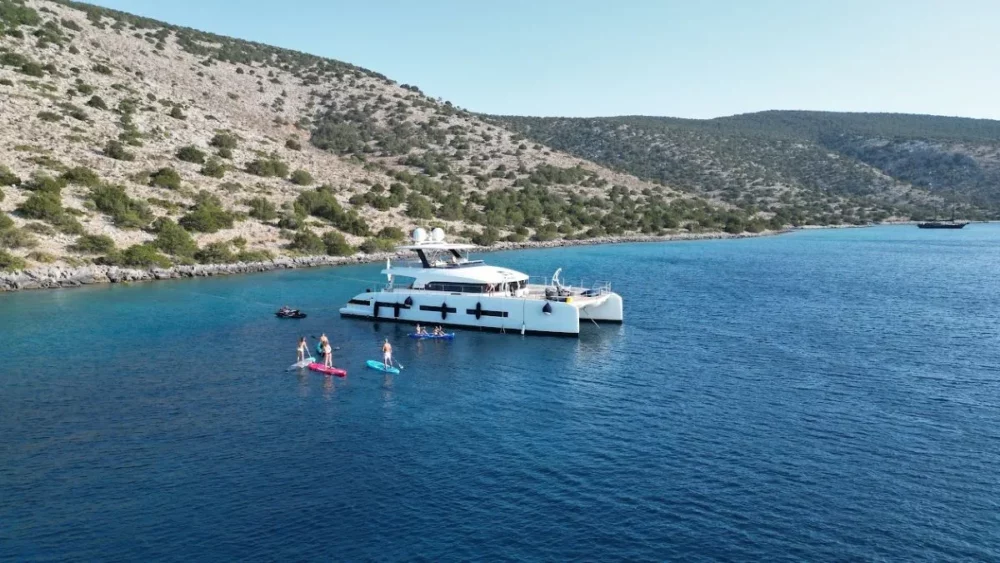 Greece Power Catamaran CRAZY HORSE is a 78-foot Lagoon that accommodates up to 10 guests in 5 cabins. This amazing yacht was built in 2019 and recently updated in 2023.
Soak up the sun and enjoy the ocean breeze while relaxing in the spacious common areas. The salon has a full bar and a state-of-the-art entertainment system. Wine, dine, and groove to your heart's content!
Unlike a sailing yacht, power catamarans can quickly cruise from one destination to the next. That way, you make the most of your time.
A Haven of Cozy Cabins
This Lagoon 78th ft yacht features five beautiful cabins just waiting to give you some serious relaxation vibes. There are three double queen-bed cabins and two twin cabins.
All cabins have private ensuite bathrooms and showers! In addition, cabins come with TV, bathrobes, slippers, and amenities like shampoo, conditioner, body wash, and body lotion. It's like living in a luxury hotel but floating on the waves instead!
Meet the Crew of Greece Power Catamaran CRAZY HORSE
The five experienced and professional crew members will ensure you have the time of your life. They're here to make your vacation smooth and carefree. You won't have to lift a finger! Below, meet the Captain and Chef.
Introducing Captain Tilemachos – The Man with the Plan
Say "ahoy" to Captain Tilemachos Aidinis, the brain behind this epic adventure. He's got a ton of experience and knows these waters like the back of his hand. Born and raised in Greece, he's super knowledgeable about sailing yachts in Greece!
With a mechanical engineering degree and a cruising instructor certification under his belt, you know you're in safe hands. He also speaks Greek and English, so there will be no problem with communication!
Let's Talk About Food – Yum!
Time to tantalize those taste buds! Chef Vasilis Axiotis is here to make your mouth water! This chef's got some great skills in the culinary arts. Baking, pastry, "Modern cuisine," Greek creative cuisine – you name it, he's done it!
Fusion cuisine is his forte, mixing the freshest local ingredients with awesome cooking techniques. Brace yourself for a foodie adventure like never before!
Water Toys Galore!
Think yacht vacations are all about laying around in the sun? No so! The yacht comes loaded with an array of water toys for action-packed fun on the water.
Jet skis, snorkeling gear, kayaks, paddleboards – this yacht's got it all! You can even try your hand at fishing. Jump in the water and enjoy these fun toys:
Highfield tender 5,60 with 70 HP
1 X Jet ski Yamaha 1800
2 X SUP
Wakeboard
Waterski (adult and children)
Kneeboard
Rings
3 X seater towable couch
Banana
Maverick All in one board – sailboat/windsurf/SUP
Kaya 2 PAX
Fishing gear
Snorkeling equipment
Noodles
Unwind in Style | Greece Power Catamaran CRAZY HORSE
When you're not busy having a blast with water sports, kick back and relax on the flybridge. Grab a drink, soak up the sun, and enjoy the mind-blowing views. With CRAZY HORSE, you're not just exploring but cruising in pure luxury!
Feel the Mediterranean Magic
You and your guests will have an amazing time exploring the jaw-dropping beauty of Greece's coastline. CRAZY HORSE is ready to take you on an amazing journey across crystal-clear waters. As you set sail, you'll encounter a plethora of breathtaking destinations dotting the Greek Islands.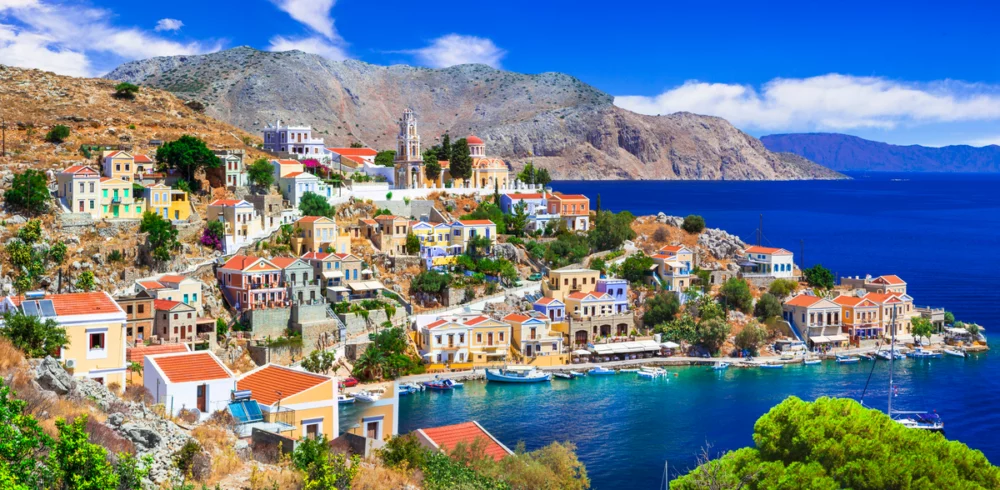 Cyclades Islands on Greece Power Catamaran Crazy Horse
Ah, the iconic Cyclades, a dreamy paradise where beauty knows no bounds! Brace yourself for a whirlwind of enchantment as you explore the gems of Santorini, Mykonos, and Paros – each with its own irresistible allure.
Santorini
Let's start with Santorini, a postcard-perfect island that'll leave you breathless. Picture yourself strolling along its dramatic cliffs, overlooking the sparkling Aegean Sea.
The mesmerizing caldera views, accompanied by the ever-so-charming whitewashed buildings, will make you feel like you've stepped into a fairytale. And oh, those sunsets! Prepare to be spellbound as the sky transforms into a canvas of vivid hues, creating a moment you'll cherish forever.
Mykonos
Next up is the ever-so-vibrant Mykonos, where fun and excitement await at every turn. You'll love its sun-kissed beaches, beckoning you to unwind on its golden shores. But when the sun sets, Mykonos transforms into a lively playground, with its pulsating nightlife setting the stage for special memories. Get ready to dance the night away, mingling with party enthusiasts from around the globe.
Paros
Now, for a dose of serenity, head to Paros. This island offers a tranquil escape from the hustle and bustle, welcoming you with open arms. Wander through its charming villages, where time seems to slow down, and experience the warm embrace of Greek hospitality.
Be sure to dip your toes into the crystal-clear waters surrounding Paros, inviting you to dive into a world of pure bliss.
But hey, we're just getting started! The Cyclades have so much more in store for you. Delos, the sacred island of ancient mythology, awaits your exploration. With its stunning landscapes and historic sites, Naxos is another hidden treasure you won't want to miss.
Dodecanese Islands | Greece Power Catamaran Crazy Horse
Next on the itinerary, the Dodecanese Islands await your exploration. With a name meaning "twelve islands," this island group actually comprises a cluster of over a dozen destinations.
From the historic marvels of Rhodes to the lesser-known gems like Symi, each island offers a unique experience.
Enjoy pristine beaches, crystal-clear waters, and lush landscapes. Immerse yourself in a blend of Greek and Ottoman influences, evident in the architecture and local culture.
Ionian Islands
Venturing further, the Ionian Islands beckon with their lush landscapes and emerald waters. Corfu, known for its Venetian-style architecture and stunning beaches, is a must-visit. Kefalonia, famous for its rugged cliffs and lush forests, offers a sense of untouched natural beauty.
Throughout your journey, CRAZY HORSE will be your floating oasis, providing the perfect blend of luxury and comfort. After a day of exploring, relax on the flybridge. Soak up the Mediterranean sun, and take in the stunning views.
Get Ready for a Lifetime Experience!
If you're looking for a blend of luxury, adventure, and a lot of fun, CRAZY HORSE is calling your name! Experience the stunning beauty of Greece, surrounded by the lap of casual luxury.
So, gather your crew and prepare for an epic escapade that'll leave you with memories to cherish forever. Hop aboard Greece Power Catamaran CRAZY HORSE – your ticket to an unforgettable Luxury Yacht Charter experience.
Please call us today at 1 (321) 777-1707 or describe Your Vacation Vision to help you plan your fully-crewed private luxury yachting vacation! Inquire as soon as possible about your custom, crewed yacht charter.
You make the memories. We make the arrangements.