Enjoy the privilege of sailing Greece motorsailer charter AEGEAS and navigate on a traditional motor-sailer, with modern standards and equipment.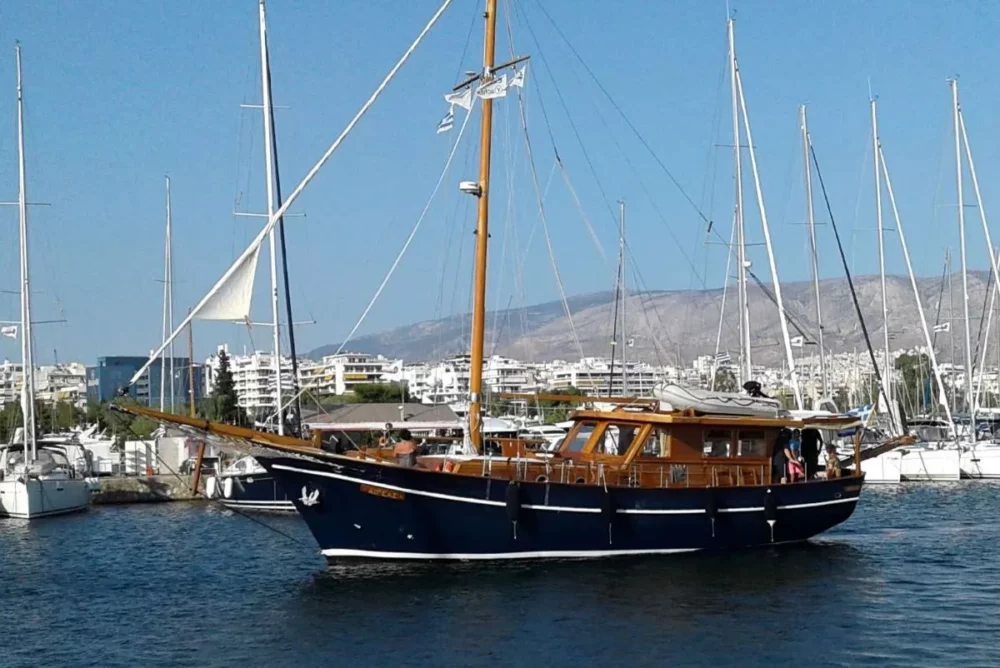 Sailing aboard AEGEAS is the best way to explore the Greek islands while you relax and have fun at the same time. AEGEAS is a traditional, custom-made, Greek wooden motorsailer.
AEGEAS offers guests the opportunity to enjoy the sea and the sun and to get to know Greece.
What Is a MotorSailer?
A Motor Sailer yacht is a unique and versatile boat that combines the best of both worlds. It has the power and efficiency of a motor yacht with the elegance and charm of a traditional sailing yacht. This hybrid design features both a motor engine and sails, allowing for a flexible and enjoyable cruising experience.
Motor Sailers typically have sleek and streamlined exteriors, making them efficient for long-distance voyages. However, they also feature graceful sails that harness the wind's power, providing an authentic sailing experience when favorable conditions are favorable.
Choosing a Motor Sailer yacht for a charter in Greece is a brilliant decision for several reasons. The diverse Greek islands offer a mix of calm waters and open seas, making a Motor Sailer the perfect vessel to easily navigate both conditions. Switching between motor and sail allows charter guests to tailor their experience – whether it's swift island-hopping using the motor or relishing the quiet serenity of sailing in secluded bays.
FEATURES of Greece Motorsailer Charter AEGEAS
Custom Made in 2005 / Refit in 2014
LENGTH: 50.00ft / 15.24m
CREW: 2
BUILDER: Greek Traditional shipyard
Accommodates 8 guests in 4 cabins

4 Double Bedded Cabins
2 cabins with en-suite facilities
2 cabins sharing the same WC
Independent A/C in all cabins

BASED: Athens, Greece
EQUIPMENT & WATERSPORTS
Radio CD, MP3 player, LCD TV, DVD Player,
Inflatable tender with 6 HP outboard engine,
Canoe-Kayak,
Fishing & Snorkeling equipment,
Wifi internet router up to 4GB per week
Places to Visit on Greece Motorsailer Charter AEGEAS
Your starting point for an unforgettable journey through the Greek Islands is Athens. A world of exploration unfolds from here, with the enchanting Saronic Gulf Islands and historic mainland ports such as Nafplion awaiting your discovery. Immerse yourself in the rich history as you navigate these waters, where each island holds its unique allure.
In the Saronic Gulf, a captivating tapestry of destinations invites you. Picture yourself meandering through the charming streets of Poros, unwinding on the car-free haven of Hydra, savoring delectable local cuisine on Spetses, and exploring Aegina – famous for its pistachios. This region's historical significance is indeed palpable, with each port revealing stories of bygone eras.
Should weather conditions permit, an alternative route leads to the Cyclades, a cluster of islands renowned for their iconic beauty. As you sail towards these gems, a pause at Cape Sounion offers a unique experience – anchoring beneath the ancient Temple of Poseidon. This temple is certainly a remarkable testament to the past, dating back to the 5th century BC.
Your voyage continues through captivating destinations like Kea, Kythnos and the possibility of embracing the iconic allure of Mykonos and Syros.
With its mosaic of more than 600 islands grouped into four distinct clusters, Greece is a treasure trove of exploration. While Motorsailer AEGEAS beckons with its exceptional journey, the sheer diversity of Greece's island tapestry invites multiple trips, each unveiling a new realm of beauty and culture. Plan wisely, for this captivating land of islands offers a world of discovery waiting to be uncovered.
Please call us today at 1 (321) 777-1707 or describe Your Vacation Vision to help you plan your fully-crewed private luxury yachting vacation! Inquire as soon as possible about your custom, crewed yacht charter.
You make the memories. We make the arrangements.