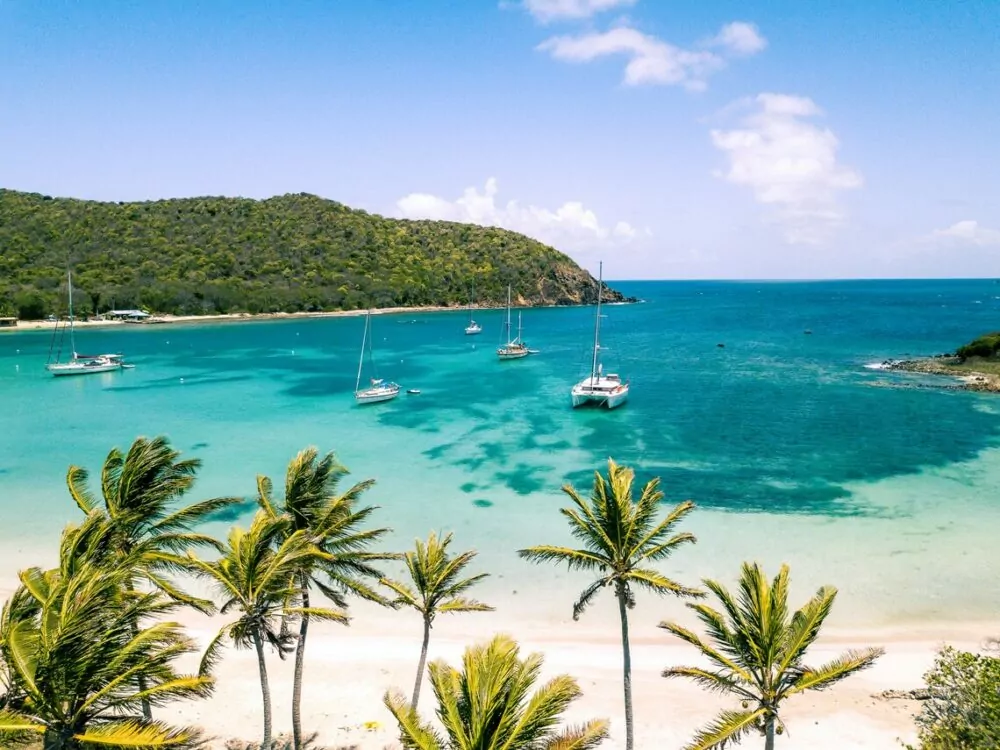 St. Vincent & the Grenadines
St. Vincent & the Grenadines is a nation of 32 islands in the Lesser Antilles between St. Lucia and Grenada. The largest and northernmost island is St. Vincent, which has a forest-covered mountainous interior that La Soufriere, a 4,000-foot tall active volcano, dominates. On the southwest coast is Kingstown, the nation's capital.
The remaining Grenadines lie to the south of St. Vincent. Bequia, Mustique, Canouan, and Union Islands are the largest and most populated. Young Island is a small private island right off the coast of Kingstown, St. Vincent.
Smaller inhabited islands include Mayreau, Palm Island, and Petit St. Vincent. The Tobago Cays is a marine park located east of Mayreau and is a collection of five tiny islands, sheltered lagoons, and coral reefs. See 8 Must-See Islands in the Grenadines.
Caribbean's Top Dive & Snorkel Destination
St. Vincent & The Grenadines is considered one of the top dive spots in the Caribbean by Sport Diver's Magazine. Magnificent shallow-water reefs, full of color and life, are perfect for snorkelers, especially in the Tobago Cays. The islands in the Grenadines are a dream for scuba divers, whatever your level of experience. From easy, shallow reef dives to drift dives, wreck dives, and even cave dives.
The Grenadines offer a great variety of underwater habitats: walls, rock formations, coral reefs, sandy slopes, and seagrass beds – each attracting its unique form of life and welcoming you to explore.
Things Do on Grenadines Summer Yacht Charters
The Grenadines offer a tropical paradise with various activities to enjoy during the summer. Here are ten of the best things to do:
Cruise the Crystal-Clear Waters: Your private luxury yacht charter is the best way to explore the stunning Caribbean Sea.
Beach Hopping: Visit the pristine beaches, including Saltwhistle Bay, Tobago Cays, and Princess Margaret Beach.
Kite Surfing: Experience the thrill of kite surfing in the trade winds of the Grenadines.
Hiking: Take on hiking trails, like the hike to the summit of Moustique Island, for breathtaking views.
Island Hopping: Visit neighboring islands like Bequia, Mustique, and Union Island for their unique charm.
Local Cuisine: Savor delicious Caribbean dishes and fresh seafood at restaurants and beachside shacks.
Turtle Watching: Witness the nesting and hatching of sea turtles on protected beaches.
Explore the Botanical Gardens: Visit the enchanting Botanical Gardens in St. Vincent.
Cultural Festivals: Join in local festivities and cultural events that often take place during the summer.
Places to Visit on Grenadines Summer Yacht Charters
Tobago Cays Marine Park: A protected marine reserve with crystal-clear waters, perfect for snorkeling and diving among coral reefs and abundant marine life.
Bequia: Known for its friendly atmosphere, beautiful beaches, and the unique Old Hegg Turtle Sanctuary.
Mustique: A private island with luxurious villas, pristine beaches, and a relaxed, exclusive ambiance.
Union Island: A hub for yachting enthusiasts and a gateway to the Tobago Cays, it offers stunning views from Chatham Bay.
Palm Island: A private resort island with stunning beaches and a laid-back vibe.
Mayreau: Home to the charming village of Old Wall and Saltwhistle Bay, one of the most beautiful beaches in the Caribbean.
Canouan: Known for its upscale resorts, world-class golf, and breathtaking beaches.
Petit St. Vincent: Another private island paradise with luxurious accommodations and stunning vistas.
St. Vincent: The largest island in the chain, where you can explore the Botanical Gardens, hike to La Soufrière volcano, and visit historical sites.
Basil's Bar, Mustique: A famous beach bar known for its live music and being a favorite hangout for celebrities.
Start Planning Your Luxury Yacht Charter Today
It's not too soon to start thinking about next summer. Call today to discuss your vacation vision with our experienced yacht charter brokers.
Please call us today at 1 (321) 777-1707 or describe Your Vacation Vision to help you plan your fully-crewed private luxury yachting vacation! Inquire as soon as possible about your custom, crewed yacht charter.
You make the memories. We make the arrangements.