Outdoor adventures! Ketchikan to Ketchikan Alaska Itinerary
Wild beauty and outdoor adventures are yours to discover on this fantastic Ketchikan to Ketichan Alaska Itinerary in southeastern Alaska.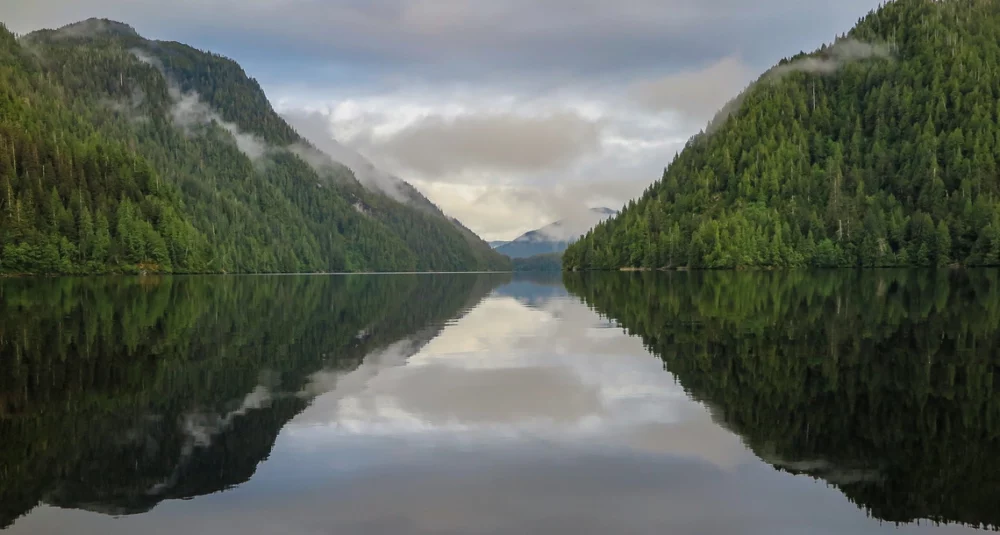 Outdoor adventures fill this Southeast Ketchikan Alaska itinerary. Cruising past the immense blue-green hulk of a glacier will take your breath away. The feeling only intensifies when your captain nudges the bow of your yacht against an iceberg so you can chip away some century-old ice to chill your cocktails.
Also, your southeastern Ketchikan Alaska itinerary can be tailored to create the experience of a lifetime by adding adventures ranging from helicopter picnics atop a glacier to sea kayaking to casting a fly into a stream chock full of salmon. Or you can peacefully enjoy a fine bottle of wine as the sunset paints the mountains and sky. Whatever you choose, you'll never forget the breathtaking beauty of this Ketchikan to Ketchikan Alaska itinerary.
Day 1 | Ketchikan to Boca de Quadra
On day one of your Ketchikan to Ketchikan Alaska itinerary, fly into Ketchikan to board the yacht, then depart this little port town to begin your excellent 8-day Ketchikan Alaska itinerary, heading into the wilderness. Depending on the time of year, you might spot orca whales. You'll cruise into Boca de Quadra, Mink Arm. This peaceful spot is surrounded by dense greenery. Anchor for the night and dine under the stars.
Day 2 | Hugh Smith Lake
Enjoy breakfast served against the backdrop of stunning scenery. After breakfast, hike to Hugh Smith Lake for more breathtaking views. The rest of the day can be spent exploring ashore. Dinner will be served on board, perhaps enjoying fresh fish and crab caught that day.
Day 3 | Ella Bay
Arrive at Ella Bay. Have breakfast, then afterward head ashore for a meander on the Ella Lake trail. Animal encounters are the norm, from wild mink to bears. Anglers will enjoy casting a line in the river for trout. Land a few, and it's trout for dinner tonight. Then retire to the salon for drinks and a movie night.
Day 4 | Punchbowl Cove to Manzanita Bay
One of the best stop-overs on this itinerary is Punchbowl Cove, where vertical rock walls surround the fantastic fjords. Cruising through this cove has been compared with driving through Yosemite National Park. Afterward, sail into Manzanita Bay and anchor for the night. Enjoy a night completely tucked away from civilization in peace.
Day 5 | Manzanita Bay
Start the morning with a challenging hike. You certainly will be rewarded for your efforts with views of beautiful waterfalls. The fishing here is excellent for those who prefer to cast a line. If the weather is warm enough, have the crew unfurl the inflatable slide and plunge into the water. Stick around this relaxing spot for another night.
Day 6 | Walker Cove
In the morning, travel to Walker Cove, a picture-perfect setting surrounded by dramatic 4,000-foot peaks. Birdwatchers can try to catch sight of trumpeter swans, bald eagles, and herons. This is a great place to paddle around on the kayaks – or have the crew take you for a tender ride to get a closer view of the waterfalls plunging into the sea. There's a chance to view bears and harbor seals. Make this your base for the night, with the chef preparing another gourmet meal.
Day 7 | Bell Island
This morning, take off for an aerial view with a helicopter tour, looking down on the beautiful waters. After your active week, revive yourself in the naturally warm waters of Bell Island hot springs. Natives have long used these waters for medicinal purposes. Unwind in the springs and enjoy cocktails and a great meal.
Day 8 | Ketchikan to Ketchikan Alaska Itinerary End
Make your way back to the town of Ketchikan. Bid farewell to your crew before returning to the buzz of the real world.
Please note that all itineraries are subject to weather and the guests' preferences.
Please call us today at 1 (321) 777-1707 or describe Your Vacation Vision to help you plan your fully-crewed private luxury yachting vacation! Inquire as soon as possible about your custom, crewed yacht charter.
You make the memories. We make the arrangements.