Salamina
Salamina is the largest island in the Saronic Gulf and the closest to Athens. For this reason, it is trendy for day trips from Athens. It has a rich cultural heritage and natural beauty, combined with monasteries and churches. Although some areas are touristy, you can still find lovely beaches and cozy tavernas.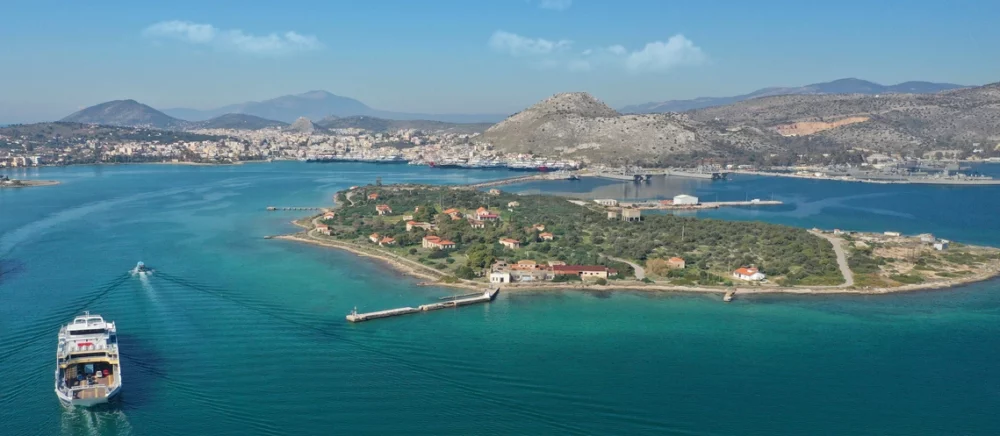 Climate | Salamina
The best time to visit Salamina is from May through October. During this time, the temperature is warm, and there's not much rainfall. The highest average temperature is 31°C in July, and the lowest is 12°C in January. The water temperature ranges between 16°C and 28°C.
The island is known for the Battle of Salamis and many famous men, such as the Homeric hero Ajax and the poet Angelos Sikelianos.
Places to see
The historic Agios Nikolaos Lemonion Monastery from the 17th century.
The Museum of Folk Art and History and the Public Library are located on the New Town Hall grounds.
The Tomb of Georgios Karaiskakis, one of the heroes of the Greek War of Independence.
The Church of Panayia Eleftherotria on Patris Hill.
The Euripideio Theatre, on Patris Hill.
The two windmills from the 18th century on the Agios Nikolas hill.
The Cave of Euripides is close to Peristeria bay.
The Museum of History and Folk Art provides a look into the island's past, as well as the everyday life of its inhabitants. The museum is housed in the new city hall and the Salamina Municipal Library.
The Burial Mound of the Fallen at Salamina at Kynosoura.
The stone lighthouse on the Lykopoulo promontory.
The Monastery of Agios Nikolaos Lemonion (17th century) and the Chapel of Agios Ioannis Kalyvitis (10th century). You'll find both buildings amid a pine forest south of the island.
Things to do | Salamina
Go to the beach. The beaches are lovely with clear turquoise water. Try Kolones, Peristeria, Iliataki, Vasilika, Zefyros, Spithari, The Ajax Club, Kanakia, or Nato beaches.
Dine. Since the island is so close to Athens, you'll enjoy the best meats, seafood, and produce. Some restaurants to visit include Street Souvlaki, Kaikas, and Boukourimiza.
Hike, walk, or jog. The Forest of Faneromeni, in northwest Salamina, is ideal for jogging and hiking.
Mountain biking
Horseback riding
Gastronomy
Traditional cuisine in Salamina highlights fresh fish and seafood, including grilled octopus, mussels, and fried shrimp with feta. The island also offers outstanding meat dishes, including roast lamb, pork, and coq-au-vin. Try traditional specialties such as delicious custard-filled filo pastry (galaktoboureko), squash pie, and carrot pie when you're at a local restaurant.
Please call us today at 1 (321) 777-1707 or describe Your Vacation Vision to help you plan your fully-crewed private luxury yachting vacation! Inquire as soon as possible about your custom, crewed yacht charter.
You make the memories. We make the arrangements.