Bristol | Scenic New England Town
Bristol, Rhode Island, is a New England waterfront town and deep-water seaport. It is on a peninsula, with Narragansett Bay on its west and Mount Hope Bay on its east. The town's harbor is home to over 800 boat moorings in seven mooring fields. Some New England crewed charter yachts are based in Bristol instead of Newport.
Of course, if you are interested in a yacht based anywhere in New England, contact us to find out if we can arrange for the boat to meet you in your preferred location.
The place has a rich nautical history. From the 1870s to the 1930s, many advanced yachts were designed by built at the Herreshoff Manufacturing Company, which is based in the area.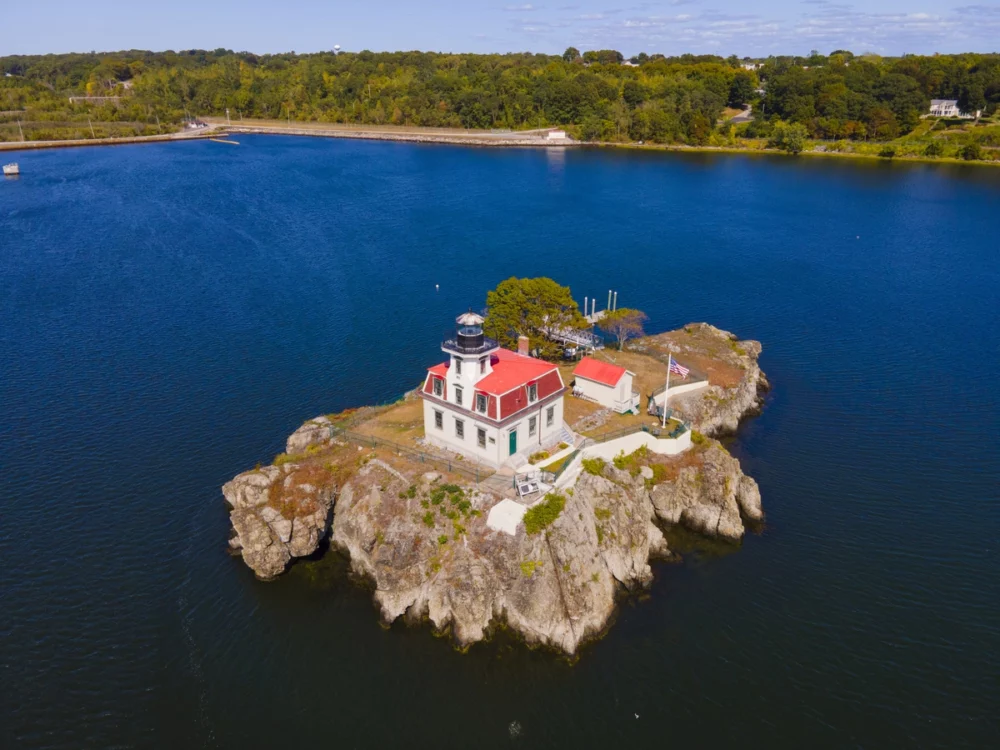 Weather
Summer is warm and humid, the winters are frigid and wet, and it is partly cloudy year-round. Over the year, the temperature typically varies from 23°F to 82°F and is rarely below 9°F or above 89°F. Inside tip, early September is also a great time to charter in New England.
Places to see
With its charming waterfront, rich history, and many attractions, Bristol offers an unforgettable experience for yacht guests.
Blithewold Mansion, Gardens & Arboretum is an enchanting 45-room mansion with stunning gardens that will transport you back in time.
The Herreshoff Marine Museum showcases the legacy of the Herreshoff Manufacturing Company, a famous yacht builder, and provides a fascinating insight into the sailing world.
Colt State Park, where you can stroll amidst well-preserved stone walls and enjoy panoramic views of the bay.
Things to do
Explore the Scenic Beauty. As you cruise the waterways, you'll enjoy breathtaking views of rocky cliffs, idyllic coves, and lush green landscapes.
Shop and Dine in Style. The downtown area is a delightful blend of colonial architecture, shops, and dining options. Stroll along Hope Street and explore the quaint shops, art galleries, and antique stores. Indulge in a gourmet meal at one of the waterfront restaurants. You can also enjoy a picnic on your yacht, surrounded by Bristol's natural beauty.
Enjoy Water Activities. With its prime location on Narragansett Bay, Bristol is an ideal destination for water enthusiasts. Engage in various activities such as swimming, kayaking, paddleboarding, or bask in the sun on the deck of your yacht. For those seeking an adrenaline rush, try jet skiing or wakeboarding, available for rent at local water sports providers.
Experience Bristol's Celebrations: If you time your visit right, you may have the opportunity to witness Bristol's vibrant community spirit during the annual Fourth of July Celebration. The oldest continuous Independence Day celebration in the United States, the Bristol Fourth of July Parade and its accompanying events bring the town alive with patriotic fervor, live music, fireworks, and more.
Marinas in Bristol
Bristol Yacht Club: Located on the west side of Bristol Harbor, this marina offers dockage, moorings, and a range of amenities. The club provides a warm and welcoming atmosphere, perfect for socializing with fellow yachting enthusiasts.
Bristol Marine: Situated on the east side of Bristol Harbor, Bristol Marine is a full-service boatyard and marina offering comprehensive yacht services, including repairs, maintenance, and haul-out facilities.
Herreshoff Marine Museum Marina: Adjacent to the Herreshoff Marine Museum, this marina provides transient slips for visiting yachts and easy access to the museum's exhibits and events.
Please call us today at 1 (321) 777-1707 or describe Your Vacation Vision to help you plan your fully-crewed private luxury yachting vacation! Inquire as soon as possible about your custom, crewed yacht charter.
You make the memories. We make the arrangements.