Have you been dreaming about the ideal vacation? Whether you imagine relaxing on sun-kissed beaches, exploring historical treasures, or indulging in gourmet meals, we have the perfect solution. A private crewed yacht charter vacation offers a luxurious and personalized trip. It combines the best aspects of a land-based resort with numerous additional perks.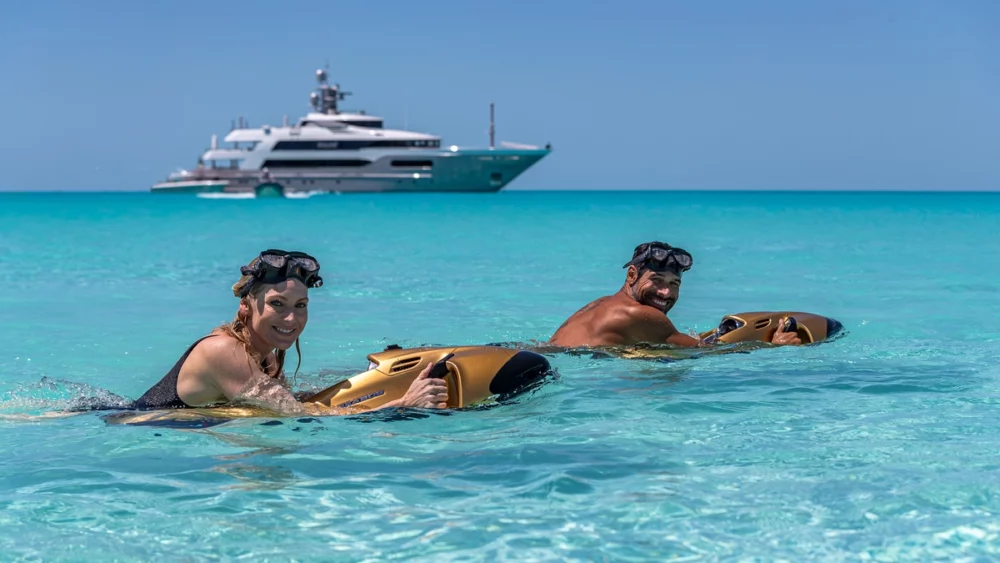 What is a Private Crewed Yacht Charter?
What is a Luxury Crewed Yacht Charter, and what can I expect? Picture yourself, your family, and your closest friends aboard a private yacht. All you need to do is relax on the deck as you cruise to some of the world's most breathtaking destinations. A professional team of crew members caters to your every desire.
Exclusive Service
From the very moment you step onto the yacht, a professional crew is there to cater to your every whim. The crew handles every detail of your journey with the utmost care. The captain and his team will greet you with exceptional service and indulgent amenities. The pampering continues throughout your journey.
Gourmet Dining
Imagine savoring gourmet meals prepared by a talented chef. The chef is responsible for preparing lavish breakfasts, lunches, dinners, snacks, and drinks to your specific requirements. Before travel, you and your guests will complete a detailed preference form that outlines your likes, dislikes, special requirements, and more.
In addition, when you're dining on shore, you will have access to some of the world's best restaurants.
Lavish Staterooms
After a day of adventure, unwind in lavish staterooms. Spacious and well-lit staterooms provide a cozy retreat from the activities of the day. Private ensuite bathrooms, showers, top-of-the-line toiletries, and ample storage make your cabin peaceful and private.
What are the Benefits of a Private Crewed Yacht Charter
Now, let's explore the myriad benefits of opting for a Crewed Yacht Charter. When you choose a crewed yacht charter, you unlock a multitude of advantages that will elevate your vacation to unprecedented heights.
You can relax and enjoy the journey with your very own crew members at your service. The crew manages every detail. There is no comparison between a crewed yacht charter and a bareboat charter.
It is only necessary for you to unpack your bags once. Travel from island to island at your leisure and spend every moment relaxing.
There are a variety of entertainment options, water toys, and amenities.
The pace and schedule of your trip are at your discretion. There is no rushing from place to place on a tight schedule.
It will be a pleasure for you to return home with beautiful photographs and exciting stories to share!
How to Book an Exclusive Adventure
Booking your dream yacht for this exclusive adventure is a breeze with our expert assistance. Just reach out to our team and share your preferences and requirements, and we'll take care of the rest.
Our brokers have personally met many yacht charter captains and crews. They have also been aboard numerous vessels, ensuring their recommendations are based on firsthand experience.
Choose from a Variety of Charter Boats
The type of yachts available gives you plenty of options. Choose charter yachts such as:
Monohull Sailing Yachts
Monohull sailboats are classic vessels known for their elegant design and timeless charm. They feature a single hull beneath the waterline and a single mast with sails. These boats offer a true sailing experience, relying on the wind to propel them forward.
Sailing Catamarans
Sailing catamarans are modern vessels designed for both stability and speed. They have two hulls connected by a spacious deck, providing luxury, private space, and ample room for passengers to move around. Catamarans are ideal for those who prefer a flatter ride. They are an excellent choice for families and those prone to seasickness.
Power Catamarans
Power catamarans are a fusion of the spaciousness and stability of catamarans with the speed and power of motor yachts. These boats are best for those who want the convenience of speed with the benefits of a catamaran's layout.
Motor Yachts
Motor yachts are all about luxury and speed. These boats often have opulent cabins, spacious decks, and numerous amenities. There is no doubt that mega yachts are the ultimate motor yachts. Larger charter groups may find that the space aboard a motor yacht suits them perfectly.
In addition, there are superyacht charters. These are yachts in the 105ft plus range.
Motor Sailers
Motor sailers, also known as motorsailers, blend the features of motor yachts and sailboats. They have sails and engines. However, the sails are mainly for show. Motor sailers are known for fuel efficiency, moving slower than regular motor yachts.
What are Some Top Destinations for a Private Crewed Yacht Charter
Let's set sail to some of the world's most sought-after destinations with your private crewed yacht charter. Envision cruising along the turquoise waters of the Virgin Islands or exploring the enchanting islands of the Caribbean. Perhaps you would like to immerse yourself in the rich culture of the Greek Islands.
We will help you decide which destination fits your dream adventure. Ultimately, your chosen destination will be where you make unforgettable memories.
With a crewed private yacht charter, you can discover these destinations and more in the lap of luxury. So why not charter a crewed yacht? With a yacht charter, the possibilities are endless, and each day brings a new adventure that guests can enjoy.
Please call us today at 1 (321) 777-1707 or describe Your Vacation Vision to help you plan your fully-crewed private luxury yachting vacation! Inquire as soon as possible about your custom, crewed yacht charter.
You make the memories. We make the arrangements.