New England is known for its breathtaking coastal scenery, quaint seaside towns, and rich history. And what better way to experience these things than on a luxury yacht charter? A September New England boat charter is a fantastic time to explore this region, with mild temperatures and fewer crowds.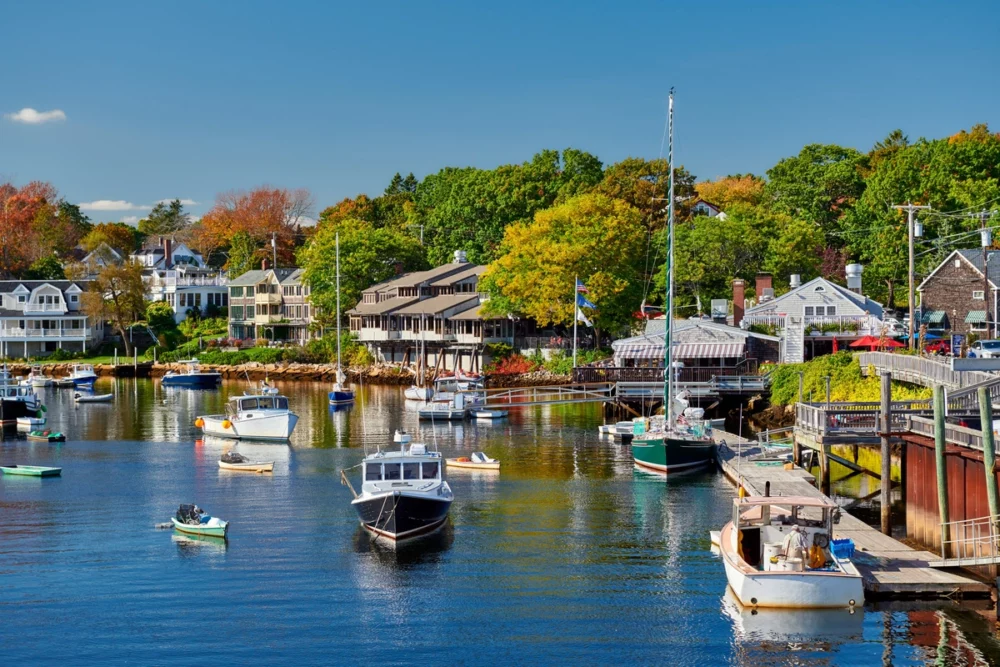 Why New England?
New England has much to offer travelers looking for a luxurious and fun getaway. In fact, New England is one of America's best yacht charter destinations. The stunning landscape during September is a sight to behold. Cooler temperatures and fewer people on the water make it even more enjoyable.
The Weather is Perfect
In the summer, New England can be very hot and muggy. September brings cooler, more comfortable temperatures, and less humidity, creating the perfect climate for boat rides on the open water. September typically marks the beginning of autumn in New England. However, the water is warmer than during the early summer months.
Not only does the cooler weather provide the perfect atmosphere for your charter experience, but it also makes it easier to pack for the trip. With temperatures ranging from the low 60s to the mid-70s, you can leave behind bulky sweaters and jackets.
The Crowds Have Thinned
One of the best things about taking a New England boat charter in September is that the crowds have thinned. The summer rush has passed, and most people have returned to their daily routines, leaving the waters and ports of New England a bit more serene. You can explore the region's many quaint coastal towns, islands, and harbors without the hustle and bustle of peak season.
Popular tourist destinations like Nantucket and Martha's Vineyard have fewer visitors in September. This makes it easier to secure berths and moorings and score reservations at restaurants, bars, and other attractions. It also means you can have more intimate experiences with locals, getting to know the true heart of New England.
September is also a great time to spot some wildlife in the area. Seals are known to bask on the rocks around the region's shores, while whales and dolphins frequently come out to play. So, take a whale-watching tour and experience the natural beauty of New England like never before.
The Scenery is Stunning
One of the most captivating aspects of a New England boat charter in September is the breathtaking scenery. With autumn setting in, the landscapes are a visual feast of oranges, reds, and yellows, making for some incredible photographs and memories.
Picture this: you're sailing down the tranquil waters of Martha's Vineyard, and the trees on the island show off their autumn colors in a stunning display. Or maybe you're cruising along the coast of Cape Cod, where the crisp fall air brings a sense of calm and tranquility. You might even catch a glimpse of whales and other marine wildlife.
In addition to the picturesque foliage, New England boasts a rugged coastline that will take your breath away. The coastline is lined with rocky shores, lighthouses, and charming seaside towns, allowing you to see the best of the region in a single trip. Plus, the fall sunsets in New England are something special. They're warm and vibrant and provide a dramatic backdrop to your evenings on board.
You Can Get Away from It All
Whether you're looking to escape the hustle and bustle of daily life or want to unwind with your loved ones, a New England boat charter in September is the perfect way to do it. You can take a break from the stresses of work and responsibilities and spend your days soaking up the sun, swimming in the ocean, and enjoying the beautiful scenery.
Plus, with fewer boats on the water, you'll have more freedom to explore and discover hidden coves and quiet beaches.
And if you really want to disconnect, many boats come equipped with Wi-Fi and entertainment systems, so you can leave your laptop and phone behind and fully immerse yourself in the experience.
The Food
What's a luxury New England boat charter without exceptional cuisine? September in New England offers some of the best seafood of the year, including lobster, oysters, clams, and scallops. The waters are cooler, which makes for more flavorful seafood.
If you prefer to dine on land, September in New England is the prime harvest season for fresh produce, such as apples, pears, squash, and pumpkins. Many seaside towns offer farmer's markets and farm-to-table restaurants, showcasing local ingredients in innovative ways.
The captain and crew can also recommend some of the best local restaurants to visit during your journey. They can make reservations and arrange transportation if you prefer casual lobster shacks or upscale dining experiences.
In short, food is an essential part of any luxury New England boat charter, and September offers a unique culinary experience you won't want to miss. Bon appétit!
The New England Coastline
Coastal New England is a region that encompasses the states of Connecticut, Rhode Island, Massachusetts, New Hampshire, and Maine. This region is known for its picturesque coastline, charming fishing villages, historic lighthouses, and sandy beaches. The area has a rich history dating back to the colonial era, and its coastal towns and cities offer a unique blend of old-world charm and modern sophistication.
Connecticut
Charming small towns and picturesque harbors, including the popular tourist destination of Mystic, characterize Connecticut's coastline. Mystic is home to a famous seaport museum, which lets visitors glimpse the region's maritime history.
Rhode Island
The coast of Rhode Island is dotted with charming seaside towns, including the historic city of Newport, famous for its opulent mansions, picturesque harbor, and lively sailing scene. Rhode Island has several beautiful beaches, including Misquamicut Beach and Narragansett Beach.
Massachusetts
Massachusetts has a diverse coastline, including rocky cliffs, sandy beaches, and bustling harbors. The historic city of Boston is a popular destination with its rich history, world-class museums, and lively nightlife. The state also boasts several charming coastal towns, including Cape Cod, Nantucket, and Martha's Vineyard.
New Hampshire
New Hampshire's coastline is relatively short but still offers visitors stunning views of the Atlantic Ocean, including the popular Hampton Beach. The state also has several charming seaside towns, including Portsmouth, which boasts a vibrant arts scene and a thriving food culture.
Maine
Maine's coast is famous for its rugged beauty, with rocky cliffs, pine-covered islands, and quaint fishing villages. The state's largest city, Portland, is a popular tourist destination with its historic Old Port district, picturesque harbor, and world-class restaurants. Acadia National Park, located on Mount Desert Island, is also a must-see attraction for visitors to the region.
Sample Eight-Day New England Charter Itinerary
If you're planning a luxury yacht charter to New England in September, here's a suggested 8-day itinerary:
Days 1 and 2 | Boston, Massachusetts
Explore the historic city of Boston, and visit the Freedom Trail and Quincy Market.
Day 3-4 | Martha's Vineyard, Massachusetts
Enjoy the beaches, visit the lighthouses, and try the famous lobster rolls.
Day 5-6 | Nantucket, Massachusetts
Relax on the beaches, explore the charming town, and visit the Whaling Museum.
Day 7-8 | Newport, Rhode Island
Tour the mansions, sail, walk the Cliff Walk, and dine in one of Newport's excellent restaurants.
A luxury yacht charter is the perfect way to experience the beauty and history of New England in style and comfort. With so much to see and do in Newport and the surrounding areas, you will surely create unforgettable memories on your New England yacht charter.
Please call us today at 1 (321) 777-1707 or describe Your Vacation Vision to help you plan your fully-crewed private luxury yachting vacation! Inquire as soon as possible about your custom, crewed yacht charter.
You make the memories. We make the arrangements.