This summer, chart a course to New England Sailing Charter aboard COLUMBIA. The magnificent 141-foot schooner offers a rare opportunity to experience pure grace and swiftness under sail. Coupled with five-star service, she is the perfect choice for your next summer sailing yacht charter in New England.
The Sailing Experience
When sailing, there is nothing like experiencing the waves, the wind, and the beauty of the sea. Each trip is unique if it is your first sailing trip or your 100th. Whether it is the shades of blue on the horizon, the sound of the wind in the rigging, or the sense of inner peace that is almost incomparable, sailing is an unforgettable experience.
Many aspects of everyday life, often very stressful and hectic, disappear during sailing holidays. Moreover, connecting with nature creates time and space to live life fully.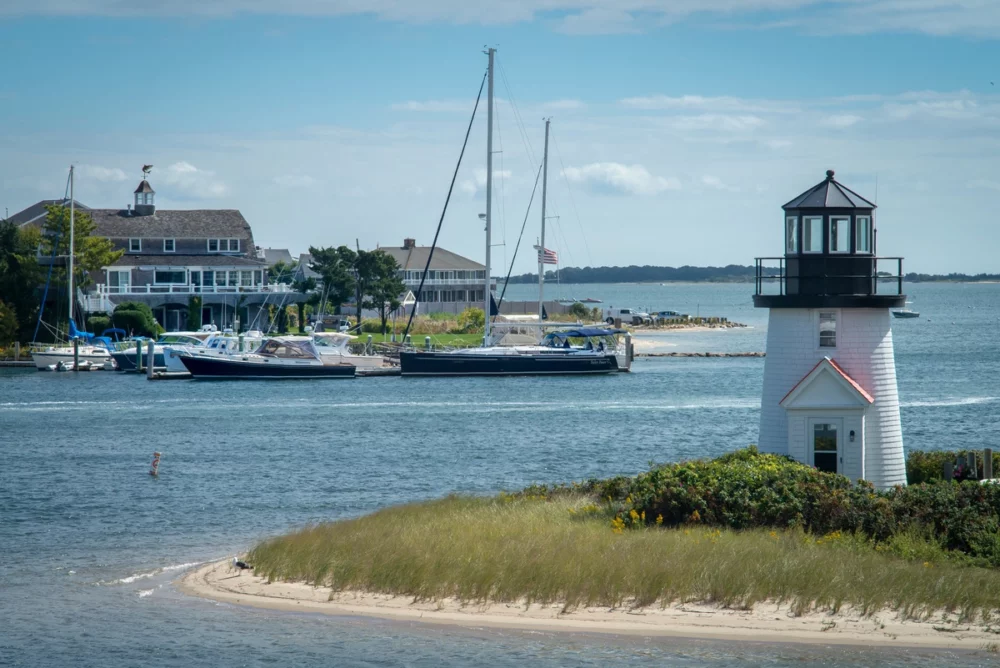 The Yacht – Columbia
Launched in 2014, she is a replica of a famous Starling Burgess-designed Gloucester fishing and racing schooner built in 1923 in Essex, Massachusetts. The spectacular new COLUMBIA is as loyal to the original as possible. She carries two dories (a rowboat and a sailboat). In addition, the yacht is also outfitted with traditional rigging and deadeyes.
Modern modifications include things such as
a steel hull
hydraulic winches
two state-of-the-art engines
a bow thruster
complete navigation equipment
underwater lighting
a multimedia entertainment system
The original schooner would have had fish holds below. Guests aboard this new yacht enter an interior markedly similar to the original. The décor has been beautifully finished embodying the traditional styles of the 1920s while providing modern amenities and comforts. It features fine woodwork and inlay crafted from tiger maple and mahogany.
A large table and seating area are located portside. An open galley keeps the atmosphere from overly formal and lets guests observe the chef prepare memorable meals. Modern conveniences such as an electric fireplace, air-conditioning, and heating keep the interior comfortable.
Built for Speed
The New England Sailboat Charter COLUMBIA can reach 17 knots under sail. It's no wonder she is participating in the 2023 St Barths Bucket!
Accommodations
New England Yacht-Charter S/Y-COLUMBIA has 4 cabins that accommodate up to 12 people. The twin cabins have fixed bunks, while Pullmans are in the master and VIP cabins. The new COLUMBIA also offers one more amenity those old fishermen never dreamed of: a large Jacuzzi in the master bath.
Water Toys
Snorkel Gear
Towable tube
Kneeboard (1)
SUP Boards (2)
Assorted floating toys
Fishing gear upon request
The Destination | New England
When sailing aboard the S/Y COLUMBIA, you'll experience the beauty of New England from the comfort of a luxurious sailing yacht. Set sail and explore some of the area's most stunning harbors and islands. The possibilities are almost endless.
Visit islands like Nantucket, Martha's Vineyard, and Cuttyhunk, where you can dock in the small fishing villages that line the coast. You can also explore some of the larger islands, such as Block Island, where you can discover hidden coves, beaches, quaint shops, and restaurants.
You can also explore smaller islands like Monomoy, Muskeget, and Naushon, which all offer unique experiences. Naushon Island is home to the Elizabeth Islands Chain, one of the most beautiful archipelagos in the world. This is a great place to explore, with miles of pristine beaches, rugged cliffs, and lush forests.
Activities
You won't be bored for a moment aboard COLUMBIA. Plenty of enjoyable activities are on the boat, in the water, and on the land.
On board, be as active or as relaxed as you want. You may want to watch the crew hoist the sails and learn a few things about sailing. Or, if you are already an experienced sailor, lend a hand if you would like.
Of course, relaxing is an important activity on a luxury yacht charter vacation. Find a cozy spot on the deck and catch up on your reading, napping, or daydreaming.
In the water, use the stand-up paddleboard to explore the scenic coastline. Float on a mat and soak up the warm sunshine. Or, grab some snorkel gear and see what marine life calls New England home.
On land, visit historical sites such as the Breakers Newport mansion, stroll the cobblestone streets of Nantucket, or have a bite to eat on Martha's Vineyard. New England has plenty of places to shop, dine, and explore.
Sample Itineraries
We will work with you to craft an itinerary based on your interests and desires. The following samples will show you where to go and what to see. Of course, all itineraries depend on the weather during your charter.
Related Article: Top 5 reasons to Charter a Yacht in New England this Summer
Please call us today at 1 (321) 777-1707 or describe Your Vacation Vision to help you plan your fully-crewed private luxury yachting vacation! Inquire as soon as possible about your custom, crewed yacht charter.
You make the memories. We make the arrangements.