Best Things To Do In Turks and Caicos
Turks and Caicos are one of the world's most beautiful and sought-after vacation destinations. It's no wonder many people dream of visiting this stunning archipelago. Furthermore, what better way to explore it than on a luxurious yacht? From exploring crystal-clear waters to snorkeling and diving for spectacular marine life. Here are a few of the best things to do in Turks and Caicos on a yacht.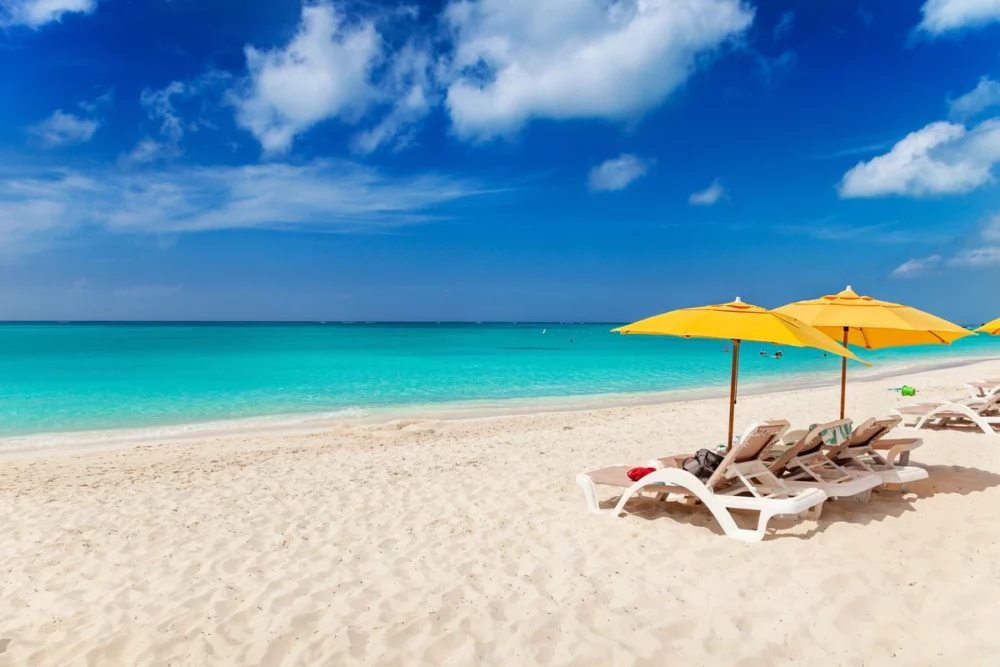 Visit the World-Famous Grace Bay Beach
Situated on the northeast coast of Providenciales, Grace Bay Beach is one of the most beautiful and iconic beaches in Turks and Caicos. The calm and shallow waters of Grace Bay provide a perfect setting for swimming, snorkeling, or simply taking a stroll along the shore.
Since the beach has many resorts and restaurants, you will find plenty of places to stop off and relax during your journey.
Snorkel with Sting Rays or Go Fishing
If you want to get out on the water, you may want to check out "Get on Board Water Sports" or "Papa J Tours." They are located at the Grand Turk Cruise Center and specialize in Gibbs Cay Snorkeling/Sting Ray Trips. Let their trained and experienced guide show you how to pet a stingray. In addition, you can find colorful reef fish and corals as you snorkel beautiful Caribbean waters.
For a super fun snorkel excursion, check out "Power Snorkel," an exciting adventure with a high-tech spin. With this, you can witness a fantastic 7,000-foot drop-off! With an underwater propulsion unit in your hands, you can glide effortlessly over the stunning coral reefs.
Kayaking Trip & Eco Safari
With "Clear Kayaking & Eco Safari," you will enjoy the natural beauty of Grand Turk as you kayak to Madison Point and explore the coast on foot. Take in the beauty and tranquility of nature as you paddle your 2-person glass bottom kayak through gentle, shallow waters surrounded by mangroves.
What's more, you can explore tiny coves and learn about the importance of mangroves. See various plants, birds, and an impressive Osprey nest. The clear bottom kayak will allow you to see the marine life in the beautiful Caribbean Sea. Turks and Caicos also is home to the West Indian Whistling-Duck, a rare bird with a distinctive whistling call.
Things To Do In Turks and Caicos | Bird Watching
The salt ponds and inland marshes are excellent feeding grounds for resident and migratory birds. In addition to Great Blue Herons, Flamingos, Osprey, and Pelicans, you can find Egrets, Terns, Frigates, Boobies, and other water birds. You can find 170 species of bird in the Turks and Caicos Islands, from Pelicans and Flamingos to Osprey and Cuban Crows. On North Caicos, the tidal flats on the Island's southside attract scores of birds, such as wild Pink Flamingos that regularly inhabit the aptly named Flamingo Pond.
Visit a Conch Farm
The Caicos Conch Farm is "The World's Only Sea Farm that raises Caribbean Queens fit for a King." Explore the only conch farm in the world where Caribbean Queen conchs are raised. Here you can see how the process is done; enjoy a show with the two trained and very friendly conchs, see conch pearls, and purchase fresh conch for a fabulous conch salad.
Visit the Grand Turk Cruise Center
With direct beachfront access, the Grand Turk Cruise Center is a first-class facility nestled among nearly 14 acres of landscaped grounds. Peruse a 45,000 sq. ft. shopping center which includes an extensive duty-free shop and high-end jewelry stores.
For space buffs, you'll certainly want to check out the "John Glenn Exhibit Splashdown Grand Turk" on the cruise center's south side. This 3,500-square-foot attraction celebrates the unique relationship of the American human spaceflight mission and its importance to Grand Turk's history. In addition, this free exhibit features excellent replicas unique to the Mercury space program, including a detailed replica of the Friendship 7 capsule, which splashed into the Atlantic in 1962, a few short miles from the Island of Grand Turk.
Things to do in Turks and Caicos | Take a Driving Tour
The Grand Turk Experience! Discover the highlights of Grand Turk with a guided island drive and beach break. You'll ride past the former United States Air Force Tracking base and see a replica of Astronaut John Glenn's Friendship 7 space capsule. Throughout your journey, you will see several 18th-century churches, beautiful Bermudian-style buildings, and salt ponds. Enjoy a quick stop to see the 150+-year-old working lighthouse and visit "The Salt House."
Take an Island Tram
At Island Trams on Grand Turk, the local guides will give you the knowledge, attention, and personal service you deserve. Likewise, the "Island Tram" proudly supports the Turks and Caicos National Trust by offering historical tours of Grand Turk.
Guided tours also wind past centuries-old buildings, homes, and inns. You can also see historic cannons, windmills, and salt ponds.
Hike to the Chalk Sound National Park
A great way to explore the amazing landscape of Turks and Caicos is to take a hike to the Chalk Sound National Park.
The park is a protected area that covers approximately 17 square miles and is home to various plant and animal species. The main attraction here is the breathtaking view of the Chalk Sound lagoon, surrounded by limestone cliffs and white sand beaches.
Visit an Old Lighthouse
The Grand Turk lighthouse was brought in pieces from the UK, where it had been constructed in 1852. It has been restored and still guards the northern tip of Grand Turk, the Turks and Caicos capital island.
The lighthouse and lighthouse keeper's house are prized historical sites protected by the National Trust. The park offers shade, a picnic area, and an excellent whale viewing spot in February and March.
The lighthouse hill overlooks North Creek, an inland lake that historians argue closely fits the description that Columbus gave for the island he first encountered on his 1492 voyage to the New World.
View Humpback Whales
You can see North Atlantic Humpback Whales around Grand Turk and Salt Cay from late January through early April. These majestic creatures pass through this area as part of their annual migration for mating and birth.
You can combine a morning of excellent diving, where you can hear the whales' songs underwater, and an afternoon of whale watching from the boat.
Visit a 'National Treasure' JoJo the Dolphin
JoJo is a unique Atlantic Bottle-nose dolphin that has lived and played in the Turks and Caicos Islands' shallow waters since 1980. The Islanders love it. Since the government has proclaimed JoJo a National Treasure, he has a specially appointed warden to protect him. The friendly dolphin has become a powerful symbol for nature conservation in the Turks and Caicos Islands.
Explore the Middle Caicos Caves
Middle Caicos is home to an impressive chain of limestone caves (the largest in the Caribbean). And the breathtaking limestone cliff side of Mudjidin Beach. These natural wonders are the subjects of many photos and must-see attractions when visiting Middle Caicos.
After exploring the caves, you can have lunch on the beach and then end your day with snorkeling for sand dollars. Excursions to Middle Caicos are available through Dolphin Tours and Silver Deep.
Visit 'The Hole'
Located in Long Bay in Providenciales, this naturally formed massive limestone 40-foot Hole is something to see! You can lower the rope 80 feet to the swimming hole. For adventurous souls only!
Play Golf at the Provo Golf Club
The course is one of the best and most challenging tests of golf in the Caribbean. The Provo Golf & Country Club is a relaxing green oasis set amongst the natural flora and fauna of the Island. You can play fairways featuring natural limestone outcroppings, native bush, and inland lakes.
The front nine features water on six holes, while the tight back nine has four 'lake holes.' These are also home to colorful water birds, including flamingos, pelicans, and herons.
Visit the Turk's Head Brewery
Are you looking for a fun way to spend an afternoon in the Turks and Caicos? Then the Turk's Head Brewery is the place for you. Located in Providenciales, the brewery produces some of the finest craft beer in the Caribbean.
The brewery is open for tours and tastings daily. You can learn about the brewing process and sample some of the beers that are made onsite. The brewery offers tours that include samples of all the beers and food from local vendors. You can also purchase beer to take home with you. The brewery has a full bar, an outdoor patio, and outdoor fire pits for a cozy evening.
Turks and Caicos Island Fish Fry
The Island Fish Fry happens every Thursday from 5:30 pm to 9:30 pm at PTV Stubbs Diamond Plaza, Providenciales. The Island Fish Fry is a popular weekly event featuring over a dozen restaurant and souvenir vendors, a live band, and cultural performances.
The fish fry offers an evening of fun in a family-friendly setting. The evening culminates with Junkanoo (a traditional procession of masqueraders in costume dancing to the rhythm of drums, cowbells, and other native instruments). Enjoy delicious local food, entertainment, and a personal glimpse of Turks & Caicos' culture steps away from Grace Bay.
View more about Turks and Caicos Yacht Charter Vacations.
Please call us today at 1 (321) 777-1707 or describe Your Vacation Vision to help you plan your fully-crewed private luxury yachting vacation! Inquire as soon as possible about your custom, crewed yacht charter.
You make the memories. We make the arrangements.