Embark on a luxurious yacht charter through the enchanting waters of Croatia and Greece aboard the remarkable Motor-Sailor PACHA. PACHA will take you through the scenic landscapes of Croatia and the captivating Ionian Islands of Greece. You'll enjoy a unique blend of culture, picturesque anchorages, pristine islands, and delectable wine and cuisine.
M/S PACHA Yacht Charter Croatia & Greece
Constructed in 2000 by a renowned Turkish shipyard in Tuzla near Istanbul, Motor-Sailor Pacha emerged as a fully customized masterpiece for a private owner. Following the exquisite Turkish design tradition, this vessel boasts high-quality mahogany as its primary material.
She has mainly been in private use, fully crewed, and always maintained to the highest standards. Pacha's luxurious interior has accommodation for 8 guests, using calm colors to create a relaxing atmosphere. There is one master stateroom, two double cabins, and one twin cabin forward, with three further cabins aft. The exterior deck contains two spacious sunbathing areas as well as a large dining table aft.
The boat has two jet skis and many other toys to ensure a fantastic vacation experience.
Charter Destination Greece
Greece is an alluring charter destination where azure waters, rich history, and stunning landscapes combine. With its myriad of idyllic islands, Greece offers endless opportunities for exploration. Enjoy the ancient ruins of Athens, the picturesque villages of the Cyclades, and the lush greenery of the Ionian Islands.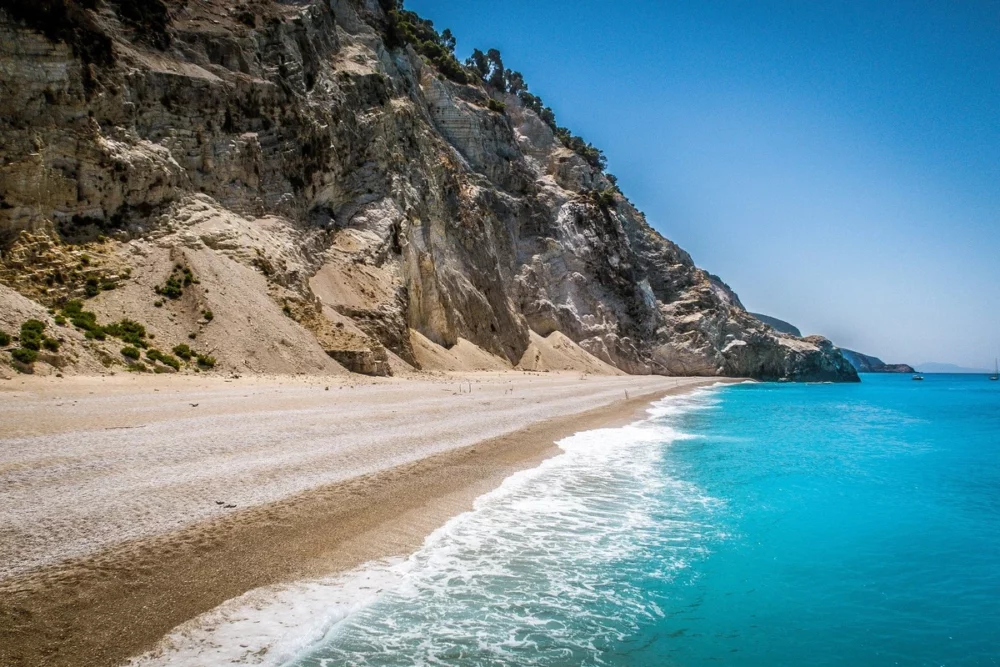 Greek cuisine, celebrated for its Mediterranean flavors, tantalizes the taste buds with fresh seafood, olive oil, and vibrant herbs. Activities also abound. Enjoy tranquil anchorage, vibrant nightlife, or a blend of both on your luxury charter yacht. Greece's welcoming culture and breathtaking scenery make it a yacht charter paradise.
Charter Destination Croatia
Croatia has a rugged Adriatic coastline adorned with over a thousand islands. The country's historic cities, including the stunning Dubrovnik and Split, provide a rich tapestry of cultural experiences.
As you sail along Croatia's crystal-clear waters, you'll discover secluded coves, ancient fishing villages, and vibrant coastal towns. Each area reveals a glimpse into the country's rich heritage. In addition, Croatia's cuisine showcases fresh seafood, aromatic herbs, and local wines.
Meet the Crew
Captain Goran Krivic
Captain Goran Krivic, from Croatia, has a lifelong connection to the sea and ships. With a profound passion for boats, Captain Goran ensures that your voyage will be truly unforgettable. For him, every guest aboard is a partner in an oceanic journey.
Chef Stefan Grbic
Stefan Grbic, born in 1995 in Zemunik, graduated from a Gastronomy and Tourism high school. His culinary journey began at Sweet Life on Martha's Vineyard. After that, he was a private chef at the European Union Ambassador Residence. Stefan has had the privilege of preparing meals for notable figures, including Mexican director Alejandro González Inarritu, famous Texas Chef Gerard Thompson, as well as Hollywood celebrities.
Deckhand Matej Krivic
Born in 1996 in Omis, Matej Krivic, the captain's son, has always had a deep affinity for boats and the sea. Currently pursuing his skipper license, Matej is an avid sailor. He also has a passion for adrenaline-fueled water sports. As an adrenaline enthusiast and water sports expert, Matej will be your guide to all the exhilarating activities PACHA has to offer.
Stewardess Rina Mihalovic
Born in 1997 in Split, Rina Mihalovic boasts an impressive track record with three successful seasons as a stewardess on yachts in Croatia. Rina has an unwavering work ethic as well as an ability to anticipate guests' needs before they even realize them.
Please call us today at 1 (321) 777-1707 or describe Your Vacation Vision to help you plan your fully-crewed private luxury yachting vacation! Inquire as soon as possible about your custom, crewed yacht charter.
You make the memories. We make the arrangements.