Imagine a sailing adventure that takes you beyond the ordinary, where luxury meets sustainability and the wonders of the Greek islands unfold before you. ALOIA 80 Greece Sailing Catamaran shines brightly amidst the beautiful blue waters and stunning landscapes. It showcases the true mastery of sailing at its best.
ALOIA 80 Greece Sailing Catamaran | At Home on the Waves
Step aboard the magnificent ALOIA 80, an 80-foot sailing catamaran crafted by Fountaine Pajot in 2023. The interior is a masterpiece, meticulously designed by the renowned Berret-Racoupeau Design team.
Indeed, every detail of the stunning interior reflects sophistication and elegance, creating an awe-inspiring ambiance. From the moment you set foot on this vessel, you'll be enveloped in a world of unparalleled luxury and comfort, setting the stage for an extraordinary sailing experience.
ALOIA-80 accommodates up to 10 guests in its five lavishly appointed cabins. There are a master suite and four queen-sized guest cabins, each with private ensuite bathrooms and showers. Four pillows on each bed promise a good night's rest.
The cabins are private havens of relaxation and comfort, offering ample space and all the desired amenities. The ensuites feature luxurious shower gel, shampoo, conditioner, body milk, hand soap, and hair dryers. There are also bathrobes for each guest.
Unparalleled Features
The ALOIA-80 boasts many unique features that elevate the sailing experience. On the foredeck, you'll find a sumptuous jacuzzi where you can unwind and enjoy panoramic views of the surrounding seascape. The feeling of warm bubbles against your skin as you sail through the turquoise waters will undoubtedly become one of your most cherished memories.
Flybridge
Aboard Greece sailing catamaran ALOIA 80, the great outdoors beckons with endless possibilities. On the flybridge and forward deck, bask in the sun's warm embrace as you take in awe-inspiring ocean vistas. The aft cockpit invites delightful moments with loved ones. Moreover, dine alfresco, unwind, relax, and savor every moment on this extraordinary yacht.
Beach Club
The standout feature of the ALOIA-80 is its distinctive beach club, which offers an unmatched vantage point. Situated at the stern and fully overlooking the sea, this exclusive area allows you to embrace the natural beauty of anchorages in complete privacy. Whether sipping a refreshing cocktail or simply relishing the breathtaking views, the beach club is a tranquil sanctuary you'll love.
Opening Wings
The ALOIA 80 also boasts innovative opening wings that enhance the connection between you and the sea. These wings provide unobstructed panoramic vistas and allow you to feel one with nature. Embrace the sea breeze while you sail along the Greek coastline, creating unforgettable memories in this open and airy setting.
Solar Panels
Not only is ALOIA 80 luxurious, but she also promotes greener living. The catamaran has solar panels that harness the sun's power to reduce its carbon footprint. Embracing sustainable technology, ALOIA 80 aims to protect the pristine beauty of the Greek islands for generations to come. It's an excellent choice for eco-conscious travelers who want to explore the wonders of Greece while minimizing their environmental impact.
Water Toys | Greece Sailing Catamaran ALOIA 80
For those seeking more than just relaxation, ALOIA-80 offers many water toys and amenities to fuel your sense of adventure. Whether kayaking through crystal-clear waters, exploring vibrant marine life while snorkeling, or feeling the thrill of gliding on a wave with the provided wakeboards, the catamaran is fully equipped to satisfy your desire for excitement.
There is so much to do that you won't be bored unless you want to be. Enjoy days on the water with these fun toys:
Jet Ski Sea-Doo Spark
Fliteboard Air Jet 90 Min. This board's increased buoyancy and stability make it the perfect e-Foil for beginners and heavier or older riders.
Wakeboard
Water ski adults
Monoski adults
Inflatable couch 3 seated
Fishing gear
Snorkeling gear
SeaBob. Since there are four SeaBobs onboard Alioa 80, you can zip around with your friends!
Kayaks
Paddleboards, Scuba jet gear can be added to motorize the kayaks.
Inflatable donuts
Life jackets (adults & kids)
Scuba jet (3) + kit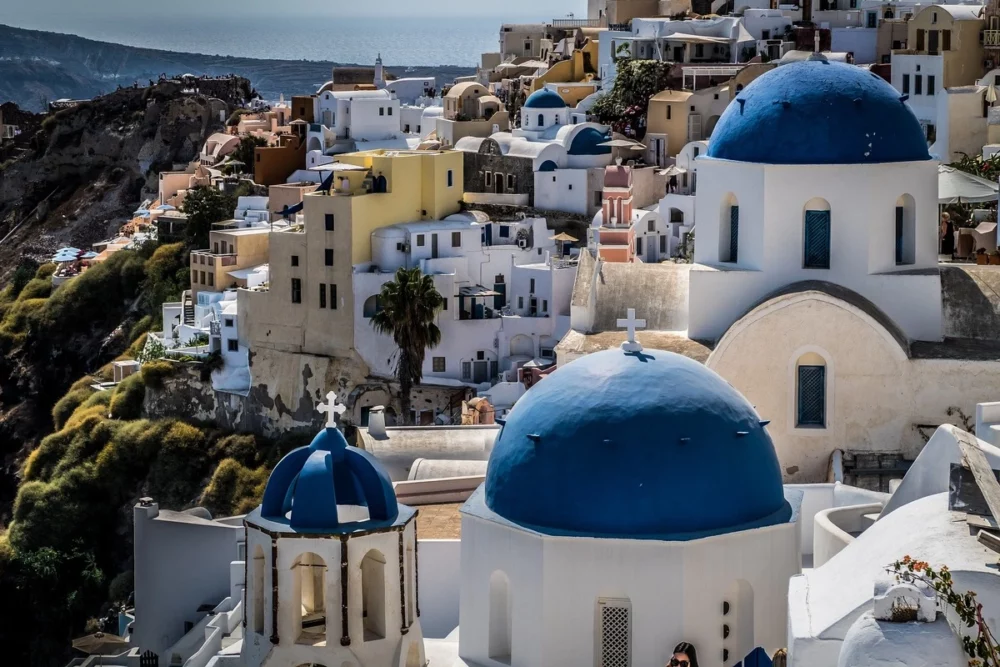 Meet the Captain and Chef on Greece Sailing Catamaran ALOIA 80
An outstanding crew of 5 is ready to make your vacation aboard ALOIA 80 Greece sailing catamaran unforgettable. Meet the captain and chef below.
Captain Vladimir Vangelov
Vladimir Vangelov is an experienced captain. With a deep passion for sailing and extensive knowledge of Europe's stunning waters, including Croatia, Greece, Montenegro, and Turkey, Vladimir is the perfect guide for your dream vacation.
At 52 years old, Vladimir's sailing expertise is matched by his fluency in English, ensuring seamless communication throughout your journey. He has honed his skills by participating in various races and regattas in the F18 sailing class, taking him to breathtaking locations like Bulgaria, Romania, France, and Turkey. For over a decade, Vladimir has been making Greece his sailing playground.
Beyond his sailing talents, Vladimir has captained a commercial motor yacht in the South of France for the past three years, refining his interpersonal skills to provide exceptional service and create cherished memories for his guests.
What sets Vladimir apart is his technical know-how. For the last five years, he has served as a technical advisor for reputable Lagoon and Jeanneau yacht dealers, equipping him with valuable expertise to handle any technical issues that may arise during your journey and giving you peace of mind.
Chef Panos Kyriazia
Chef Panos Kyriazis is from the enchanting city of Thessaloniki. His love for cooking ignited a desire to travel the world. His culinary journey took him to various destinations, from a luxury resort in Bansko, Bulgaria, to vibrant cities like Stuttgart, Hamburg, and Paris, and even the stunning paradise of St. Barth in the Caribbean. Eventually, he found the perfect blend of his passions – cooking and the sea – becoming a skilled yacht chef.
Panos holds a Culinary diploma from IEK DELTA in Athens and speaks fluent English and some German.
Greece Sailing Catamaran ALOIA 80
Greece sailing catamaran ALOIA-80 epitomizes luxury, comfort, and sustainability. With spacious accommodations, attentive crew, and unique features, this vessel offers an unparalleled sailing experience in the beautiful Greek islands.
If you're ready to embark on one of the yacht charters in the Greek Islands. A Greek odyssey that marries adventure, relaxation, and ecological mindfulness, Greece sailing catamaran, ALOIA 80, is the perfect boat. So, gather your loved ones, set sail, and let the wonders of Greece unfold before your eyes on this extraordinary sailing catamaran. Bon voyage!
Please call us today at 1 (321) 777-1707 or describe Your Vacation Vision to help you plan your fully-crewed private luxury yachting vacation! Inquire as soon as possible about your custom, crewed yacht charter.
You make the memories. We make the arrangements.