The Amalfi Coast is a true Mediterranean jewel in the heart of Italy's Campania region. It is renowned for its dramatic cliffs, stunning beaches, and charming villages. An Amalfi coast sailing vacation is a luxurious way to see this beautiful destination.
While there are numerous ways to sail the Amalfi Coast, we've highlighted some top destinations on your luxury yacht. For more Italy charter inspiration, visit our Italian Riviera and Sicily pages.
Amalfi Coast Sailing Trip | Sample Itinerary Stops
The following sample itinerary stops showcase the very best of this picturesque Italian coastline. Each stop will immerse you in beauty, culture, and luxury.
Procida
Procida, a quaint island in the Bay of Naples, is an exquisite stop. It adds a touch of authentic Italian charm to your Amalfi Coast sailing trip. As you approach the island, you'll see pastel-hued houses adorning the hillsides. Procida is refreshingly untouched by mass tourism, offering a tranquil escape from the bustling mainland and neighboring Capri.
Arrive at the picturesque Marina Corricella, a postcard-perfect fishing harbor that seems frozen in time. The colorful fishing boats gently bobbing on the water create an enchanting ambiance. You will feel transported to a simpler, more serene era. Stroll along the charming waterfront with inviting seafood restaurants and quaint cafes.
Explore the island's narrow alleys and steep streets. You'll discover a captivating blend of traditional Italian architecture, vibrant bougainvillea-covered walls, and hidden squares. One of Procida's most iconic landmarks is Terra Murata, a medieval fortress perched atop a hill.
Procida's beauty extends beyond its shores. Surrounding the island, inviting bays, pristine beaches, and secluded coves are perfect for a refreshing swim or snorkeling adventure. A must-visit is the breathtaking Chiaiolella Beach.
Things to See and Do in Procida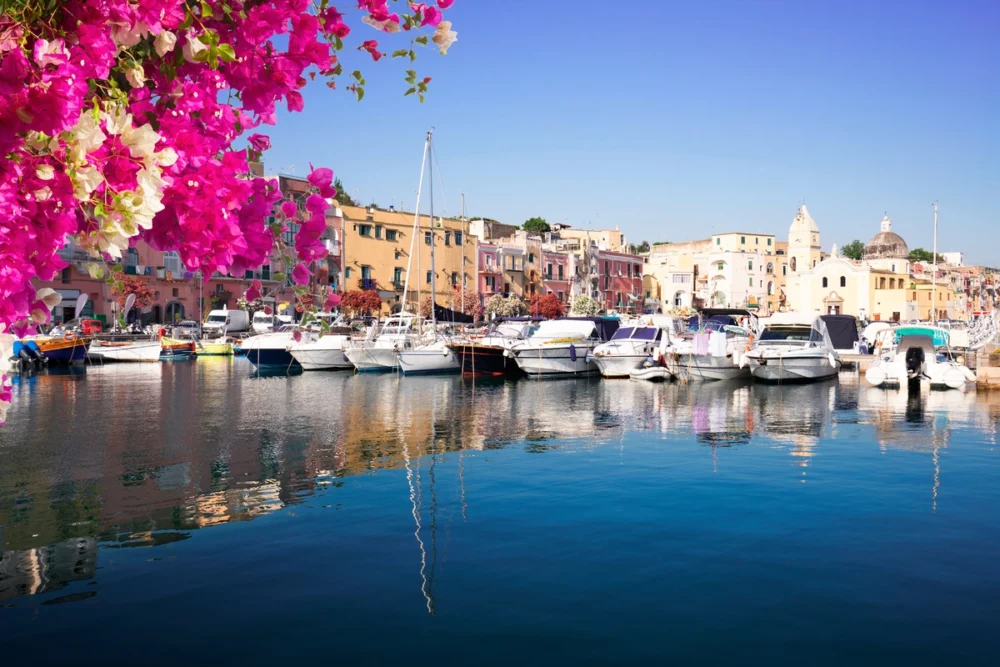 Ischia | Amalfi Coast Sailing Vacation
Ischia, the largest island in the Bay of Naples, is famous for its hot springs, lush landscapes, and volcanic origins.
Once you arrive in Ischia, a myriad of attractions awaits. The island is famous for its thermal spas, which have been attracting visitors since ancient Roman times. The thermal gardens of Poseidon and Negombo are must-visit destinations.
In addition to its thermal offerings, Ischia boasts enchanting beaches and charming towns to explore. Head to Ischia Ponte to admire the iconic Aragonese Castle, a medieval fortress perched on a rocky islet. A picturesque bridge connects it to the main island.
Wander through the quaint streets of Forio, a vibrant town with beautiful architecture, colorful bougainvillea, and inviting squares.
Ischia's culinary scene is a delightful fusion of fresh seafood, locally-sourced ingredients, and traditional Neapolitan recipes. Try local dishes, such as coniglio all'ischitana (Ischian rabbit) and linguine all'aragosta (lobster linguine).
Things to See and Do in Ischia
Capri
Capri, the dazzling jewel of the Tyrrhenian Sea, is an iconic and must-visit stop on any Amalfi Coast sailing vacation. As you approach the island from the sea, the striking cliffs, azure waters, and picturesque villages create an enchanting first impression.
Explore the chic town of Capri, where designer boutiques, stylish cafes, and elegant hotels line the narrow streets. Stroll along the famous Via Camerelle shopping street and discover the latest fashion trends.
While visiting Capri, you must see the Blue Grotto. A beautiful blue light illuminates this sea cave and creates an otherworldly experience.
Capri's gastronomic delights are equally captivating, with an abundance of exquisite restaurants serving Mediterranean cuisine that tantalizes the taste buds. Savor fresh seafood dishes, indulge in traditional Neapolitan pizza, and complement your meals with local wines. Also, try limoncello made from the island's famous lemons.
Things to See and Do in Capri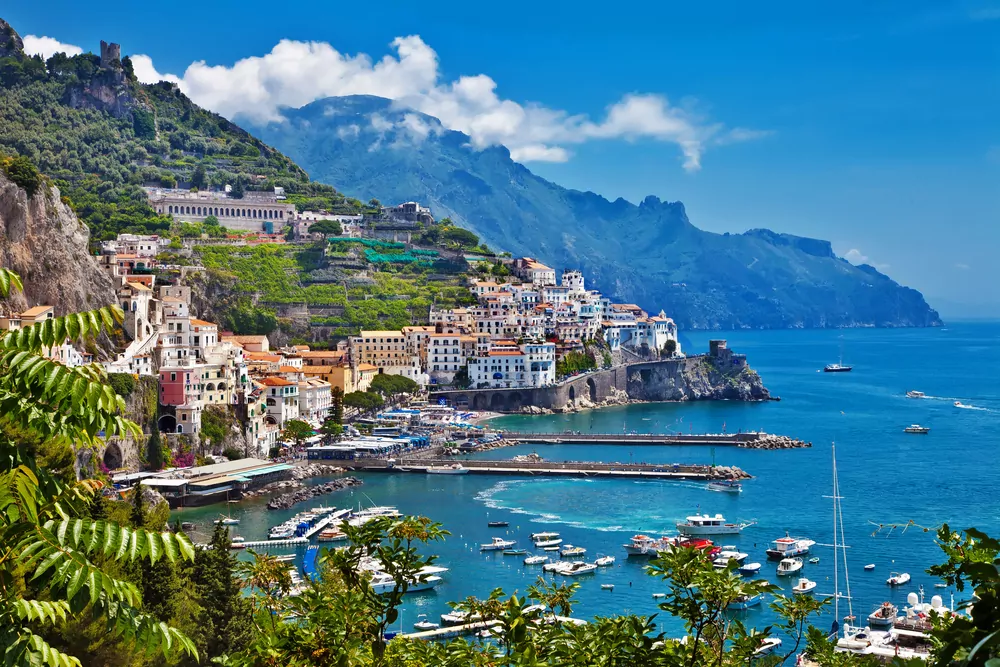 Positano
Positano, the enchanting cliffside village on the Amalfi Coast, offers postcard-worthy views, charming streets, and inviting beaches.
Things to See and Do in Positano
More great destinations include the port city of Amalfi, Ravello perched inland, and tiny Cetera along the coast. With great summer and fall weather, there are many opportunities to visit this Italian paradise, perhaps more than once.
Please call us today at 1 (321) 777-1707 or describe Your Vacation Vision to help you plan your fully-crewed private luxury yachting vacation! Inquire as soon as possible about your custom, crewed yacht charter.
You make the memories. We make the arrangements.