The Amalfi Coast of Italy is famous for its vibrant Mediterranean atmosphere, beautiful views, and delicious wines. Interestingly, the three towns of Positano, Amalfi, and Ravello were built by wealthy citizens seeking refuge from the Vandals who invaded Rome at that time
. Today, these towns are famous for their scenic views and historic buildings. And artwork dating back to the 12th century. In addition, Amalfi's position just south of Naples and across from gorgeous islands makes it an ideal yacht charter location.
While there are numerous ways to sail the Amalfi Coast, we've highlighted some top destinations on your luxury yacht. If you're looking for even more Italy charter inspiration, visit our Italian Riviera and Sicily pages.
Amalfi Coast Sailing Trip – Sample Itinerary Stops
Procida
Procida is one of several islands in the Bay of Naples. As with other islands in Southern Italy, it has a long history and was once a location where pirates anchored their ships, but today Procida is primarily popular as a resort destination.
From your yacht, you can gaze up at the beautiful seaside churches and relics of the past, including the Santa Margherita Nuova Monastery.
As you sail, photograph the incredible bay of Belvedere Elsa Morante or hike up to the Panoramica sulla Corricella for more postcard views.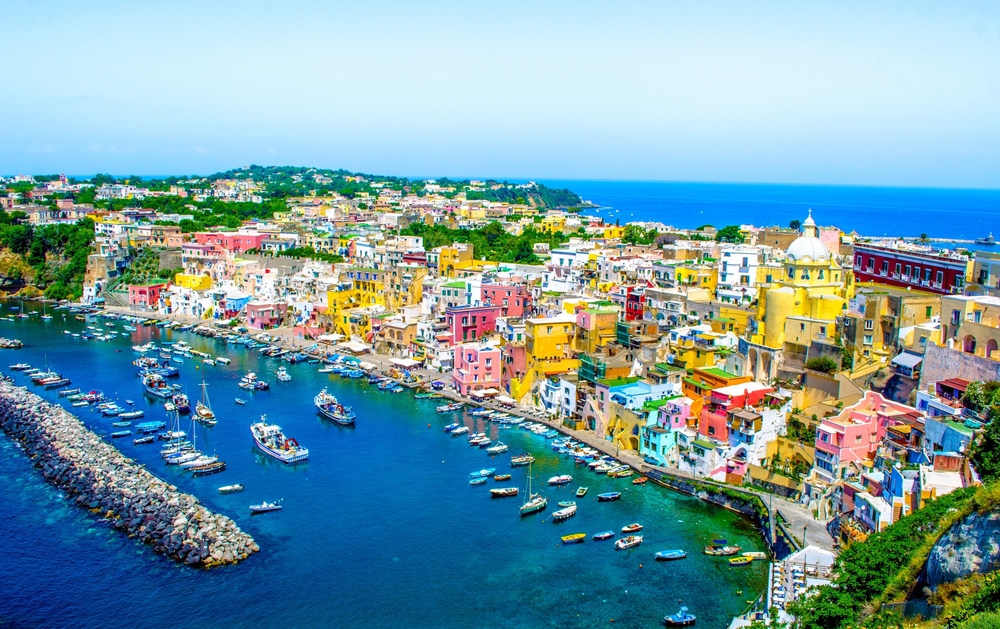 Ischia | Amalfi Coast Sailing Vacation
Ischia, located west of Procida and off of the coast of Naples, is an island rich with history. Ischia has been settled since Paleolithic times.
Today, yacht guests can enjoy walking among ancient ruins on Ischia; these include an archaeological museum with mosaic floors from a 3 BC – 313 AD Roman Villa.
Those looking for relaxation and wellness can visit several thermal baths dating back to between 82 BC and 110 BC.
One of the island's top attractions is Monte Epomeo, which rises to about 1,400 feet above sea level, Procida's highest point.
Maronti beach, Sant'Angelo beach, and cave are must-visit seaside spots with outstanding views.
Of course, don't miss the opportunity to go wine tasting at a local vineyard or cellar in town. Try the native Biancolella grape; you won't be disappointed.

Capri
Capri's past also dates back to Neolithic times. It was once home to an important prehistoric site known as Pithekoussai and a Phoenician trading port.
In subsequent years, Capri became a Roman trading center (and favorite of many famous Romans), then fell under Byzantine rule before becoming part of Italy in 1866. When you visit Capri, you will still see ruins from all three civilizations. This breathtaking scenery inspired some of France's most well-known artists, including Claude Monet and Edward Hopper.
A short journey from your yacht, take the funicular up to reach the city of Capri for quaint piazzas, shopping, and gelato.
If you're interested in more adventure, you can ride a solo mountain chair lift up to the top of Anacapri. In fact, it's an incredible experience.
Positano
Positano is a gorgeous port town that sits on a cliff overlooking the Mediterranean Sea. The city of Positano is about 2,000 years old and has some fantastic views that look out towards Capri.
There are many ways to explore Positano. But a hike or drive up above Positano is a must for the best views. You can reach places like Montepurtusso Il Buco, an intriguing natural rock formation.
As well as stunning ocean views, there are opportunities for great photos of posh villas. They sit in the lush green hillsides amongst terraced vineyards where olive trees and lemons grow.
Be sure to visit one of Positano's small and charming beaches, Il Fornaillo or Arienzo Beach.
More great destinations include the port city of Amalfi, Ravello perched inland, and tiny Cetera along the coast. With great summer and fall weather, there are many opportunities to visit this Italian paradise, perhaps more than once.
To embark on your very own Amalfi Coast Sailing Vacation, please Contact Us at (321) 777-1707
Please contact us at 1 (321) 777-1707 or complete our contact form to start planning your yacht charter vacation! It's never too early, or too late to inquire about your bespoke private yacht charter.
You make the memories. We make the arrangements.