Antigua Sailing Yacht Charter: Discover Caribbean Beauty
Antigua's shoreline is kissed by the Caribbean Sea and is hugged by 95 miles of superb coastline. Barbuda is 27 miles northeast of Antigua. This lovely sister island has pristine pink coral and white sand beaches and is the largest Frigate Bird Sanctuary in the Western Hemisphere. An Antigua sailing yacht charter is an ideal way to explore the gorgeous waters of the Caribbean.
Antigua has maintained its reputation as a premier yachting destination. Visitors seeking adventures on the water will appreciate the islands' sheltered harbors, many anchorages, and abundant natural beauty.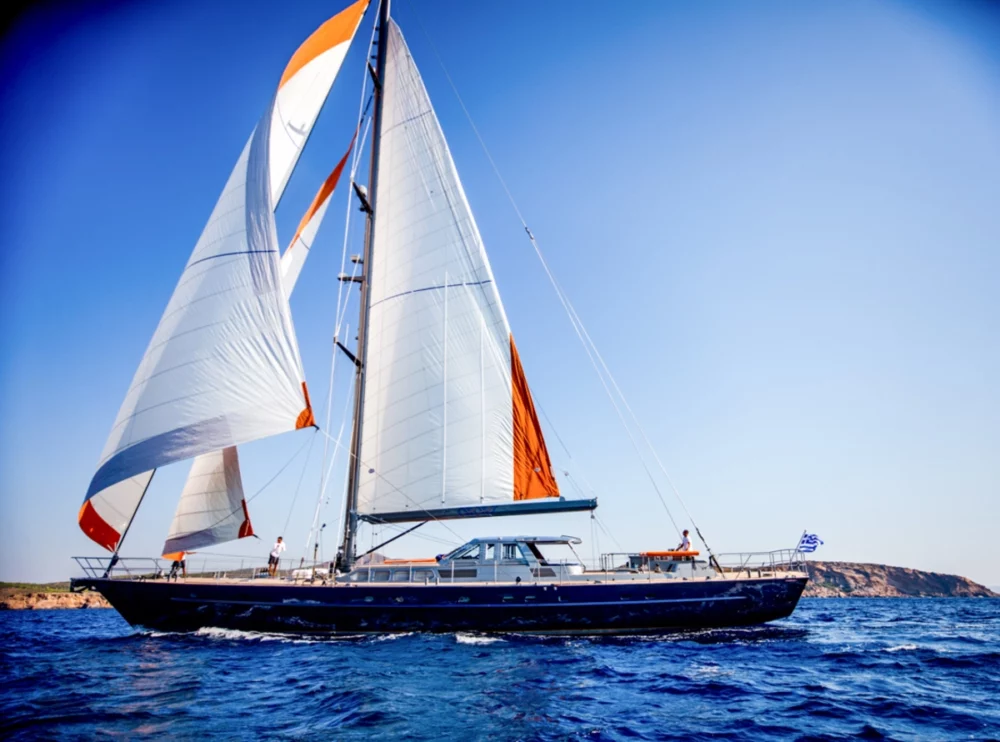 Antigua Sailing Week
Antigua and Barbuda have long been a sailor's Mecca. Each year, the Antigua Sailing Week yacht regatta takes place in the waters off English Harbour, Antigua. It is one of Antigua's most notable events. The event, which started in 1967, is one of the top regattas in the world, with 100 yachts, 1500 participants, and 5000 spectators on average annually.
If you visit during the week-long event, watch the races and join the day and nighttime festivities. With this great emphasis on sailing, Antigua is one destination you should visit on a sailing vacation.
Why Choose a Sailboat?
A sailboat provides the perfect balance between relaxation and exploration, with plenty of opportunities to explore the coastlines and islands of the Caribbean while offering all the comfort and amenities of a luxury vacation. Sailing is a unique and enjoyable way to explore the waters of the Caribbean, providing a different perspective on the surroundings than what can be experienced from the shore.
Not only can you soak up the sun and relax aboard the boat, but you can also explore some of the more secluded beaches and bays inaccessible by land. The gentle rocking of the waves and fresh sea air will make for an incredibly peaceful and enjoyable journey.
The Amenities
Luxury yacht charters come with all the modern conveniences you'd expect from a high-end holiday. You can expect luxury vessels with spacious cabins, comfortable beds, top-of-the-line audio-visual equipment, and full-service galleys stocked with all the food and beverages you'll need for your voyage.
Onboard Amenities: Your luxury sailing yacht charter will have plenty of amenities to make your trip more enjoyable. These may include a variety of water toys like jet skis, kayaks, and paddle boards; Wi-Fi access; a full-service bar with drinks and snacks; and other items like yoga mats and beach towels.
Gourmet Cuisine
On board a luxury sailing yacht charter, you'll be treated to fresh gourmet cuisine by an experienced chef. Before you travel, you will complete a Preference Sheet that outlines your likes and dislikes. Meals are tailored to your dietary needs, and you'll have access to snacks and drinks throughout your journey.
Expert Crew
A luxury sailing yacht charter will come with a highly experienced and qualified crew knowledgeable about the area and can provide insight into local attractions and activities. They will also be available to assist with any onboard needs you may have, such as helping to navigate the boat and stocking supplies.
Sample Yachts
A few yachts available for your Antigua and Barbuda yacht charter:
Why Antigua for Your Sailing Yacht Charter?
Antigua's balmy breezes make it a sailor's paradise. You will love this Caribbean jewel with 54 miles of stunning coastline, 365 beautiful beaches, and fantastic year-round weather. Whether exploring lush tropical rainforests, snorkeling over colorful coral reefs, or dancing the night away under the stars, you'll have plenty to see and do on your Antigua sailing yacht charter.
Since Antigua and Barbuda are sister islands, you can quickly and easily sail from one to the other. Each island has something different to offer.
The Beaches
Antigua is an island of unparalleled beauty, and its coastline is home to some of the most breathtaking beaches in the world. With 365 beaches between Antigua and Barbuda, there's something for everyone when exploring Antigua's shorelines. Here are some of the famous beaches of Antigua:
Dickenson Bay. This beautiful beach is perfect for swimming, sunbathing, and activities like snorkeling and kayaking.
Turner's Beach. This secluded beach offers tranquil waters and stunning views and is an excellent spot for swimming, snorkeling, and relaxing.
Half Moon Bay. This picturesque bay is ideal for swimming, snorkeling, and enjoying a romantic sunset.
Nonsuch Bay. This scenic beach offers excellent snorkeling opportunities with crystal clear waters and rich marine life.
Darkwood Beach. This quiet beach is perfect for a relaxing day, with its soft white sand and calm waves.
Jolly Beach. This long stretch of white sand beach has shallow, warm waters, which makes it ideal for swimming and other water activities.
Here are some of the famous beaches of Barbuda:
Princess Diana Beach. A beautiful long stretch of sugary white sand, lapped by turquoise waters.
17-mile Beach. 17 Mile beach has exceptional, pink-hued sand.
Coco Point. The pink coral beach is regarded by many as the most beautiful in the Caribbean.
Pink Sand Beach.
This beach is quiet and relaxing. Its unique pink sand gets its color from a mixture of corals and white sand.
Palmetto Point. The pink sand beach is home to one of the best surfing spots in the Caribbean.
The Activities
It's not just the beaches that make Antigua unique. Additionally, there are many activities to choose from. Whatever your interests are, there is something for you here, whether you're an avid athlete, a foodie, or an adventurer. The following are just a few of the activities you can participate in on your Antigua sailing yacht charter:
Water sports such as SUP, kayaking, snorkeling, scuba diving, jet skiing, and kite-surfing
Land-based sports such as tennis, running, hiking, biking, zip-lining
Nightlife, shopping, and dining
Sail to nearby sister island Barbuda.
Golfing on both Antigua and Barbuda.
The Food
The national dish of Antigua and Barbuda is fungie (pronounced "foon-jee") and pepperpot. Fungie is a dish made chiefly with cornmeal, similar to Polenta. Other dishes on the local menu include fish, lobster, pork, and jerk chicken.
You can find restaurants offering everything from Middle Eastern cuisine to sushi to Chinese food. What's more, there is no doubt that rum is very popular in Antigua. Try the local rum punch, and you'll see why!
The Anchorages and Marinas on Antigua and Barbuda
Jolly Harbour Marina. A large, full-service marina shopping center. The marina has 155 berths for boats up to 75 ft. They also have 13 moorings inside the bay for boats up to 50ft. There is also a spacious anchorage just outside the bay.
Antigua Yacht Club Marina. The custom-built superyacht dock accommodates vessels up to 330 feet long and 20 feet in draft.
Nelson's Dockyard. You'll find a thrumming nightlife and lively bars with saiMiddlerinking rum cocktails.
Deep Bay. Anchor in this pretty bay and snorkel the famous shipwreck, The Andes, huddled under the blue waters in the Middle of the bay.
Nonsuch Bay and Green Island anchorages. Nonsuch Bay is a deep inlet with many small coves. This anchorage is at the south end of Green Island.
Some of the best-protected anchorages on Barbuda include Cocoa Bay, Low Bay South, and Gravenors Bay.
Please call us today at 1 (321) 777-1707 or describe Your Vacation Vision to help you plan your fully-crewed private luxury yachting vacation! Inquire as soon as possible about your custom, crewed yacht charter.
You make the memories. We make the arrangements.