Luxury sailing yacht EROS: a Historic schooner of the ages reborn as a luxury yacht.
Sailing a large classic like EROS is pure joy for veteran and novice sailors. Under a warm, tropical breeze, she heels gently and accelerates to ten knots or more. You can hoist sails, grind winches, or take the wheel. Or, you can also sit back and watch the crew at their positions. All are once-in-a-lifetime experiences.
The 115-ft luxury sailing yacht EROS comfortably sleeps up to 9 guests in its four smartly furnished guest cabins. Each air-conditioned room is handsomely appointed with original teak paneling and tasteful artwork. In addition, there is ample storage for your belongings and all the bedside conveniences of home. Hatches provide natural light as well as the option for fresh air ventilation. Since a professional crew of 5 is ready to serve you, you can sit back and enjoy every vacation moment.
Here is a brief video message from the crew. While they are not professional spokespeople, their desire to deliver a life-changing experience to their guests is sincere. They receive five-star ratings from charter guests time after time. They certainly will not disappoint you.
For a vacation as unique as you…
Activities
EROS offers a perfect vacation for all generations. There is a wealth of activities for any age, ability, and thirst for adventure. Some guests seek the thrill of water sports, while others enjoy the simple thrill of standing at the bow and watching pods of dolphins.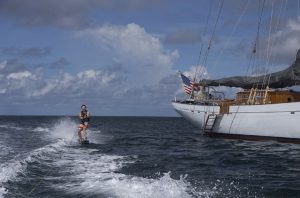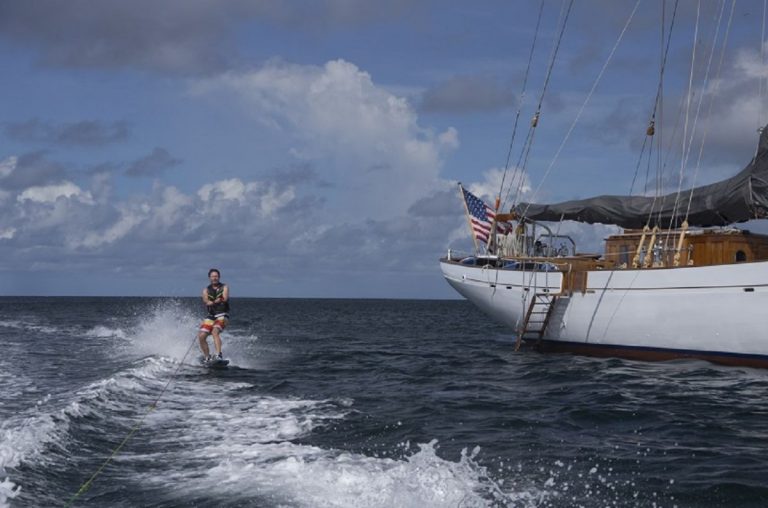 The EROS crew will assist with recommendations and reservations for the days you venture ashore. For instance, they may find a secluded beach cove or book a zip line adventure. Guests going ashore are given handheld VHF radios to stay in contact with the crew. Ready for pick up? Just give them a call.
On water or land, guests are never without options. EROS has all the toys and equipment necessary to enjoy activities such as:
Sunbathing, Shade lounging
Fishing
Whale watching (seasonal)
Yacht sailing lesson
Evening cocktails
Library. Board games and card games
Electric Piano
2 Bluetooth sound system; Satellite Flat Screen TV
DVR with 1000+ movies
Wireless high-speed internet (charges apply)
In the water, have fun with activities such as
Waterskiing, Wakeboarding
Tubing
Kayaking, Paddleboarding
Snorkeling, Swimming
Dinghy Sailing/Lessons
On Land, explore and experience
Land Excursions*
Beach barbecue
Horseback riding*, ATV rides*, Ziplining*, or Jeep Canopy Tours*
Shopping, Art galleries
Cooking classes*, Spa treatments*
*Additional charges may apply.
EROS offers an incomparable combination of rare, classic beauty, contemporary luxury, and unparalleled care at the hands of five dedicated professionals. During the summer months, EROS can be found sailing the New England waters of Newport, Nantucket, Martha's Vineyard, and Maine.
Contact Luxury Yacht Charters, a division of CKIM Group, at 321-777-1707
Please call us today at 1 (321) 777-1707 or describe Your Vacation Vision to help you plan your fully-crewed private luxury yachting vacation! Inquire as soon as possible about your custom, crewed yacht charter.
You make the memories. We make the arrangements.