British Virgin Islands Power Catamaran
If you are not keen on sailing yet want the stability and space of a sailing catamaran, then a power catamaran may be just right. Exploring the British Virgin Islands on a power catamaran gives you the best of a motor yacht and the stability and space of a sailing catamaran.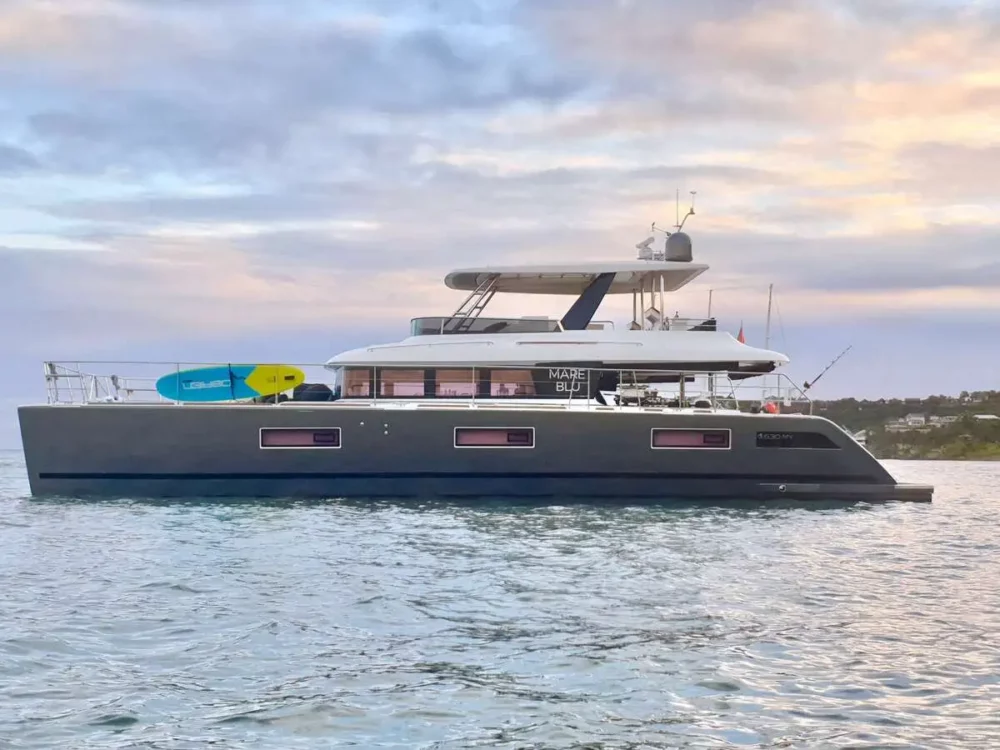 Benefits of a British Virgin Islands Power Catamaran
Power catamarans do not rely on the wind like sailing catamarans, thus providing great flexibility. You can travel between destinations quickly and therefore have more time to play and explore.
The Crew
A professional crew, including a captain and chef, will exceed your expectations for both service and quality. Your captain has extensive knowledge of the British Virgin Islands and will recommend the best beaches, hidden coves, and fun beach bars. The captain is also highly trained for safety and will adjust your itinerary if the weather becomes inclement.
The chef will amaze you with delicious culinary creations. Many guests often comment that the food was one of the highlights of their vacation! Of course, you also have the option to dine ashore, and getting to land is accessible on the yacht's speedy tender.
The Yacht
Outside
The wide, airy decks provide ample outdoor space to relax and enjoy the views. Power catamarans, like sailing catamarans, have a wide beam and ample deck space, making your voyage very comfortable. Power catamarans also feature a large upper deck "flybridge."
No sails above the cockpit allow plenty of room for this extra living space. In addition to fantastic 360-degree views, there is room for a BBQ, sun pads, a wet bar, and even another dining table and seating.
More room also means more water toys, the highlight of most yacht charter vacations. Some power cats include e-foils, sea bobs, floating islands, SUP, kayaks, and more. A few British Virgin Islands power catamarans also offer onboard scuba diving and have an onboard scuba compressor and gear.
Inside
Not only do these yachts offer plenty of things to do outdoors, but their interior space is also impressive. They typically have a large, open-plan salon with plenty of seating. The layout maximizes interior space and offers both comfort and luxury.
Inside, you'll find all the amenities, such as a galley, ensuite bathrooms and showers, air conditioning, and comfortable beds. The number of guests the power cat can accommodate depends on the size of the boat. British Virgin Islands crewed power catamarans range in size from 50′ – 90′ and can sleep up to 10 guests.
Power Catamaran Manufacturers
When planning your trip to the BVI, consider different types of power catamarans to ensure you get the perfect vessel for your journey. Consider features like size, layout, and speed – each vessel offers a unique experience.
There are many different power catamaran manufacturers. However, a few are popular in the British Virgin Islands.
Aquila builds an extensive range of cruising power cats from 28 to 70 feet. These yachts are known to be sleek and sporty.
Sunreef yachts have a unique and elegant design. The brand is known for being easily maneuverable, with ample space for passengers to relax. Sunreef is one of the best power catamaran manufacturers.
Lagoon is another leading manufacturer of power cats. The Lagoon 78 and the Lagoon 67 offer an elegant silhouette and open spaces.
Leopard catamarans are known for high-quality, seaworthy yachts with contemporary designs and spacious layouts.
Horizon power catamarans feature many of the amenities of a large motor yacht. They have elegant decor, premium appliances, top-end navigation gear, and exquisite finishes.
Places to Visit in the BVI
Cruising the brilliant sapphire waters of the British Virgin Islands on a power catamaran is an extraordinary vacation. Every moment is unforgettable, from sunny days spent island hopping to warm nights dining under the stars.
There are many beautiful places to visit on a British Virgin Islands Power Catamaran. Just a few include:
Anegada. The most remote of the BVI, Anegada, lies approximately 15 miles north of Virgin Gorda. Anegada is the only inhabited British Virgin Island formed from coral and limestone rather than being of volcanic origin.
Virgin Gorda: This gorgeous island is home to several attractions, such as The Baths – an incredible formation of giant boulders that form a natural swimming pool – and stunning coral reefs. Visitors can also explore the Copper Mine Ruins and relax on one of the island's many white-sand beaches.
Tortola. Tortola: Home to the capital city of Road Town, Tortola is the largest of the BVI islands. It's known for its lush rainforest, numerous hiking trails, and beautiful bays and coves. Visitors can also explore historic sites like Fort Burt and the Callwood Rum Distillery.
Jost Van Dyke. One of the most popular destinations in the BVI, Jost Van Dyke is home to the famous Foxy's Bar and an array of beautiful beaches, such as White Bay, Great Harbour, and Little Harbour.
Peter Island is a private island located in the southern portion of the island chain. It boasts some of the most beautiful beaches, coves, and reefs in the Caribbean. Peter Island Resort plans to reopen soon following repairs made after a recent hurricane.
Best Time to Visit
The BVI has warm weather year-round, so any time is a great time to visit. However, the best time to charter a power catamaran in the BVI is from mid-December to June. The weather is typically dry and sunny during this time, with warm temperatures and gentle trade winds making ideal boating conditions.
Activities
While on a power catamaran, you can quickly hop from one island to the next and have more time to visit each destination. Besides the water sports, there are land-based activities for everyone in your group. Hiking and walking, shopping, dining, and touring the islands are just a few of the things you can do ashore.
Visit our British Virgin Islands page for additional information.
Please call us today at 1 (321) 777-1707 or describe Your Vacation Vision to help you plan your fully-crewed private luxury yachting vacation! Inquire as soon as possible about your custom, crewed yacht charter.
You make the memories. We make the arrangements.