BVI General Information
This page provides BVI general information that may help plan your trip to the British Virgin Islands.
Good to Know
Capital: Road Town, Tortola
Population: 30,100 (2019)
Currency: US dollars
Credit cards: Visa and Mastercard are widely accepted; American Express is accepted in some establishments. Smaller establishments do not accept credit cards.
USD Official language: English
Political status: United Kingdom
Area: 59 square miles (152 square kilometers)
Religion: Churches for main Christian denominations
Business hours: Banks are open Monday to Thursday, 9 am-3 pm, and 9 am-5.30 pm on Fridays. There are many banks, and shops generally are open 9 am-5 pm, Monday to Saturday. Payment cards are widely accepted.
Electricity: 110 volts, 60 cycles.
Telecommunications: the international dialing code for the BVI is 1 284, followed by the local number. On the island, use the local number alone.
Time: GMT-4
Driving. In the BVI, drive on the left side of the road.
BVI History
Three hundred years ago, the 50-plus islands of the British Virgin Islands swarmed with pirates, who took refuge in the protected waters and kept guard from secluded mountain look-outs. Some say they left buried treasure that is still there. Today, the fine sailing and magnificent anchorages attract sailors from around the world, and most visitors still spend much of their time in or on the sea.
What to Explore in the Water
The warm tropical sea in the BVI makes it an excellent place for all sorts of water sports. Make use of your yacht's many water toys, such as kayaks, SUPs, inflatables, towable toys, water skis, snorkeling gear, and fishing gear, to name just a few. Conditions are ideal even for first-time sailors, with safe waters and a constant breeze to fill your sails.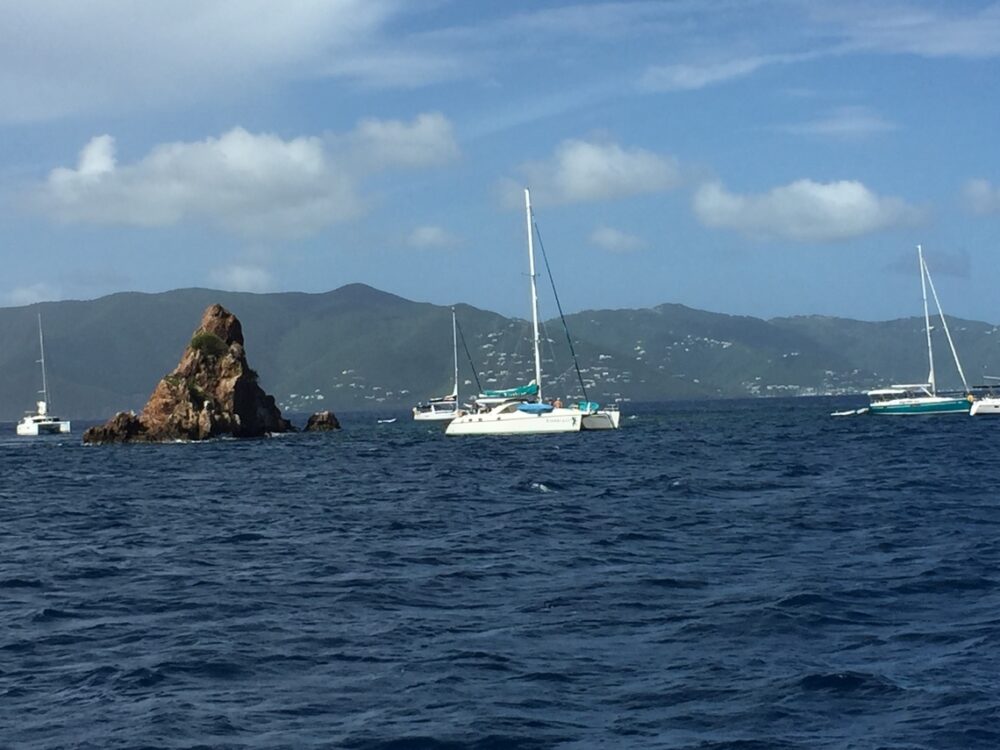 Scuba diving is popular around underwater reefs and wrecks. The RMS Rhone may be the best dive wreck in the Western hemisphere. Once the pride of the Royal Mail Steam Packet Company, the Rhone hit Salt Island in a storm in 1867 and sank. It is now an official marine park. Snorkelers should visit the four caves at Norman Island, said to be the setting for Robert Louis Stevenson's Treasure Island. Windsurfers benefit from steady winds and calm water.
What to Explore on Land
On land, explore national parks, including Little Fort, with the remains of a Spanish castle and the old works at Coppermine. For naturalists, Anegada's 1,100 acre (4.5 sq km)bird sanctuary is a must, as is Sage Mountain, the last remnant of a rainforest.
Population
The BVI has only 17,000 inhabitants, and more than 30 of the islets are unoccupied. Most of the population of Tortola lives in and around the capital, Road Town. Virgin Gorda, Anegada, and Jost van Dyke are the other principal islands, and ferries service these islands.
BVI General Information
Sparkling sandy bays beneath striking cliffs are favorite stopping-off points for beach picnics. The islands' beaches are splendid, and the beach bars are exceptional. Gourmet cuisine can be found, including great options on Virgin Gorda, along with background music from steel pans and guitars. But don't expect early-hours entertainment – except at the summer festival, when parades and parties rule Tortola.
Please call us today at 1 (321) 777-1707 or describe Your Vacation Vision to help you plan your fully-crewed private luxury yachting vacation! Inquire as soon as possible about your custom, crewed yacht charter.
You make the memories. We make the arrangements.