The Exuma Islands are the unique Bahamas. These islands offer one-of-a-kind experiences. Speak to anyone who has been to the Exuma Islands. They will tell you just how unique this chain of islands is! The Exumas still have some of the most pristine beaches and clear blue waters available to explore.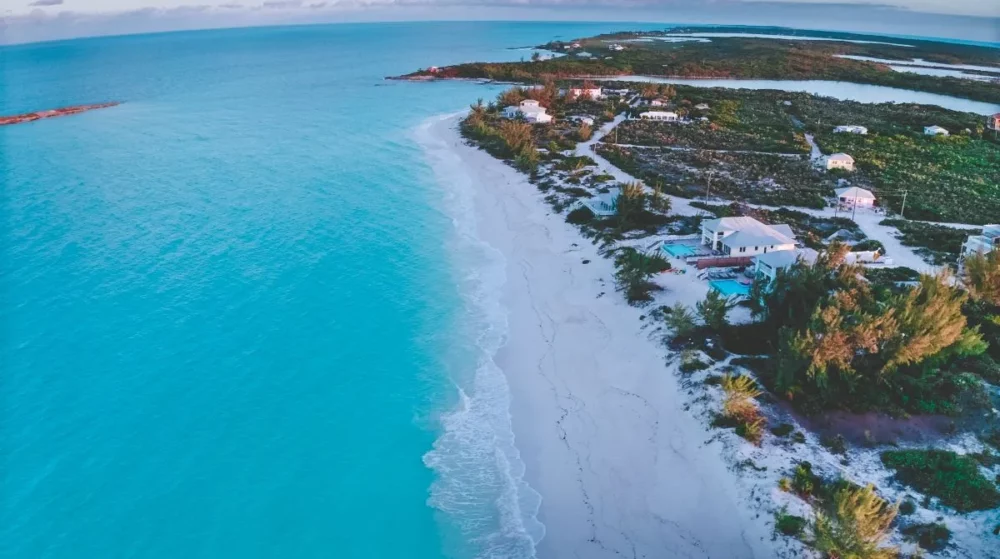 Exuma Islands on a Crewed Luxury Yacht
When exploring the Exuma Islands in the Bahamas, there is no better way than aboard a crewed luxury yacht. Indulge in a journey where every moment is perfect. Here's why a crewed luxury yacht is the best way to experience this remarkable area:
Personalized Itineraries
A crewed luxury yacht allows you to chart your own course and design an itinerary that aligns with your desires. Skilled and knowledgeable crew members know the Exuma Islands very well. You can discover hidden coves, secluded beaches, or enchanting dive spots. Kayak quiet mangroves, snorkel over colorful reefs, and enjoy peace and quiet.
Unmatched Comfort and Privacy
Luxury yachts are a haven of indulgence and comfort, offering unmatched opulence and privacy. Immerse yourself in lavish surroundings, with spacious cabins adorned with elegant furnishings, plush amenities, and panoramic views of the Exumas.
Enjoy lounging on sun-drenched decks, basking in the warm tropical breeze as you take in the breathtaking scenery. Relax in private jacuzzis or savor delicious meals crafted by skilled chefs who will cater to your taste preferences.
On a luxury yacht, every moment is tranquil, ensuring you are in an atmosphere of pure bliss throughout your journey.
Unparalleled Access to Remote Paradises | Exuma Islands
The Exuma Islands are famous for their remote cays and pristine beaches, offering true escapism. Since you will travel by private yacht, you can access these remote paradises and explore the Exumas in their purest form.
In addition, sail to idyllic locations inaccessible to larger vessels, anchor in pristine bays, and step ashore onto untouched sands. Moreover, a luxury yacht is your gateway to the untamed beauty of the Exumas, whether snorkeling amidst marine life or enjoying the solitude of deserted beaches.
Impeccable Service and Attention to Detail
A dedicated and attentive crew caters to your every need on a crewed luxury yacht. Indeed, when you step aboard, you will encounter first-class service and warm hospitality. Since the crew members, including the captain, chef, stewardesses, and deckhands, possess a wealth of experience, your journey will surpass your expectations.
Whether arranging exciting water sports activities, organizing exclusive island excursions, or tending to your every request, the crew will go above and beyond to create a memorable experience.
Immerse Yourself in Nature's Breathtaking Playground
Nature lovers, rejoice! The Exuma Islands are a playground like no other.
The Exuma Islands in the Bahamas stretch for about 100 miles, filled with enchanting beauty. This captivating archipelago offers many exciting activities like swimming, snorkeling, and diving. When you explore the Exumas, you'll have countless opportunities to play in the clear waters, discover vibrant coral reefs, and witness the wonders of marine life up close. It's a paradise for water enthusiasts, where you can immerse yourself in unforgettable adventures beneath the waves.
Dive into the depths of Thunderball Grotto, an otherworldly underwater cave system made famous by the James Bond film "Thunderball."
Alternatively, sail to pig beach at Staniel Cay, where the enchanting swimming pigs await your arrival. These charismatic creatures will charm you as they gracefully paddle through the crystal-clear waters to beg for snacks.
These cays are like tiny jewels in the aquamarine and sapphire setting of the most beautiful water you've ever imagined. They offer incredible birdlife; you can easily use a dinghy to explore the gin-clear waters. This is the Bahamas at its finest! Moreover, the Exuma Islands are the Unique Bahamas.
Boats for Your Exuma Charter
Please call us today at 1 (321) 777-1707 or describe Your Vacation Vision to help you plan your fully-crewed private luxury yachting vacation! Inquire as soon as possible about your custom, crewed yacht charter.
You make the memories. We make the arrangements.