The Greece Catamaran New Horizons combines luxury, relaxation, and wellness. Thanks to the friendly crew and gracious surroundings, you will feel right at home on this stunning yacht. This is the perfect time to get away on a Greece Yacht Charter.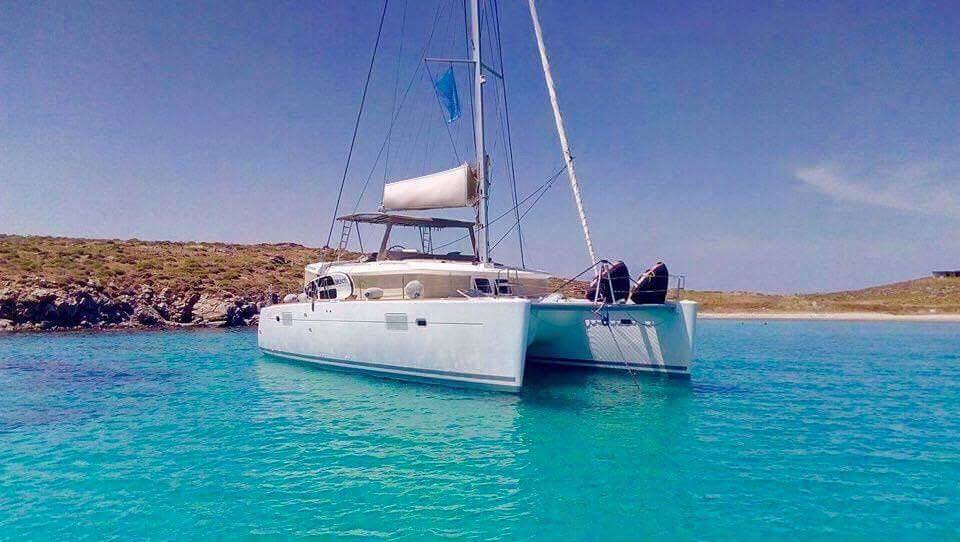 Abundant Luxury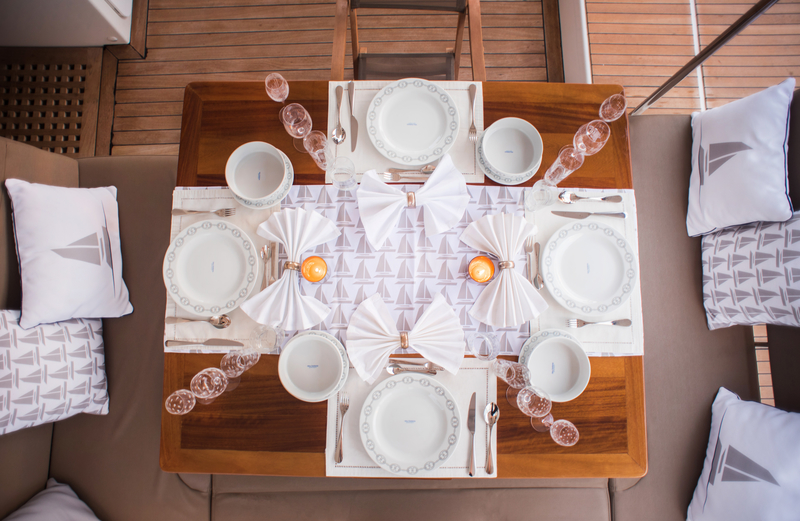 Accommodations
This 46-foot Lagoon catamaran features four cabins. Two have queen bunks, and two have double bunks. All cabins have individually controlled air conditioning, robes, and slippers. Each cabin has an en-suite bathroom offering Fresh Line amenities. Fresh Line is a company inspired by the Ancient Greek wisdom of herbal therapy. Fresh Line produces natural facial, hair, and body products following traditional family recipes.
Indulge your friends and family with a special dinner on deck or inside. At night, enjoy the romantic glow of underwater lighting. You'll find a flat-screen TV and DVD player, Wi-Fi, laptop, and printer for quiet times on board.
Greece Catamaran New Horizons | Delicious Dining
Onboard New Horizons, the chef spoils you daily with culinary masterpieces. Start your day, for example, with a seasonal fresh fruit platter, freshly baked croissant, or eggs with bacon or sausages. For lunch, enjoy pasta salad with shrimp, and for dinner, perhaps have a locally-inspired traditional Greek Giouvetsi – a dish with chicken, lamb, or beef, and pasta. Of course, fresh juices, chilled water, and soft drinks are available. If you would like anything extraordinary, ask.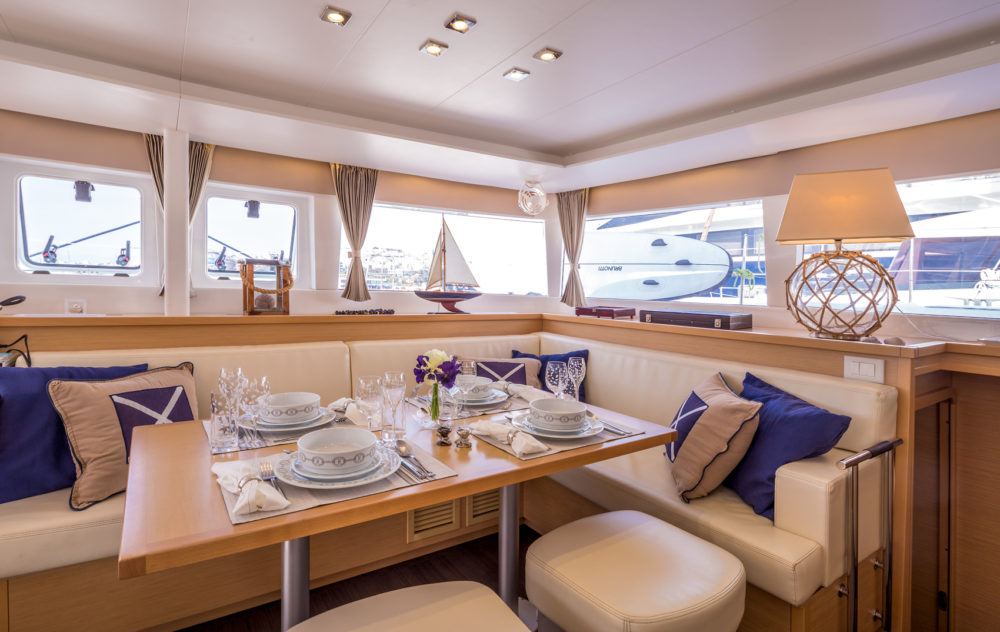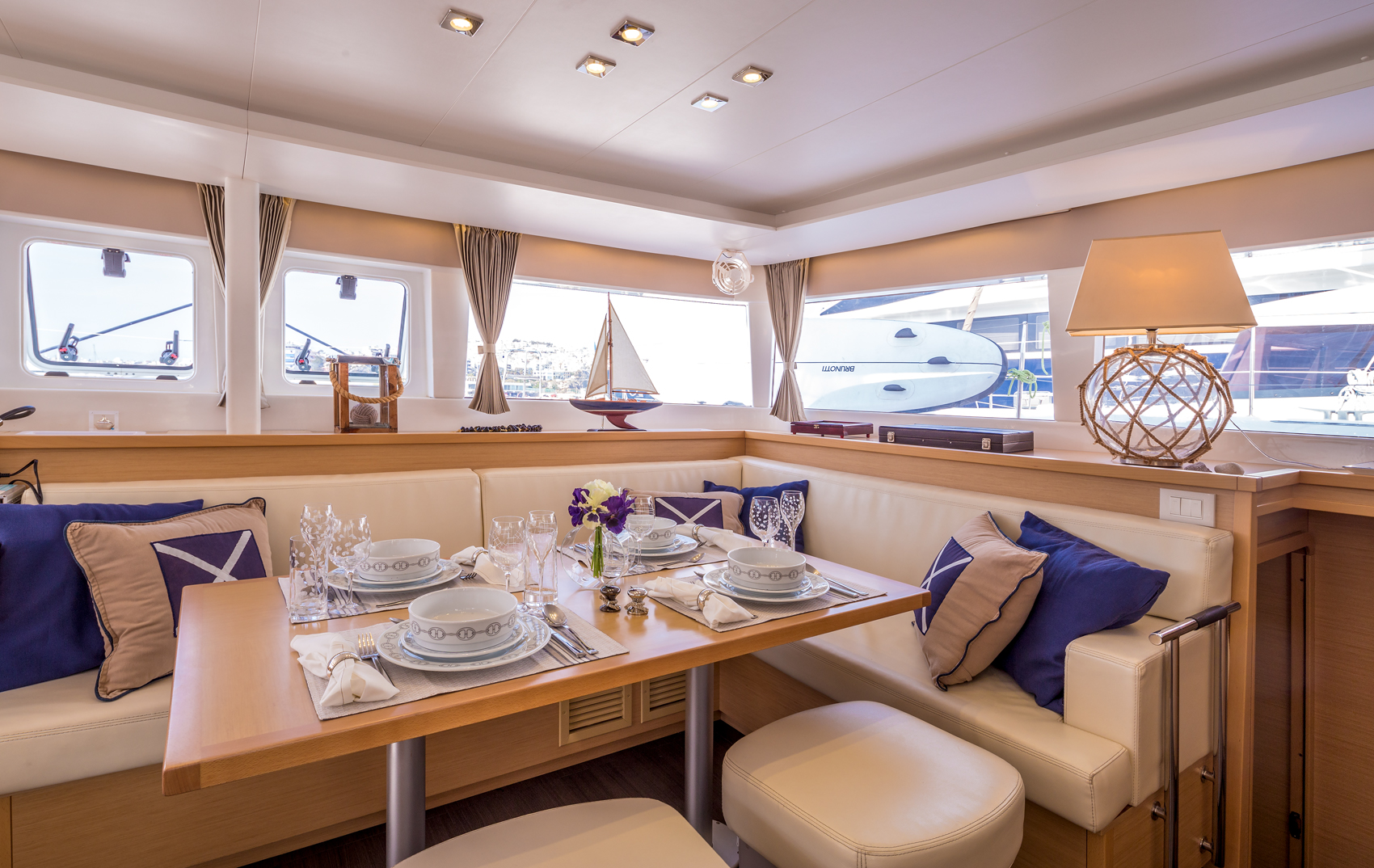 Sample Menu
BREAKFAST
-Coffee/tea/fresh orange juice – Seasonal fresh fruit platter or fruit salad with honey and cinnamon – Freshly baked croissant – Eggs with bacon or sausages – Cereal, oatmeal – Toasted bread – Cake – Bread – Jam, honey – Greek yogurt with fruits and honey (or honey and walnuts) – Pancakes with syrup – Greek donuts (loukoumades) with honey and cinnamon or with homemade chocolate paste – French toast with butter, syrup and season fruits – Grilled cheese sandwich – Baked omelet with corn, mushrooms, ham, and cheese.
SALADS
-Lettuce salad with honey vinaigrette – Greek salad – Lola salad with red fruits – Cabbage and carrot salad – Beetroot salad with feta cheese, walnuts, and mint – Ceasar salad – Quinoa salad with lentils, avocado, and halloumi cheese – Pasta salad with vegetables and feta cheese – Salad with bulgar and pomegranate – Cretan dacos – Potato salad – Baked broccoli salad with yogurt sauce – Pasta salad with shrimps – Tuna salad
MAIN COURSE
-Spaghetti with shrimp and ouzo – Fish soup – Stuffed fish with spinach in the oven – Pork steak in the oven with fried potatoes or rice – Beef burger and potatoes in the oven – Pasticcio Greek type of lasagna bolognese with bechamel sauce in the oven – Seafood risotto – Giouvetsi Greek dish with chicken, lamb or beef and pasta- Spaghetti bolognese a la grecque – Mushrooms risotto – Greek stuffed tomatoes with rice and fresh herbs – Meatballs with fried potatoes – Sweet and sour pork with rice – Cheesy baked mussels – Cuttlefish with spinach – Octopus with elbow macaroni
DESERTS
-Lemon mousse – Mille-feuille – Mosaic cake Greek chocolate and biscuits dessert – Tiramisu – Cheesecake – Chocolate souffle
APPETIZERS
-Stuffed peppers with feta cheese – Bruschetta with eggplant and prosciutto/ goat cheese and salmon/ katiki cheese, prosciutto, and melon – Carrot cream soup – Chicken pie – Cheese pie – Garlic sauce – Tzatziki – Crab salad – Tarts with tuna salad – Octopus with vinegar – Vegetables au gratin – Eggplant salad – Sausage rolls – Fish croquettes – Stuffed mushrooms
New Surprises Each Day
Salute the sun in the morning with a yoga class. (Instructors are available for an additional fee.) Then, spend time meditating on the beauty around you. You won't have to worry about each day's activities because your experienced Captain will guide you to the perfect locations. You will be delighted whether you want to be active or spend the day on a beautiful beach.
If you want to get in the water, there are two Yamaha sea scooters, water skis for children and adults, stand-up paddleboards, snorkel gear, and other water toys.
Your Captain takes you to the most stunning places and offers his local expertise.
Please call us today at 1 (321) 777-1707 or describe Your Vacation Vision to help you plan your fully-crewed private luxury yachting vacation! Inquire as soon as possible about your custom, crewed yacht charter.
You make the memories. We make the arrangements.