Two Weeks of Luxury | Skiathos to Athens 14-Day Itinerary
Skiathos is a beautiful place to begin your Skiathos to Athens 14-day Itinerary. It has an international airport and boasts some of the best beaches in Greece. Neighboring Skopelos also attracts hordes of summer visitors. Alonnisos and Skyros are both relatively unspoiled and appeal to independent travelers who seek tranquility.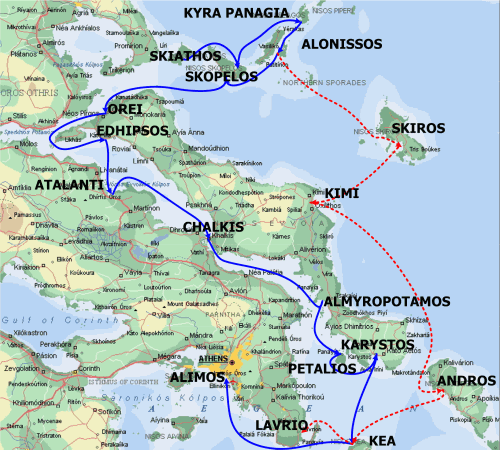 This is only a sample Skiathos to Athens 14-day Itinerary. Your Captain will work with you to design the perfect itinerary suited to your tastes and interests.
Day 1 | Skiathos
Board your yacht in beautiful Skiathos, the liveliest island of the Sporades group. It has lush pine forests, crystal-clear waters, and sixty stunning beaches. Skiathos also has a lively nightlife and attracts thousands of young visitors yearly. Many bars and clubs exist, and the pedestrian street by the Old Harbor is an entertainment hotspot.
Things to Do in Skiathos
Koukounaries Beach: Koukounaries Beach is arguably one of Skiathos's most famous and picturesque beaches. It's famous for its fine golden sand, crystal-clear turquoise waters, and lush pine forests that fringe the shoreline. This idyllic setting offers swimming and sunbathing opportunities and water sports like windsurfing and jet-skiing. Koukounaries has many bars and tavernas, making it an ideal spot for relaxing.
Skiathos Old Town: Skiathos Old Town, also known as Chora, is the island's charming capital. Its narrow, winding streets are home to traditional Greek houses, shops, and restaurants. The town's focal point is Papadiamantis Street, named after the famous Greek writer who was born on the island. You can explore the Papadiamantis House Museum, dedicated to his life and works.
Lalaria Beach: Lalaria Beach is another gem on Skiathos, known for its unique landscape and natural beauty. This pebble beach is surrounded by towering white cliffs and sea caves. It is only accessible by boat from Skiathos Town or by hiking. Lalaria is an excellent destination for those seeking a serene and secluded beach experience.
Day 2 | Kyra Panagia
Visit Karpathos island on day two of your Skiathos to Athens 14-day itinerary.
Visit Kyra Panagia Beac, a beautiful sandy beach in a small cove right between the mountains. It has a fine mixture of white sand, smooth pebbles, and crystalline water. It is 14 km north of Pigadia, the capital of Karpathos, and close to Apella Beach. In addition to relaxing on the beach, you may take a cooking class, take a walking tour, or taste local wines.
Day 3 | Alonissos
Alonissos is an island of unique natural beauty, and Patitiri is the capital and the main port. Narrow whitewashed streets give a particular atmosphere to this little harbor, and dense pine forests surround the village. On the seafront, a small sandy beach shares some calmness with taverns and cafes boarding the harbor.
Votsi is a small fishing village only a couple of kilometers northwest of Patitiri. It's a tranquil village with a picturesque harbor. Although small, Votsi offers an excellent range of tourist amenities. Small fishing boats and romantic taverns line the lovely port, creating a charming and picturesque setting.
Steni Vala is a tiny beautiful village with seaside taverns. Enjoy local cuisine at restaurants near Steni Vala, such as Tassia, Restaurant Sossinola, Divers & Kalymnia, and Fanari.
Day 4 | Skopelos
Enjoy visiting the southwest side of Skopelos island.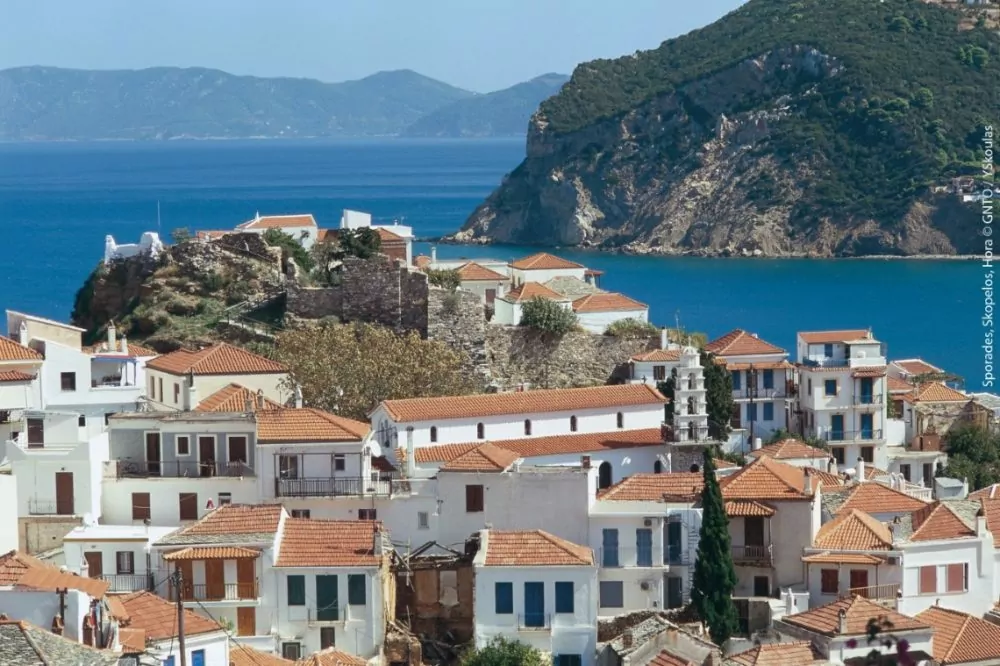 Day 5 | Orei
Orei is a resort in the far north of Evia (134 kilometers northwest of Halkis) and south of Trikeri and Pelion on the island of Euboea. In the square of Orei is the marble statue of "the bull of Orei," a tomb in the 4th century BC. In Orei are also the ruins of a Venetian castle built on the foundations of an old fort. You'll find good restaurants, cafes, ouzeries, and bars at the harbor.
Day 6 | Edipsos
Day six of your Skiathos to Athens 14-day itinerary takes you to Edipsos. The baths at Edipsos on Evia Island have attracted visitors for millennia. More than 80 springs have varying temperatures where lush vegetation grows to the sea. Choose seawater or mineral water, mud baths, massages, or bathe in the sea.
A stroll along the waterfront at Loutra Edipsos will lead you straight into the turn of the last century. See the baths and caves of the Roman general Sulla, located behind the National Tourist Organization's hydrotherapy facilities. Afterward, stroll along the boardwalk of the Kyma Hotel for a magical view of the sunset over the gulf.
Day 7 | Atalanti
Among the points of interest in the region are:
The catacomb of St. Athanasius or Chamaithanas
St. Athanasius Church
The church of St. Seraphim
The chapel of St. John the Roda
Just 6 km (3.7 mi) from Atalanti is the port of Skala Atalanti. Here, you'll find many restaurants, cafes, and bars. Skala is Atalanti's main beach. The city has many cultural events, such as the Carnival, Wine Festival, Sardine Festival, Choral Festival of Atalanti, and an annual trade fair.
Day 8 | Chalkis
Chalkis is particularly famous for a tidal phenomenon that takes place in Evripos. The sea swiftly changes direction every six hours, a phenomenon created by the Moon's pull. During each change of direction, the water stops moving for about eight minutes. An ideal place to watch this event is the sliding Negroponte Bridge.
Day 9 | Almyropotamos
Today you will arrive at an idyllic harbor. There is much to see and do here, so after breakfast, head to shore to see the sights, such as:
The Red House, which is the city's landmark.
Karababas Fortress. The fortress dates back to the Venetian occupation of Kea, which lasted from the 13th century until the 16th century. During this time, the Venetians built several fortifications on the island to protect it from pirates and other threats. The Karababas Fortress is one of these Venetian strongholds.
Archaeological Museum
Municipal Art Gallery
The Spring of Arethousa
The Byzantine church of St. Nicholas. The church is dedicated to St. Nicholas, a widely venerated saint in Orthodox Christianity. St. Nicholas is known for his acts of charity and is the patron saint of sailors, among other roles.
Day 10: Petalios
Petalioi is a group of islands in the North Euboean Gulf. Moreover, these uninhabited islands have exquisite beaches surrounded by turquoise waters. Spend the day relaxing, swimming, snorkeling, or scuba diving.
Day 11 | Karystos
On day 11 of your Skiathos to Athens 14-day itinerary, visit Karystos. Karystos (or Carystus) is a small coastal town on the Greek island of Euboea. After yesterday's relaxation, today you may want to visit sites such as
Visit the ancient marble quarries in Kylindroi.
Also, a restored 13th-century Venetian tower on the beach to the east side of the town.
The Cathedral of Aghios Nikolaos.
The Monastery of Aghia Mavra.
The Monastery of Taxiarches (Archangels) in Kalyvia dates back to the 9th -12th centuries.
The mountain Ochi, on top of which stands one of the renowned drakospita. It is a megalithic construction dating back to the 6th to 2nd century BC.
The gorge of Dimosari. The Dimosari Gorge features a lush and verdant landscape with rich vegetation, including trees, shrubs, and wildflowers. The terrain is marked by rocky formations, cliffs, and a river that runs through the gorge.
Day 12 | Kea
Kea is a beautiful island with steep mountains, small fields, olive groves, vineyards, valleys, picturesque coves, hiking trails, and beaches. In addition to enjoying birdwatching, cave exploring, swimming, snorkeling, and diving. Diving enthusiasts will especially like seeing the wreck of the Britannic, the sister ship to the Titanic.
Things to Do in Kea
Visit Kea's Chora: Kea's main town, also known as Chora, is a charming destination worth exploring. Wander through its labyrinthine narrow streets, adorned with white-washed buildings and blue-domed churches. Be sure to visit the medieval Kastro (castle) and enjoy the panoramic views of the Aegean Sea from its vantage point. Chora is also home to several cozy tavernas and cafes where you can savor local cuisine and relax with a coffee.
Discover Ancient Karthea: Kea is rich in ancient history, so a visit to the archaeological site of Ancient Karthea is a must for history enthusiasts. This ancient city-state features well-preserved ruins, including a temple dedicated to Apollo, ancient city walls, and a theater. Located overlooking the sea, the site offers a glimpse into Kea's fascinating history.
Hike Kea's Trails: It boasts a network of well-maintained hiking trails that traverse its diverse landscapes. One popular route is the hike to the summit of Mount Ioulida, the island's highest peak. Along the way, you can appreciate the island's natural beauty, encounter traditional stone-built bridges, and enjoy panoramic vistas. Other trails lead to secluded beaches, like the trail to Otzias Beach.
See the ancient sculpture "The Lion of Kea" from the 6th century BC.
Days 13 | Laviron
Lavrion is a charming port with much to see and do. Visit historical landmarks such as the Ancient Theater of Lavrion. Planet Blue Diving Centre offers diving trips to the surrounding corals and shipwrecks if you like diving.
Day 14 | Athens – Alimos Marina
Arrive at the Alimos Marina and say farewell to new friends. You may want to rent a car and explore the surrounding areas.
This is the end of your Skiathos to Athens 14-day Itinerary until you travel to Greece again.
Please call us today at 1 (321) 777-1707 or describe Your Vacation Vision to help you plan your fully-crewed private luxury yachting vacation! Inquire as soon as possible about your custom, crewed yacht charter.
You make the memories. We make the arrangements.