A Week of Adventure | Skiathos to Athens 8-Day Itinerary
Skiathos is a beautiful place to begin your Skiathos to Athens 8-day Itinerary. It has an international airport and boasts some of the best beaches in Greece. Likewise, neighboring Skopelos attracts hordes of summer visitors. Alonnisos and Skyros are both relatively unspoiled and appeal to independent travelers who seek tranquility.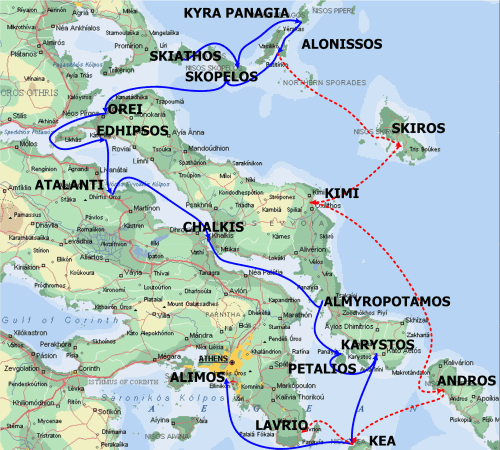 This is only a sample Skiathos to Athens 8-day itinerary. Your Captain will work with you to design the perfect itinerary suited to your tastes and interests.
Skiathos
Board your yacht in beautiful Skiathos, the liveliest island of the Sporades group. It has lush pine forests, crystal-clear waters, and 60 stunning beaches. Skiathos also has an exciting nightlife and attracts thousands of young visitors every year.
Many bars and clubs exist, and the pedestrian street by the Old Harbor is an entertainment hotspot. Surely, you can have full days of fun there.
Day 1 | Begin Your Skiathos to Athens 8-day Itinerary
Board your yacht. After a brief safety meeting, you set out for Skopelos on a day trip.
Like nearby Skiathos, Skopelos has high cliffs in the northwest and sheltered harbors in the southeast. Without reservation, two settlements, Skopelos Town and Glossa, are worth visiting.
Skopelos Town has brilliant white houses highlighted by colorful flower-filled balconies. Stroll the town and have a drink at one of the waterside cafes. There are two small museums as well.
Here are some things to see and do in Skopelos:
Skopelos Town (Chora): Explore the charming capital of Skopelos. It features narrow winding streets, white-washed houses with red-tile roofs, and traditional Greek architecture. You can also visit the town's quaint shops, cafes, and tavernas. Don't miss the beautiful Church of Agios, with its iconic blue dome.
Beaches: Skopelos is renowned for its stunning beaches with crystal-clear waters. Some popular beaches include Stafylos Beach, Velanio Beach, Limnonari Beach, and Panormos Beach. Without reservation, these beaches offer opportunities for swimming, sunbathing, and water sports.
Hiking: Skopelos is a hiker's paradise. It has numerous scenic trails that take you through lush forests, olive groves, and viewpoints overlooking the Aegean Sea. For instance, the Alonistra Monastery and the Old Kastro (castle) are popular hiking destinations.
Monasteries and Churches: Visit the Evangelistria Monastery, the Monastery of Agios Riginos, and the Church of Panagitsa tou Pirgou, among others.
Olive Oil Production: Skopelos produces high-quality olive oil. Take a tour of a local olive oil mill. Learn about the olive oil production process and taste some of the island's delicious olive products.
Day 2 | Kyra Panagia
On Karpathos Island, Kyra Panagia Beach is a beautiful sandy beach in a small cove right between the mountains. It has a fine mixture of white sand, smooth pebbles, and crystalline water. It is 14 km north of Pigadia, the capital of Karpathos, and close to Apella Beach. In addition to relaxing on the beach, you may take a cooking class, take a walking tour, or taste local wines.
Day 3 | Alonnisos
Alonissos, one of the lesser-known gems of the Northern Sporades group in Greece, is a tranquil and unspoiled island. Its unspoiled beauty and dedication to conservation have led to its designation as the Alonissos Marine Park. This ensures the protection of marine life in the area.
You can explore picturesque villages, such as Patitiri and Chora, with their traditional architecture and welcoming tavernas.
Day 4 | Skiros
Your next stop is Skiros, the largest of the Sporades islands. After breakfast, go to town and visit a museum or two. Surely, the Manos and Anastasia Faltaits Folk Art Museum and the Archaeological Museum won't disappoint. There, you can get a glimpse of Greek archaeological sites.
Walk along cobblestone streets and admire the Skyrian houses' unique architecture. Enjoy lunch ashore or onboard your yacht. In the afternoon, bask on the beach. The most popular Skyros beaches are Molos and Magazia.
Day 5 | Kymi
The seaside resort of Kymi is a lovely small town. Just below the harbor is beautiful Thapsa Beach, and this would be a perfect place to bring out the water toys. Later, visit the town and try local Greek cuisine at To Kapitsalio or Anatoli Koutelos.
Additional things to see and do on Kymi:
Kymi Port: Stroll along the picturesque port area and enjoy the view of colorful fishing boats and sailboats. The port is a hub of activity and also a great place to relax. There, you can enjoy a coffee or a meal at a waterfront tavern.
Agia Irini Church: Visit the beautiful Agia Irini Church near the town center. This church has striking architecture and is an important local landmark.
Kymi Beach: Relax and sunbathe on Kymi's sandy beach near the town. It's certainly an ideal spot for swimming and enjoying the Aegean Sea.
Maritime Museum: Explore the Maritime Museum of Kymi, which showcases the maritime heritage and history of the town. You can learn about the local fishing industry and the region's seafaring traditions.
Kymi Forest: Embark on a scenic drive or hike through the Kymi Forest, located on the slopes of Mount Dirfys. The forest has lush greenery, hiking trails, and the Kapsala Monastery.
Kapsala Monastery: Visit the Kapsala Monastery, perched on a hill within the Kymi Forest. The monastery offers panoramic views of the surrounding area.
Day 6 | Andros
Andros boasts a rich tapestry of natural beauty, culture, and history. Famous for its diverse landscapes, Andros offers lush green valleys, rugged mountains, and pristine beaches. For example, Chora, the island's main town, features late 18th century architecture. It has narrow streets and a lively cultural scene, including museums and art galleries.
Furthermore, outdoor enthusiasts will find ample opportunities for hiking along well-marked trails that crisscross the island. They lead to waterfalls, caves, and ancient ruins. One of the most famous routes is the Andros Route, which traverses the island from north to south.
Andros also has unique springs, including the Sariza Spring in Apoikia and the Vourkoti Spring in Menites. Both of these have played a crucial role in the island's history and water supply.
The island also offers a variety of pristine beaches, such as Batsi Beach and Agios Petros Beach. There, visitors can relax and swim in the azure waters. Moreover, the island's cuisine is a delightful blend of fresh seafood, locally sourced ingredients, and traditional Greek dishes.
Day 7 | Kea
The beautiful Greek island of Kea greets you with its steep mountains and green fields. You can also marvel at olive groves, vineyards, valleys, picturesque coves, hiking trails, and beaches. Enjoy birdwatching, cave exploring, swimming, snorkeling, and diving. Diving enthusiasts will especially like seeing the wreck of the Britannic, the sister ship to the Titanic.
Day 8 | Lavrio/Alimos(Athens)
End your Skiathos to Athens 8-day Greece itinerary in either Lavrio or Alimos. You can, of course, stay in Athens for a couple of days to extend your vacation.
You may want to travel to the town of Delphi 161km from Athens. There, you will get a glimpse of the ancient Greek world, including the Temple of Apollo.
After your visit to ancient sites, you can spend another day in Greece. Returning to the Greek capital, you can spend another day in Athens. You may want to visit the national archaeological museum before departing for Athens International Airport.
Please call us today at 1 (321) 777-1707 or describe Your Vacation Vision to help you plan your fully-crewed private luxury yachting vacation! Inquire as soon as possible about your custom, crewed yacht charter.
You make the memories. We make the arrangements.