With a heavy heart, we bid farewell to a true legend of music and island living, Jimmy Buffett. The "Margaritaville" singer and beloved icon had an enduring love affair with the British Virgin Islands. Today, we pay tribute to him by reminiscing about the beautiful places Jimmy Buffet loved in the BVI.
The British Virgin Islands are a well-loved destination for luxury yacht charters. Motor yachts, sailing catamarans, power catamarans, and sailboats cruise the gorgeous waters of the BVI year-round. Read on and learn about some of the places Jimmy Buffet frequented.
Jost Van Dyke
Jimmy Buffett's connection with Jost Van Dyke in the BVI was magical. White Bay was his sanctuary with its powdery sands and crystal-clear waters. He'd often be found strumming his guitar at the famous Soggy Dollar Bar, sipping on one of his favorite cocktails, the Painkiller. You can recreate this tropical drink at home using the following recipe.
Painkiller Recipe
Ingredients
2 ounces dark or navy rum
4 ounces pineapple juice
1 ounce orange juice
1 ounce cream of coconut
Pineapple wedge for garnish
Grated nutmeg, for garnish
Pour the rum, pineapple juice, orange juice, and cream of coconut into a cocktail shaker filled with ice.
Shake well.
Strain into a chilled glass filled with ice.
Garnish with a pineapple wedge and sprinkle with grated nutmeg.
Enjoy.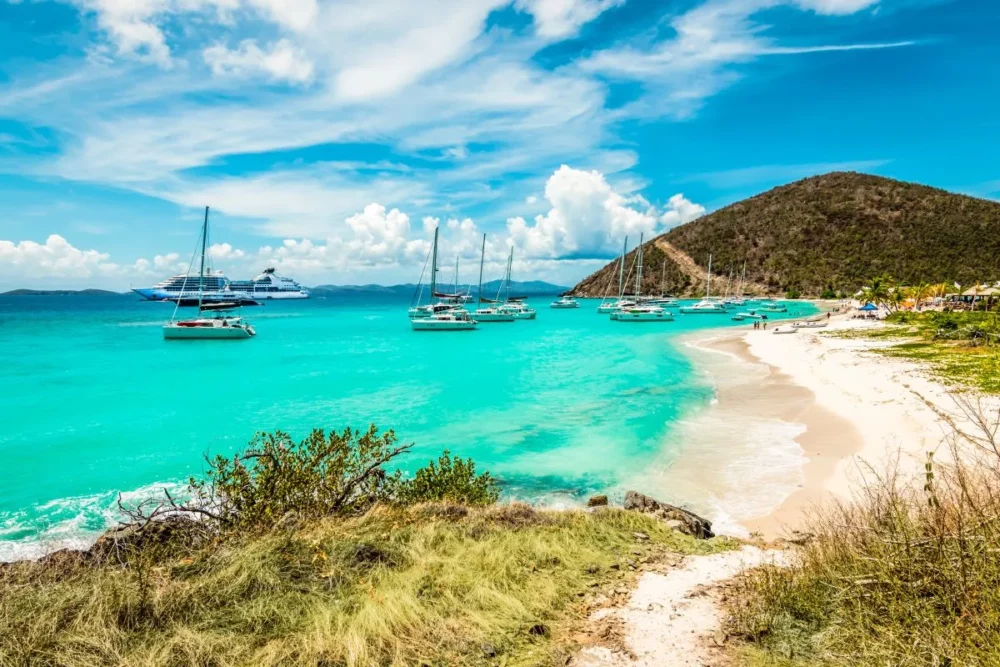 Tortola
Tortola, the largest of the BVI, held a special place in Jimmy's heart. He'd cruise through the picturesque Cane Garden Bay, known for its lush green hills and vibrant beach bars, where live music flowed like cocktails. Rumor is that the original "Cheeseburger in Paradise" originated in Road Town, Tortola.
Anegada
The low-lying coral atoll of Anegada was another gem that Jimmy Buffett frequented. He loved the tranquility and stunning beaches, especially Loblolly Bay. In 2009, he even played an impromptu concert for lucky guests at the Anegada Reef Hotel.
Anegada is also famous for its lobster. Many fans of Jimmy Buffett, known as "Parrot Heads," have dined on this delicacy while visiting Anegada.
Norman Island
Known as the inspiration for "Treasure Island," Norman Island was where Jimmy Buffett felt like a modern-day pirate in the BVI. The caves here sparked his imagination and fueled his adventurous spirit. Perhaps it is home to that "One Particular Harbor" he wrote about.
Virgin Gorda
The Baths at Virgin Gorda are a natural wonder that fascinated Jimmy Buffett. Giant boulders and secret grottoes make this destination unique. Jimmy may have visited the Baths and Virgin Gorda the year he spent living on a boat.
Virgin Gorda is a place you will want to visit as well. In fact, it is considered to be the most beautiful destination in the British Virgin Islands.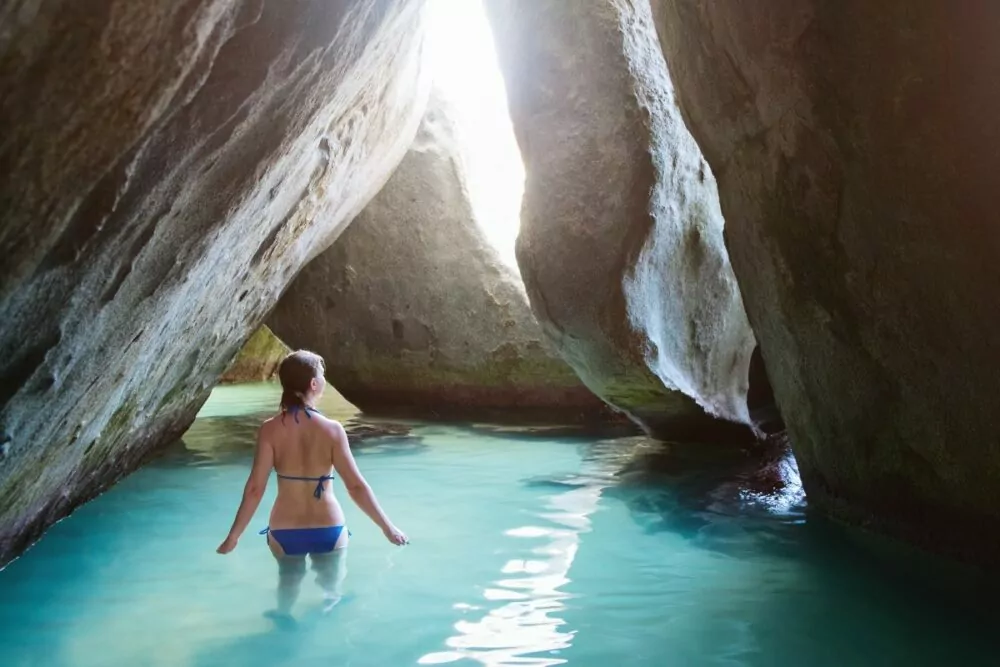 Today, as we remember Jimmy Buffett, let's also celebrate the places he loved and the spirit of adventure and relaxation he embodied. His music and passion for the British Virgin Islands will continue inspiring us to seek out our slice of paradise.
Yachts for Charter in Jimmy Buffett's BVI
Please call us today at 1 (321) 777-1707 or describe Your Vacation Vision to help you plan your fully-crewed private luxury yachting vacation! Inquire as soon as possible about your custom, crewed yacht charter.
You make the memories. We make the arrangements.