Gocek Yacht Charter | Explore the Turquoise Coast
The Turkish Riviera, more popularly known as the Turquoise Coast, has become one of the world's most sought-after holiday destinations in recent years, and Gocek is one of its most beautiful towns. Gocek is famous for its stunning natural scenery, clear turquoise waters, and luxury yacht charters. A Gocek yacht charter is the perfect way to relax and enjoy the incredible views of Turkey's coastline.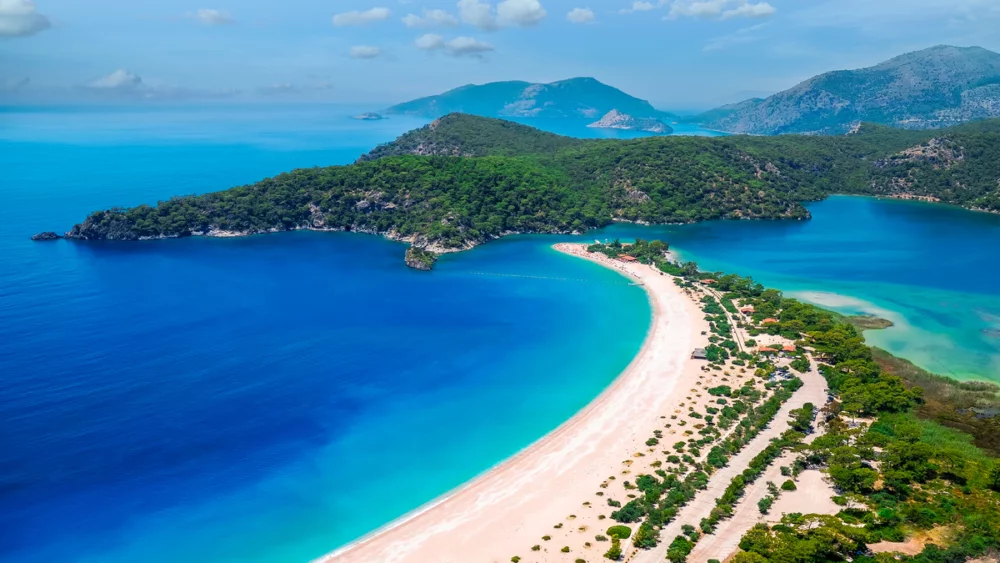 You'll be able to swim in crystal-clear waters, sunbathe on deck, and explore secluded coves and hidden beaches. Plus, there's plenty of delicious Turkish food to enjoy in the city and aboard your motor yacht charter in Gocek.
Luxury motor yacht charters are popular ways to discover the area in total comfort. Alternatively, you can embark on your adventure aboard a traditional Gulet, as they're known in Turkey.
Gocek Yacht Charter | Climate
Summer Season
Summer temperatures range from 80°F to 88°F. They rarely fall below 74°F or exceed 96°F, and the maximum daily average high temperature is 90°F on July 31. The low temperatures rise by 8°F each day, from 59°F to 67°F, with rarely falling below 54°F or exceeding 73°F. The high average low temperature was approximately 69°F on August 5.
Shoulder Seasons
If you want to escape the cold weather, the best time to visit Gocek is between April and October. The average temperature during this time is a comfortable 79 degrees Fahrenheit. That said, charters in May and October provide suitable temperatures in the 70s to 80s during the day, with cooler nights in the 50s.
Gocek Yacht Charter | Places to see
Gocek offers stunning natural beauty and proximity to the Turquoise Coast. However, there aren't many tourist attractions within the town itself. There are many places to explore in the surrounding region.
Fethiye
Head to Fethiye to view the breathtaking Amyntas Rock Tombs carved into the rock above. The town also offers historical sites, a bustling market, and a scenic marina. Don't miss the vibrant Paspatur Old Town.
Daidala
Visit this ancient Lycian tomb, which is around 3,000 years old, located just east of Gocek.
Kaya Village (Kayakoy)
Explore the picturesque "Ghost Town" of Kayakoy, home to abandoned Greek-style houses and churches from the 1700s.
High Point Park
Hike to High Point Park near Fethiye to enjoy stunning views of the surrounding landscape and beautiful beaches.
Akvaryum Koyu
Go snorkeling or swimming in the clear blue waters of Akvaryum Koyu in Fethiye Bay, known for its underwater beauty.
Gocek Marina
While in Gocek, enjoy the beautiful marina with its many upscale shops, restaurants, and cafes. It's a lovely place to stroll and enjoy the coastal atmosphere.
Dalyan
A short drive from Gocek, Dalyan is famous for its picturesque river and mud baths. Take a boat ride to the Lycian Rock Tombs and enjoy the area's natural beauty.
Saklikent Gorge
Visit Saklikent Gorge, one of Turkey's deepest and longest canyons. You can hike through the gorge or cool off in the flowing waters.
Tlos
Explore the ancient ruins of Tlos, an ancient Lycian city known for its rock tombs and an ancient theater. It's not far from Fethiye.
Butterfly Valley (Kelebekler Vadisi): Take a boat trip to Butterfly Valley, a hidden paradise known for its lush greenery, waterfalls, and the presence of countless butterfly species.
Kabak Valley
This tranquil and unspoiled valley is great for nature lovers. You can hike, swim, and enjoy the peaceful atmosphere. It's not too far from Gocek.
Gemiler Island
There are Lycian ruins on Gemiler Island, south of Gocek. These ruins contain remnants of Byzantine churches and mosaics. What's more, Gemiler Island was one of the places where Christianity first spread.
Gocek Yacht Charter | Things to do
Sail close to Fethiye for great beaches and hiking trails with incredible views at High Point Park.
Take your luxury Turkish gulet to nearby Fimi Island and other pristine islands like Dalaman, just off Goceck's coast.
Cruise over to explore the nature preserves like Kille Koya and the many others situated around the bay.
Swim or snorkel in the clear blue waters of Akvaryum Koyu in Fethiye Bay.
Cruise across the bay to nearby Rhodes, Tilos, or Simi in Greece's Dodecanese islands.
Gocek Yacht Charter | Gastronomy
You can find everything from fresh seafood to traditional Turkish dishes in Gocek. And what better way to enjoy it than on your private luxury yacht? In addition, with a Gocek yacht charter, you will have a personal chef prepare meals tailored to your taste.
Of course, there's always the option to stop at one of the many restaurants and cafes lining the waterfront. Sample traditional stuffed grape leaves, mezze dishes, kebabs, Turkish tea, and more.
Charter Boats in Gocek, Turkey
Motor yacht charters and traditional Turkish gulet yachts are most common in Gocek. In addition, some gulets have a larger capacity, so don't hesitate to contact us if you want to charter a yacht with more than 12 people.
Please call us today at 1 (321) 777-1707 or describe Your Vacation Vision to help you plan your fully-crewed private luxury yachting vacation! Inquire as soon as possible about your custom, crewed yacht charter.
You make the memories. We make the arrangements.