Curious about new and exciting vacation destinations? Consider Turkey for a Mediterranean yacht charter vacation! Whether you're hoping to learn about this region's history, experience a bustling bazaar, or relax by the water with a glass of wine, there's no better way to travel than on a luxury Turkish gulet yacht charter. What's more, gulets can also be found in Croatia and Greece.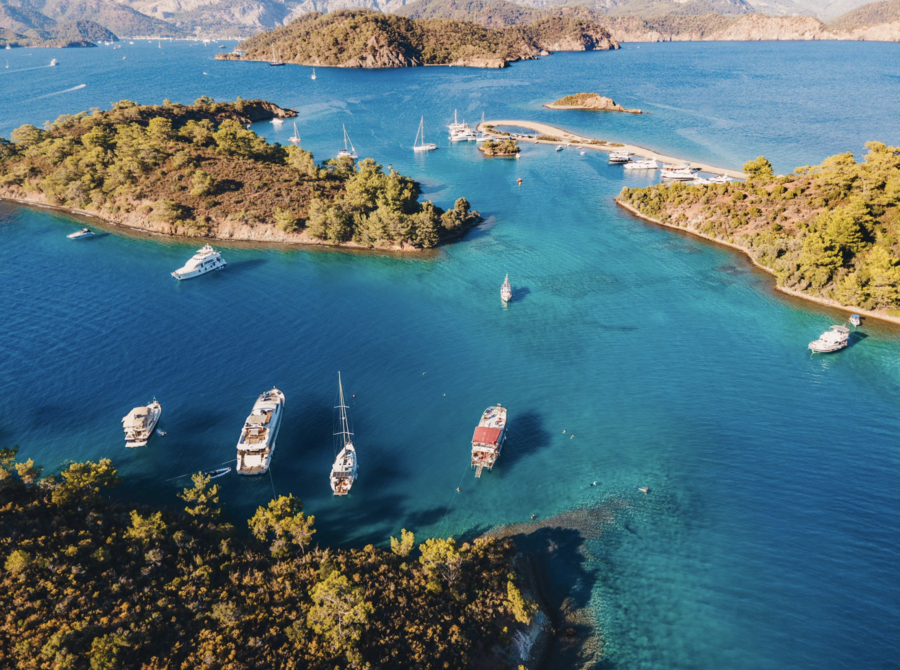 What is a Turkish Gulet Yacht?
Originally, Turkish gulets were fishing boats with distinct characters. Unlike the working ships of yore, the gulet today is primarily used as a leisure craft. These beautiful wooden boats are handcrafted in shipyards along the southwest coast of Turkey, exclusively for leisure and enjoyment. Due to their low profiles, they are remarkably stable in the water, which makes them perfect if you are prone to seasickness. Some shipyards have recently begun building modern steel hull gulets furnished with high-quality mahogany.
All crewed gulets for charter come with private cabins and bathrooms and plenty of living space on deck for meals, sunbathing, and other relaxing activities. Customized features include anything from air-conditioning to surround-sound theatres and Jacuzzi hot tubs.
Please see our Boat Comparison Chart for an idea of how gulets compare to other luxury yacht charter boats.
What's it Like to Charter a Turkish Gulet?
The scenic coast of Turkey offers so much: a rich history, archaeological ruins, and historic sites. In addition, the weather is fantastic for leisurely cruising, with gentle breezes that cool warmer temperatures. Exciting ports of call and anchorages provide plenty of places to explore and relax.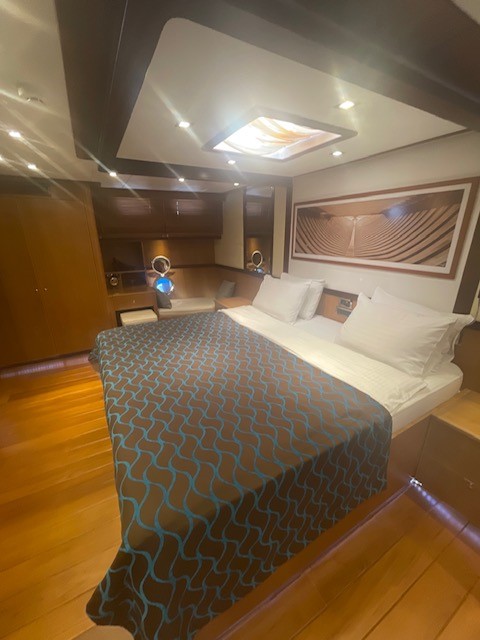 In May 2022, several of our charter brokers experienced a few days aboard the 102.7-foot gulet GET AWAY. Here is an overview of their time sailing the Turkish coast:
The cruise was based in and around the peaceful bays and islands of the protected Gulf of Fethiye. Crystal clear waters range from pure sapphire through all the hues of emerald to the brightest aquamarine shimmering under the pine-clad hills. The days were warm and bright, and evenings were filled with beautiful sunset light before a sky full of stars.
Sample Itinerary
Day 1
We set sail from the D-Marin marina at 10 AM and headed out to a peaceful bay for lunch and a swim. Everyone relaxed, unpacked, and got to know the friendly crew.
Day 2
Set sail for a small bay and took a hike up to Kayakoy/Levissi. A 45-minute uphill trek from the sea took us to Kavakoy – an expansive, beautiful town abandoned in 1923. It was built and inhabited by Greek Orthodox Christians who left and returned to Greece after the Ottoman war. You'll now find settlements with local artists, small shops and restaurants, and boutique hotels at the base of the hills. Our attentive crew accompanied us on the hike, offering assistance at every step.
After a fantastic lunch aboard the gulet, we cruised to Gemiler Island. We were there in time to walk up to the highest point in time for the brilliant, pink-tangerine sunset. The island is also known as St Nicholas Island and is one of the places Christianity began to spread. The Lycian ruins here still contain mosaics and leftovers of Byzantine churches.
Day 3
The following day, we cruised to Butterfly Valley and had breakfast and a quick swim before heading for the idyllic cove of Turunç near Fethiye. It is the setting for Yazz Collective Resort, with a hidden beach and fine restaurant. This tranquil retreat is tucked away from the mainstream crowds and only accessible by yacht.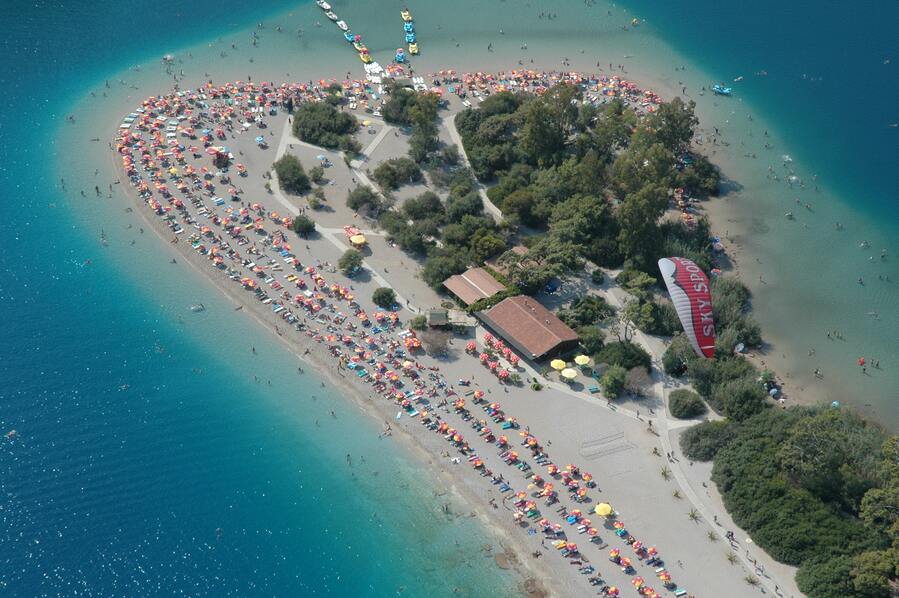 Day 4
Our gulet headed early to Yassıca Adaları, a little outcrop of golden pebble beach with turquoise water. It was the perfect spot to take a quick swim before breakfast.
A short cruise to anchor at Sunken Bath (Cleopatra) Bay. Pine trees surround Cleopatra Bay, and the sea goes from dark blue to light blue as you approach the shore. Legend has it Cleopatra bathed here on her honeymoon with Marc Anthony.
For our last night, we anchored overnight in Sarsala Bay.
Day 5
We took one last swim before breakfast on our final morning aboard GET AWAY. The few days we enjoyed aboard this very comfortable vessel were not nearly enough! This is undoubtedly an experience not to be missed.
Examples of Gulets for Your Turkey Yacht Charter
Like all yachts, gulets have various sizes and charter rates. The following are a few examples of some of the more luxurious gulets available for charter.
Gulet VISTA MARE is an exquisite luxury vessel built to the highest standards. It is modern, with a spacious deck, many relaxing areas, and a professional crew.
ZELDA, 132.5 feet, accommodates ten guests in 5 cabins. Very modern and extremely comfortable, with AC throughout the boat, internet WiFi with Sailor 250 Fleet Broadband, a variety of water toys, and a friendly crew.
Gulet BELLA MARE, 124.6 feet, is a perfect example of a traditional Turkish wooden gulet. BELLA MARE accommodates up to 12 guests in 6 cabins, all with ensuite bathrooms. The main salon features a comfortable bar lounge, a formal dining area, and a large-screen entertainment center. Contact us for more information and photos.
Places to See on Your Gulet Yacht Charter in Turkey
You could easily spend two weeks or longer exploring all that Turkey has to offer. Some of the must-see places are :
Reserve Your Turkish Gulet Yacht Charter
A gulet yacht charter in Turkey may be just the proper vacation for you and your group. Moreover, it's an example of when Luxury Meets History on a Yacht Vacation Rental.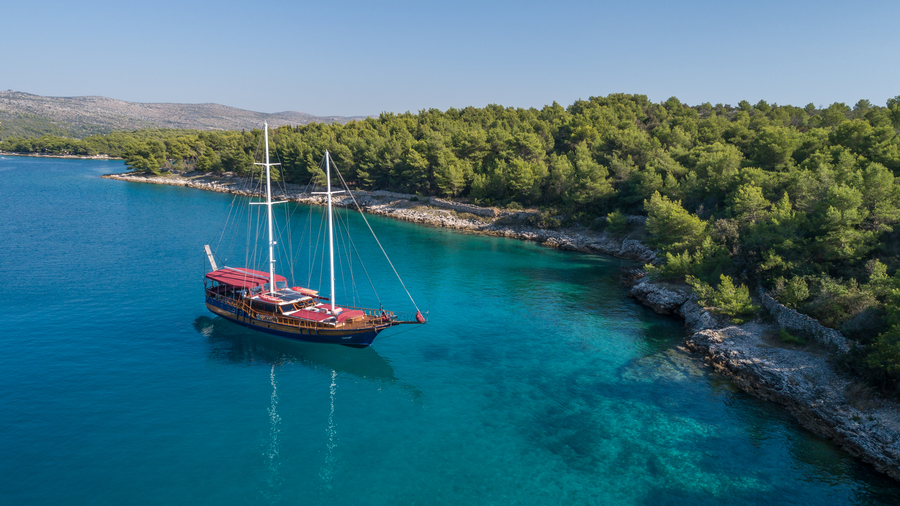 Please call us today at 1 (321) 777-1707 or describe Your Vacation Vision to help you plan your fully-crewed private luxury yachting vacation! Inquire as soon as possible about your custom, crewed yacht charter.
You make the memories. We make the arrangements.