Newport Charter Yacht Show's Chef Competition and more.
Chef Competition
Crew Competitions Serve Up Sustainable Luxury, and Plenty of Fun at Newport Charter Yacht Show
presented by Helly Hansen Newport. Newport Charter Yacht Show Chef Competition
One of the notable highlights of every year's Newport Charter Yacht Show, presented by Helly Hansen Newport, is the Chef's Competition, held under the Show Tent. This is where all attending brokers, managers, and other charter industry professionals can enjoy a break from business and gain further insight into the personalities of those who usually spend their days lavishing attention on charter guests.
This year's show – from June 17  through June 20 – hosted 24 world-class yachts. There were 19 motor yachts and five sailing vessels, half more than 100 feet in length, all of which were docked within easy walking distance of each other at the mega yacht-friendly Newport Shipyard, which also owns and operates the event.
This year's theme is "Sustainable Luxury."
With this year's show theme being "Sustainable Luxury," chefs received a mystery basket of ingredients the night before the competition. It included:
Jonah Crab/Atlantic Dungeness (locally caught in Narragansett Bay);
Black Seabass (locally caught in Rhode Island Sound);
and Caviar (Royal Belgian aquacultured in Belgium or Bowfin/Choupique aquacultured in Louisiana).
Using the provided ingredients and some ingredients from their own pantries, the chefs prepared their dishes in their respective yacht galleys and then plated them before the judges at set time intervals on Tuesday. Judging the Chef's Competitions were Food Network personality and personal chef Kevin Des Chenes, Tuckernuck Yachting's Andrea Lazor with the Lazor Method, and American Superyacht Association President Kitty McGowan. Judging criteria were based on:
40% on taste,
35% on presentation,
10% on creativity/originality,
10% on the use of ingredients involved,
5% on table presentation, including speaking about sustainability practices they use onboard.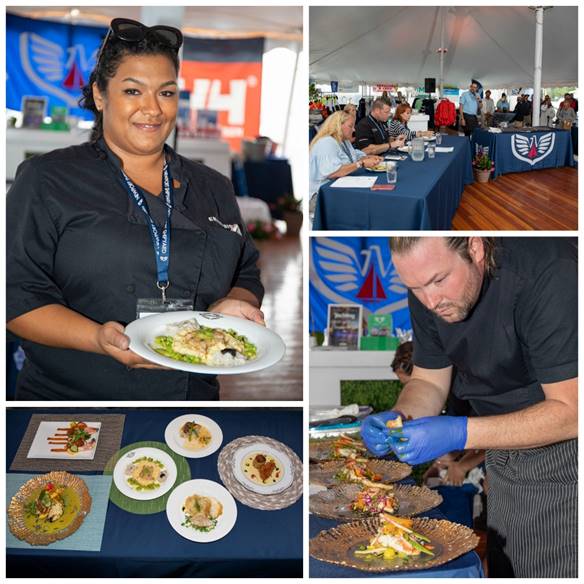 Clockwise from top left: Winning Chef Abby Pawlick M/V Enterprise; judges panel; runner-up Chef Rio Alexander M/V Endeavour; platings of presentations by six chefs. (Photo by Billy Black)
And the Winner is…
Winning bragging rights and gift certificates from competition sponsor GMT and the Chanler at Cliff Walk was Chef Abby Pawlick (Sag Harbor, N.Y.) of the 86' motor vessel Enterprise. Pawlick presented a New England take on Low Country shrimp and grits, combining creamy polenta with the seared black sea bass. She prepared the Jonah crab in chili lemon sauce with cilantro and snap pea pesto and garnished it with bowfin caviar, snap peas, and crab in chili oil, white wine, Bay leaves, lemon, and butter.
"It's exciting it turned out this way," said Pawlick after learning of her victory at the final party on Thursday evening. "At first, I didn't want to enter the competition. I didn't know what to think about 'mystery ingredients,' but then I decided it's the nature of our industry to be able to do something on a whim. I had a good feeling after my presentation because I had a unique take and felt I had translated the ingredients differently."
The second was the 130-foot motor vessel Endeavour's Chef Rio Alexander, who likened his job to being an artist with an unlimited budget. He offered up one of the most aesthetically stunning plates of the competition with pan-seared sea bass positioned atop a slaw of peaches, jicama, and snow peas. That was topped with turmeric citrus dressing and set upon a foundation of Jonah crab curry and oka rice. Taking third was Chef Mike Smith from the motor vessel Time for Us.
"I've been judging this for three years, and everyone raised the bar this year," said Judge Des Chenes. "With those luxury ingredients, it's easier to blow us away, but it's even harder to show restraint and get it just right."
Winnie DeCoster of Captain's Concierge organized the Chef's Competition. DeCoster said the contest originated at the 2008 Newport Charter Yacht Show. It has since expanded to several competitions that include captains, deckhands, engineers, and interior crews. "This year, over 60 crew from 14 boats participated in five different competitions," said DeCoster.
The crew competitions were sponsored by GMT Global Marine Travel, Fore Points Marina in Portland, Maine, and The Chanler at Cliff Walk in Newport. Keel Vodka was the signature cocktail supplier.
For more on Newport Charter Yacht Show Chef Competition,
Contact Luxury Yacht Charters, a division of CKIM Group 
Please call us today at 1 (321) 777-1707 or describe Your Vacation Vision to help you plan your fully-crewed private luxury yachting vacation! Inquire as soon as possible about your custom, crewed yacht charter.
You make the memories. We make the arrangements.