This year's Newport Charter Show brought with it several exciting new additions to the yacht charter world. The show ran from June 18 to June 21 and took place along the docks of the Newport Shipyard. The opportunity for lunch on Catamaran Tohora was not be missed.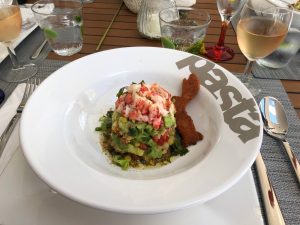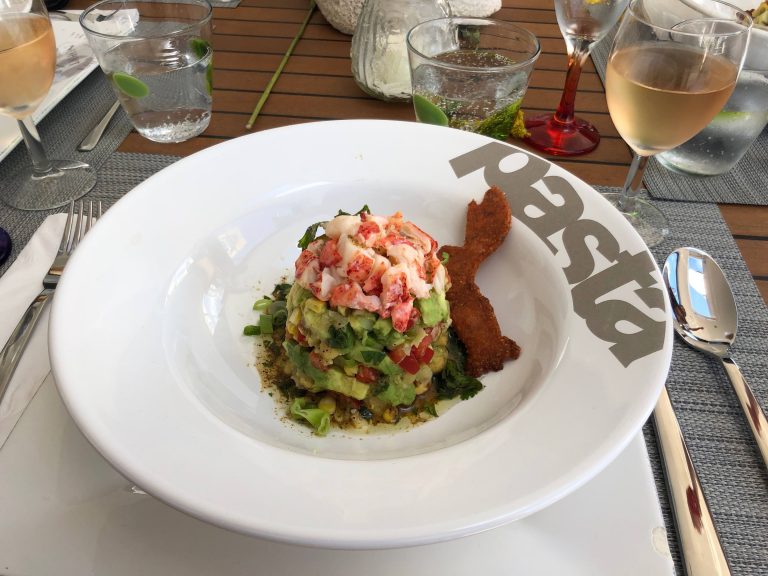 Catamaran Tohora was one of the latest additions and I was lucky to enjoy a refreshing lunch aboard. It was a simple lunch, but delicious and perfect for the hot, summer weather.
Umberto Isolabella Moneta has captained Tohora for the past five years and worked on the owner's previous 62-foot Oyster as well. Moneta said the owner loves taking long oceanic trips in the boat including a trans-Pacific trip all the way to Australia. For now, the boat will be sticking around the Bahamas, the Caribbean, and the East Coast of the United States.
The original crew onboard was Moneta and his wife, but since giving birth, she is taking a break from the charter business. Kate Klingelhofer is now the chef and she is on board for the summer season.
Tohora
The boat is ideal for two couples or two couples and a child with its two, queen-sized cabins and one single cabin, which also doubles as an office space. The cockpit is large and breezy, perfect for lounging, reading, or enjoying a meal. The electric sunroof allows for more or less shade, depending on what you want.
The main salon allows for 360-degree views and provides ample room for five people. There is kitesurfing equipment onboard as well as snorkeling gear. Moneta is not a kitesurf instructor but he will help anyone who is just learning and wants to try it out near to the beach or for the already well-established kite surfers, they can feel free to head out on their own.
There is also a 40 horse-power tender, which can provide hours of fun when exploring idyllic coastlines. "What people like most is exploring," said Moneta. Thora's shallow draft makes her ideal for exploring shallower waters than a lot of other charter boats can't.
There are eight solar panels and four sails: a main, gennaker, and spinnaker. The two transom showers are great for rinsing off or just cooling down.
The boat has two freezers and two fridges. "We try to catch fish and we try to eat local fish as much as possible," said Moneta. "I feel really strongly about sourcing a local menu," he continued.
The food that was served for lunch was light but just enough to fully satiate one's hunger. We started with a chickpea, avocado, onion and pepper salad topped with freshly chopped lobster and a lentil cracker. For dessert, there was a strawberry crumble topped with cream and a strawberry drizzle.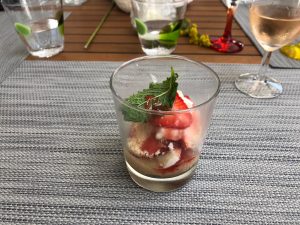 Moneta said on charter that he and the crew will often eat with the guests. Speaking with him, it was easy to tell that he can get along with anyone and with over 40,000 nautical miles of sailing experience under his belt, he is bound to have some incredible stories to share.
Tohora is available for charter in New England through the Fall and then she will head back down to the Caribbean for the winter season.
Please call us today at 1 (321) 777-1707 or describe Your Vacation Vision to help you plan your fully-crewed private luxury yachting vacation! Inquire as soon as possible about your custom, crewed yacht charter.
You make the memories. We make the arrangements.