Sailing Yacht Takapuna Broadens Horizons
If you're seeking excitement on your luxury yacht charter vacation, look no further than Takapuna. The sailing yacht Takapuna is a breathtaking 112' vessel that easily accommodates eight guests in its four suites. Between the well-traveled crew members' diverse backgrounds and the boat's own exciting history, your charter on Takapuna will engage your wanderlust as you tour through New England or the Caribbean.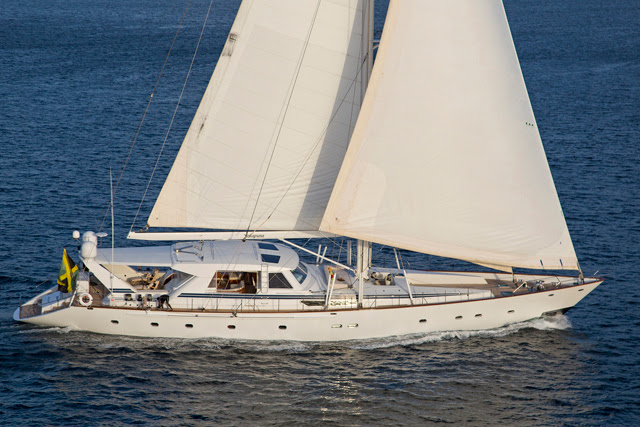 Takapuna Adventure on the High Seas
The luxury sailing yacht Takapuna was once owned by actor-comedian Billy Connolly and his wife, Pamela Stephenson. They took the yacht on a search for the truth about her great-great-grandfather Salty Sam Stephenson. The adventure became a TV mini-series. Read more about the journey here.
Today, Takapuna and her crew, led by Captain Marco Heitz and Chef Robyn Pitts, offer excitement and adventure to you as her guest. The crew, much like Takapuna herself, has seen much of the world. They are able to bring that worldly experience to guests. "All of us have also traveled much of the world, even before working in yachting, and it creates a more interesting and interested group. I think our curiosity is something we bring to the experience and helps guests get excited and get more out of their vacation with us," says Robyn. "Our diverse backgrounds allow us to connect with our guests over a wider range of areas and personality types."
World Travel Brings Expertise
Knowing what the world has to offer gives the crew on Takapuna the necessary perspective to appreciate the perfect locations in the Caribbean and in New England. Robyn finds the variety especially intriguing, "The best things about our chartering areas are the variety that is available there. [In the Caribbean] there are European-style islands with good food and shopping, Caribbean islands with the 'local' feel, islands that cater mainly to American tourists, and islands that are the picture of wild, green Caribbean paradise – all that can be seen in the span of a week. The variety is truly amazing."
New England in the summer on Takapuna offers a different view of familiar places. "We think it is a great experience, especially for return guests who want to experience the comfort and luxury of their yacht vacation in a new environment, where they get to relax in an environment more known to them and see the areas they might already have traveled through, but see them from the water and learn what a different perspective it gives you," Robyn offers. "Whenever possible, we look forward to guests that also want to cruise into Nova Scotia too, which is typically a new and different experience for people."
Off Season Journeys Inspire
Visiting friends and family is important to this well-traveled crew during the off-season. However, being adventure-seekers at heart, Marco and Robyn do a lot of traveling as well. Robyn explains, "We love to travel by motorcycle, in all parts of the world, and see new things and cultures. This is where I get a lot of inspiration for food, actually. We've ridden 20 thousand miles in the past 12 months."
The crew's eagerness to share the world with you is evident in all they do. Robyn reminisces about some of their memorable charter dinners. "We love to plan themed dinners if our guests are interested. For example, a pirate dinner, masquerades, under-the-sea parties, casino night, and things like that. Not everyone is interested in themes. However, we also do special or romantic dinners. We've even done dinners set up on the beach, sunset champagne on the beach, 'Thanksgiving' dinner for families who've missed theirs at home."
The memories and experiences you'll bring home with you are true souvenirs. "In some Caribbean cruising areas, we are able to take conch out of the sea and show our guests the proper way to disconnect the meat (which we eat) and then make a trumpet out of the shell, which they can play and take home. Marco and our deck crew also love to teach knots and fun tricks with outlines. Any guest who's left being able to tie a flying bowline certainly knows they've got something special to show off!"
The World Awaits
For more information about sailing with the well-traveled crew of Takapuna, contact Luxury Yacht Charters of CKIM Group.
You make the memories. We make the arrangements.
Please call us today at 1 (321) 777-1707 or describe Your Vacation Vision to help you plan your fully-crewed private luxury yachting vacation! Inquire as soon as possible about your custom, crewed yacht charter.
You make the memories. We make the arrangements.