Picture this: crystal-clear turquoise waters, sandy beaches that feel like heaven, and a vibrant underwater world begging to be explored. That's the Bahamas for you—a tropical paradise that's got it all. In the Bahamas, private charter yachts offer an exquisite and exclusive way to explore the stunning archipelago.
Bahamas Weather = Smooth Sailing
The weather in the Bahamas is a dream come true. The temperatures are warm all year round, and the gentle breezes make you feel like you're floating on cloud nine. There are two main seasons: a dry season from November to April and a wet season from May to October. If you want smooth sailing and clear skies, plan to visit during the dry season.
Yacht Choices for Bahamas Private Charters
When it comes to yacht choices, there are options for everyone. You can go fast with a motor yacht, feel the wind in your hair on a classic sailing vessel, or kick back and relax on a power catamaran or superyacht. We will help you find the perfect yacht for your Bahamas vacation.
Not only will we assist you in choosing your yacht, but we will also help customize the perfect Bahamas itinerary. We will work with you to determine your desires and interests.
Then, you will have an itinerary that is as active or relaxing as you want. For example, you may want to spend several days snorkeling and exploring the colorful underwater world. Or, you may want to take some time to browse the unique shops in a harbor town.
Living Aboard | A Week (or Longer) in Paradise
Staying on a yacht for a week or longer offers a unique and immersive experience in the Bahamas. As you step on board, a highly trained and attentive crew is at your service to cater to your every need.
The crew's primary goal is to create a personalized and unforgettable experience. They do everything from organizing excursions and water sports activities to offering insights into the local culture and history.
One of the highlights of a yacht charter is the culinary experience. Before your journey, you fill out a preference sheet detailing your dietary requirements, favorite dishes, and any special requests. Your chef then creates a custom menu, using the freshest local ingredients to craft gourmet meals tailored to your tastes.
Every meal is a delightful journey for your taste buds, from seafood delicacies to international cuisines.
Places to Visit on Bahamas Private Charter Yachts
Berry Islands: There are five islands in total: Harbour Island, Great Guana Cay, Little Guana Cay, Man-O-War Cay, and Ragged Island. Each island has its unique feel. The smaller islands are known for their beaches and laid-back lifestyle; larger Harbour Island is home to resorts and beautiful homes with private beaches and harbors.
Exuma Islands: The Exuma island chain is known for epic fishing, with world-class marlin and tuna fishing. If you want to get off your luxury yacht, go snorkeling or diving in gorgeous shallow waters, kayaking through mangroves, or hiking through nature preserves. You can also explore uninhabited islands on foot or by kayak. The Exumas have so much to explore.
Nassau: The capital city of the Bahamas is a vibrant hub with historical sites, luxury resorts, and beautiful beaches. Visit the famous Atlantis Paradise Island, explore Fort Charlotte, or shop in the Straw Market.
Eleuthera: This long and narrow island is known for its pink sand beaches, including the famous Harbour Island's Pink Sand Beach. Explore the underwater caves of the island, such as the mesmerizing Ocean Hole, or visit the Glass Window Bridge, where the deep blue Atlantic Ocean and the turquoise Caribbean Sea meet.
Abacos: The Abacos offer picturesque landscapes, charming towns, and crystal-clear waters. Explore the colonial architecture of Hope Town, visit the underwater sculptures at Fowl Cay Marine Reserve, or snorkel at the vibrant reefs of Elbow Cay.
Bimini: Located just 50 miles off the coast of Florida, Bimini is a popular destination for fishing enthusiasts. Explore the Bimini Road, believed to be a part of the lost city of Atlantis, or dive into the deep waters to spot dolphins, sharks, and shipwrecks.
Andros: Known as the "Bonefishing Capital of the World," Andros is a paradise for anglers and nature lovers. Explore the Andros Barrier Reef, the third-largest coral reef system in the world, or visit the Blue Holes National Park, home to mysterious underwater sinkholes.
Bahamas Power Catamarans | TRANQUILITY
TRANQUILITY is a Horizon 60 Power Catamaran great for six guests in 3 cabins to explore Florida and the Bahamas. The upper deck includes a 2-story observation deck with luxury sun loungers. The cabins are spacious. In addition, there's a variety of water toys, such as snorkel gear, paddle boards, towable toys, and much more.
Bahamas Private Charter Yachts | Sailing Catamaran
CALMAO
The 74′ Sailing Catamaran CALMAO offers guest accommodations for up to 9 guests with a layout comprising a master suite, two double cabins, and one twin cabin.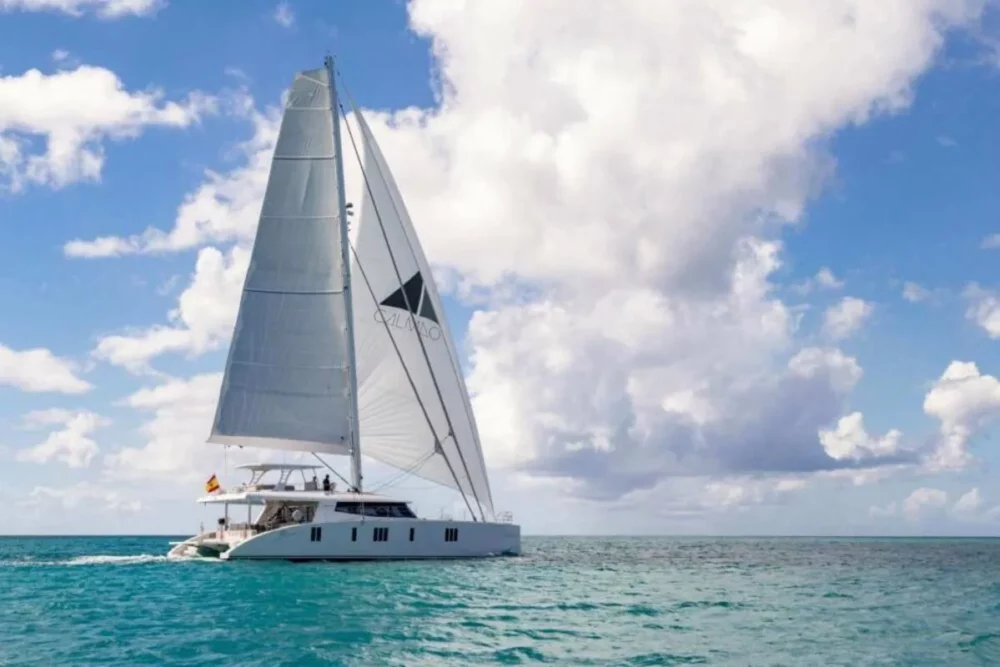 The kid-friendly bed configuration includes two singles and 1 Pullman. She can also carry up to 3 crew onboard to ensure a relaxed luxury yacht charter experience. What's more, CALMAO is equipped with tons of water toys, including kayaks, paddleboards, and more.
Bahamas Motor Yachts | ANTARES
ANTARES is a custom motor yacht that can host up to 10 guests in 5 lavish suites, including a master suite, two VIP cabins, and two twin cabins. Able to carry up to 7 crew, Antares ensures an ultra-luxurious yacht charter experience.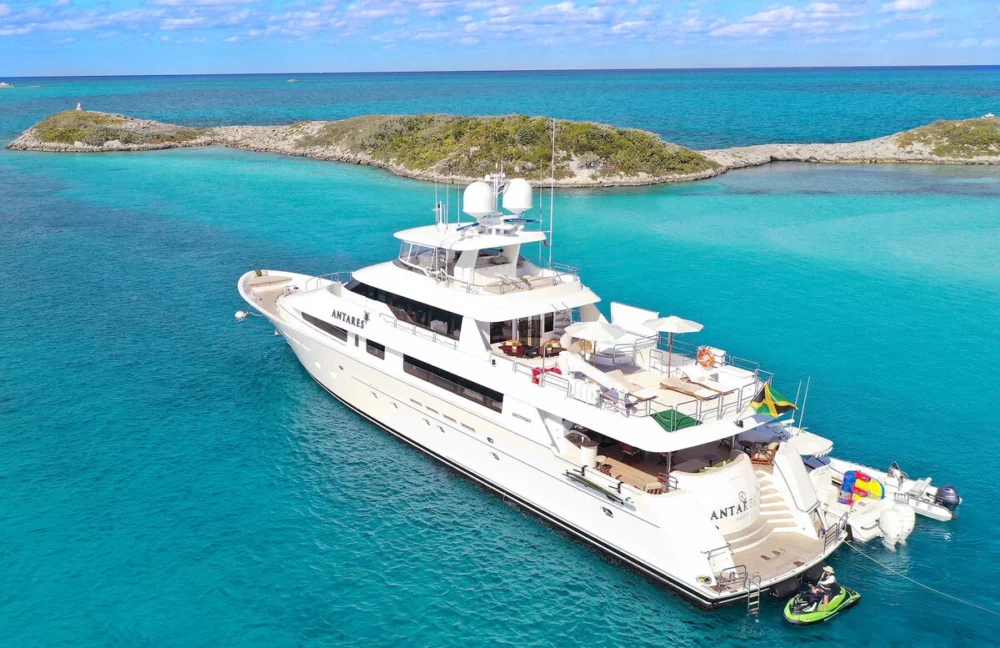 Antares has a plethora of water toys and accessories for guests to enjoy. Water skis and Seabobs are also available for people who want to cruise and dive.
In addition, Antares hosts activities like beach games, bicycles, paddleboards, and snorkeling gear, not to mention two tenders. When it comes to life on the seas, Antares has you covered – with two tenders, one of which is a 34′ Yellowfin Tender.
Check out life aboard Motor Yacht Aqua-Life.
These are just a few examples of the yachts available for private charter in the Bahamas.
Please call us today at 1 (321) 777-1707 or describe Your Vacation Vision to help you plan your fully-crewed private luxury yachting vacation! Inquire as soon as possible about your custom, crewed yacht charter.
You make the memories. We make the arrangements.