The Best Beaches in Costa Rica
Why is Costa Rica A Top Beach Destination?
Natural Beauty
Costa Rica is known for its incredible natural beauty, and its beaches are no exception. Costa Rica's vacation spots boast diverse coastal landscapes, including pristine white sand beaches and lush tropical surroundings. Combining turquoise waters, palm-fringed shores, and picturesque sunsets creates a captivating and idyllic atmosphere.
Biodiversity
Costa Rica is a global hotspot for biodiversity, and its beaches are no different. Many Costa Rica beaches are near or within protected areas, such as national parks and wildlife refuges. Additionally, these coastal regions provide habitat for a wide array of marine life, including sea turtles, dolphins, colorful fish, and coral reefs. Visitors can witness and interact with diverse marine ecosystems for unforgettable experiences.
Surfing and Water Sports
Costa Rica's beaches offer excellent surfing conditions, attracting surfers worldwide. Whether you're a beginner looking to catch your first wave or an experienced surfer seeking challenging breaks, the country offers a variety of surf spots suitable for all levels.
In addition, water sports like paddleboarding, snorkeling, diving, and fishing can be enjoyed in the warm Pacific and Caribbean waters. A yacht charter in Costa Rica is an excellent way to enjoy water sports, fishing, and surfing.
Ecotourism | The Best Beaches in Costa Rica
Costa Rica is renowned for its commitment to sustainable tourism and conservation. Many of the country's beaches are protected, promoting responsible tourism practices and preserving the natural environment. Therefore, visitors can enjoy the beauty of the beaches while supporting conservation efforts and sustainable development.
Accessibility and Infrastructure
Costa Rica has invested in tourism infrastructure, making its beaches easily accessible. Many popular beach destinations have amenities such as hotels, resorts, bars, restaurants, and tours that cater to travelers' needs. Also, Costa Rica offers many accommodations and services, whether seeking a luxurious beachfront resort or a rustic beach hut experience.
These factors make Costa Rica an ideal destination for beach lovers, nature enthusiasts, and adventure seekers. Also, the country's commitment to conservation and sustainable tourism ensures that its pristine beaches can be enjoyed for generations.
The Best Beaches in Costa Rica
Costa Rica is renowned for its stunning beaches catering to various preferences. Here are some of the best beaches in Costa Rica: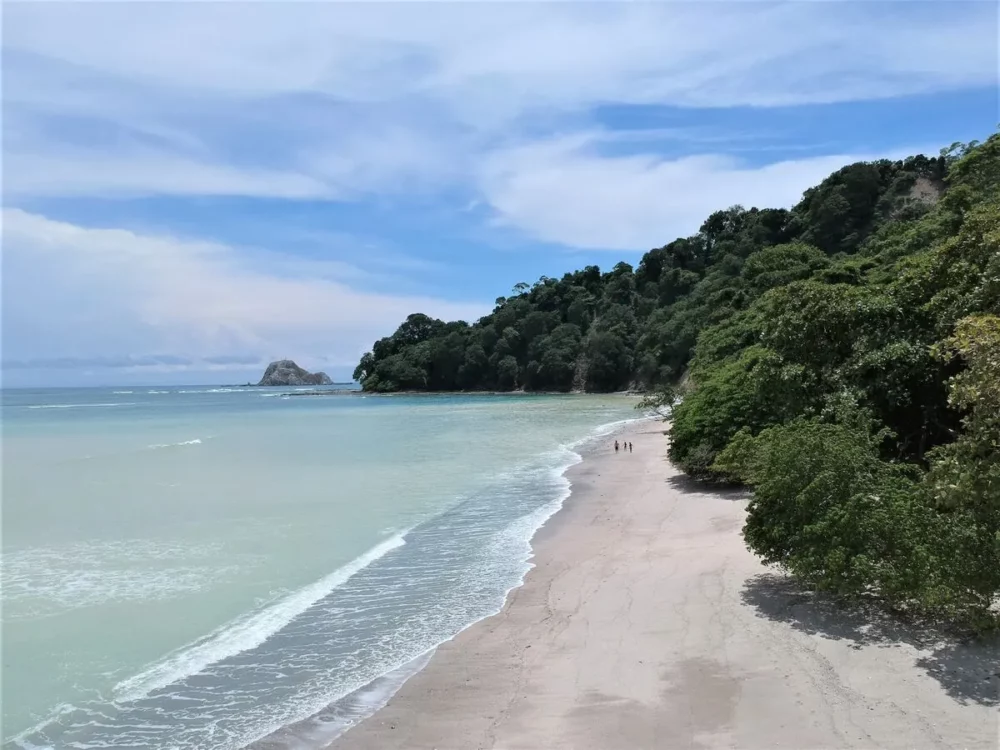 Manuel Antonio Beach
This picturesque beach in Manuel Antonio National Park offers a stunning combination of pristine white sand, turquoise waters, and lush greenery. So, it's an ideal spot for swimming, sunbathing, and wildlife spotting.
Tamarindo Beach
Situated in the popular surf town of Tamarindo, this long sandy beach is perfect for surfing and relaxation. Moreover, it offers consistent waves, golden sand, and a vibrant beach atmosphere with beachfront restaurants and bars.
Playa Conchal
Known for its unique crushed seashell sand, Playa Conchal is a true gem on Costa Rica's North Pacific Coast. Also, the crystal-clear waters make it ideal for swimming, snorkeling, and sunbathing in a stunning setting.
Playa Santa Teresa
Located on the Nicoya Peninsula, Santa Teresa is a paradise for surfers and beach lovers. The beach stretches for miles, boasting consistent surf breaks, soft sand, and breathtaking sunsets.
Playa Flamingo | The Best Beaches in Costa Rica
With its pristine white sand and calm waters, Playa Flamingo is a family-friendly beach destination. It offers a range of water activities, including snorkeling, kayaking, and fishing, along with upscale resorts and dining options.
Jaco Beach
Jaco, located on the Central Pacific Coast of Costa Rica, features many beautiful beaches and bays. The main beach in town, Jaco Beach, stretches for approximately 2.5 miles (4 kilometers) and offers a lively atmosphere. It's a popular spot for swimming, sunbathing, and beach sports. Additionally, the beach uniquely has consistent surf breaks, making it suitable for surfers of different skill levels.
Playa Hermosa, Guanacaste
Situated near Liberia, Playa Hermosa is a tranquil beach famous for its natural beauty and gentle waves. Also, it's an excellent spot for swimming, kayaking, and enjoying the stunning surroundings.
Playa Dominical
A favorite among surfers, Playa Dominical is on the South Pacific Coast. It offers consistent waves, a laid-back vibe, and a beautiful backdrop of lush mountains.
Playa Avellanas
Nestled near Tamarindo, Playa Avellanas is a pristine beach with excellent surf breaks, including the famous "Little Hawaii." Therefore, it's a quieter alternative to nearby Tamarindo, with natural beauty and a relaxed atmosphere.
These beaches represent just a glimpse of Costa Rica's coastal wonders, as the country has an array of breathtaking beaches that cater to different interests and activities. Moreover, whether you seek surfing, swimming, wildlife spotting, or simply unwinding in paradise, Costa Rica has a beach to suit your desires.
Best Beach Resorts in Costa Rica
Costa Rica boasts many exceptional beach resorts that offer luxurious accommodations and unforgettable experiences. Below, you'll find some of the best beach resorts in Costa Rica.
Papagayo
Four Seasons Resort Costa Rica at Peninsula Papagayo: Nestled on the stunning Papagayo Peninsula, this renowned resort offers a luxurious retreat with breathtaking ocean views, elegant accommodations, and world-class amenities. Guests can access private beaches, multiple pools, a championship golf course, spa facilities, and dining options.
Andaz Costa Rica Resort at Peninsula Papagayo: Situated on the Papagayo Peninsula, this stylish and contemporary beachfront resort offers stunning views, modern accommodations, and a range of activities. Moreover, with direct access to Culebra Bay, guests can enjoy water sports, explore nearby national parks, relax at the spa, and dine in exquisite restaurants.
Guanacaste
Secrets Papagayo Costa Rica: An adults-only, all-inclusive resort in Guanacaste, Secrets Papagayo offers a serene and romantic beachfront setting. With luxurious suites, multiple restaurants and bars, a spa, and various activities, this resort provides an ideal escape for couples and adults seeking relaxation and indulgence.
JW Marriott Guanacaste Resort & Spa: Set on the beautiful Mansita Beach in Guanacaste, this upscale resort combines luxury with Costa Rican charm. With elegant rooms, a sprawling pool, a championship golf course, a full-service spa, and a range of dining options, the JW Marriott offers a refined beachfront experience.
Playa Conchal | The Best Beaches in Costa Rica
Westin Golf Resort & Spa, Playa Conchal: Located on the stunning Playa Conchal with its unique crushed seashell sand, this resort offers a luxurious escape surrounded by natural beauty. The resort features spacious suites, an 18-hole golf course, a large lagoon-style pool, a full-service spa, and various activities for guests.
These beach resorts showcase the diversity and excellence of Costa Rica's hospitality industry, providing guests with memorable stays amidst the country's stunning natural beauty. We hope our guide to the best beaches in Costa Rica inspires you to book your next trip!
Please call us today at 1 (321) 777-1707 or describe Your Vacation Vision to help you plan your fully-crewed private luxury yachting vacation! Inquire as soon as possible about your custom, crewed yacht charter.
You make the memories. We make the arrangements.