Are you dreaming of sailing away in paradise? Look no further than the beautiful Caribbean! The Caribbean offers plenty of opportunities for a unique and unforgettable experience. From tropical islands, breathtaking beaches, vibrant culture, and unforgettable food, amazing Caribbean yacht charters have something for everyone.
With so many Caribbean boat charter options, you will surely find the perfect getaway. So what are you waiting for? Read on to learn about the top Caribbean yacht vacations!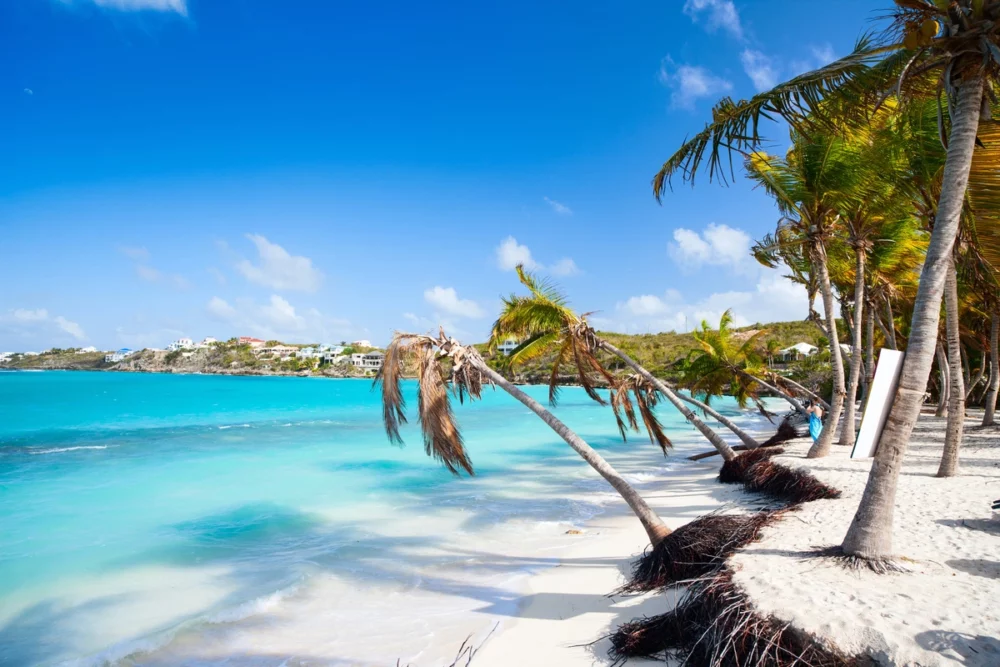 Antigua
Antigua is a small island nation in the eastern Caribbean, known for its stunning natural beauty, vibrant culture, and crystal-clear waters. One of the most popular destinations for Caribbean yacht rentals, Antigua boasts numerous secluded coves, deserted beaches, and lively towns. Whether you're looking for relaxation or adventure, there's something for everyone here.
Beaches & Nature
With over 365 beaches, Antigua offers endless opportunities for swimming, sunbathing, and water sports. Some of the most famous include Half Moon Bay, Dickenson Bay, and Jolly Beach. If you're a fan of snorkeling or diving, you can't miss the coral reefs around Cades Reef or Green Island. If you're looking for some history, visit the restored Nelson's Dockyard, a former naval base from the 18th century.
Nightlife
Aside from its natural attractions, Antigua is famous for its lively nightlife, bustling markets, and delicious local cuisine. The capital city of St. John's is a must-visit, with its colorful buildings, historic cathedral, and lively bars and restaurants. Be sure to try the local specialties, such as jerk chicken, conch fritters, and fresh seafood.
Antigua is a true gem of the Caribbean and a top destination for yacht vacations. With its stunning scenery, welcoming people, and endless activities, you will surely have a trip of a lifetime. So why not book your Caribbean yacht rental today and set sail for paradise?
The British Virgin Islands | Amazing Caribbean Yacht Charters
The British Virgin Islands are one of the top Caribbean destinations for yacht charter vacations. This is a sailor's paradise with crystal clear waters and over 60 islands to explore.
One of the must-see spots in the British Virgin Islands is The Baths on Virgin Gorda, a unique formation of giant boulders that create a natural maze of pools and grottos to explore.
Another highlight is the island of Jost Van Dyke, famous for its beach bars and party atmosphere.
The BVIs are also great for water sports, including snorkeling and diving in the clear waters to see vibrant coral reefs and rare marine life.
You can also go kiteboarding, stand-up paddleboarding, and kayaking or relax on the pristine beaches.
The British Virgin Islands are a top choice for a Caribbean yacht charter vacation with its perfect sailing conditions, gorgeous scenery, and endless activities.
St. Lucia
St. Lucia is a breathtakingly beautiful Caribbean island that offers a range of exciting activities for yacht charter guests. You can bask in the sun on the island's white sandy beaches or take in the stunning scenery of the Pitons (the iconic twin peaks rising from the sea). St. Lucia is an amazing yacht charter destination.
One of the must-visit destinations in St. Lucia is the Soufriere Marine Management Area. Here, you can snorkel or dive amidst the vibrant marine life, explore the coral reefs, or go fishing with the locals.
The island has plenty of luxurious resorts and spas for those looking to relax, such as the Anse Chastanet Resort or Sugar Beach.
A visit to the capital city of Castries is also recommended, where you can shop at the colorful Castries Market or visit the iconic Cathedral of the Immaculate Conception.
And, of course, no trip to St. Lucia would be complete without indulging in the delicious local cuisine, such as the national dish of green figs and salt fish or freshly caught seafood at The Naked Fisherman.
Yachts to Charter in the Caribbean
Plenty of Caribbean yacht rentals are available, from catamarans to luxury yachts, making exploring the islands at your own pace easy. Motor yachts provide many amenities and space for larger groups and families to enjoy the beautiful Caribbean. Catamarans are great for being closer to the water and can accommodate anywhere from 6 guests to 12.
Motor Yachts
LADY J: This 142-foot motor yacht has a contemporary interior and can accommodate up to 12 guests in 5 staterooms. It features a variety of amenities, including a sundeck Jacuzzi, onboard gym, and outdoor cinema.
TAIL LIGHTS offers comfortable accommodation for up to ten guests across five luxurious staterooms. An additional two beds can be added with owner approval. The master stateroom is tucked away, with access through its private staircase, boasting a king-sized bed. The bathroom has two sinks, a Jacuzzi bathtub, and an enclosed jet rain shower. For entertainment and outdoor pleasure, the flybridge features a central Jacuzzi, marble-top wet bar/TV, three bar stools, and an extendable teak table with seating for ten.
Catamarans
FRENCHWEST This luxurious yacht, in near-perfect condition, has two decks and plenty of space to socialize and enjoy the scenery. The indoor dining area can accommodate eight guests, and there's also an outdoor dining table. The salon has a beautiful Italian-designed sofa and chairs for relaxation.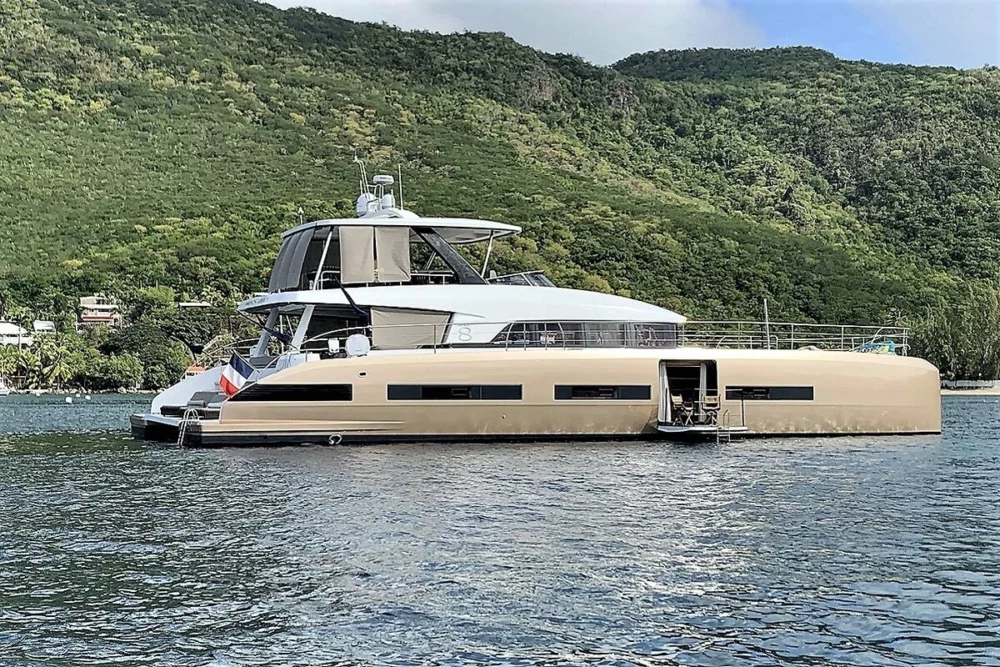 SEACLUSION: The 80′ Sunreef Catamaran is an excellent choice for an amazing Caribbean yacht charter. Aboard this luxurious vessel, you and seven of your closest friends can bask in the sunshine, socialize, and unwind in one of its four private cabins with private bathrooms. Moreover, its extensive deck area makes it the perfect place to take in the beautiful view.EditMore like this
Grenada
Grenada is often called the "Island of Spice" due to its abundance of nutmeg, cinnamon, and cloves. This island is a hidden gem in the Caribbean and a perfect spot for a yacht charter vacation.
The crystal-clear waters surrounding Grenada are ideal for diving and snorkeling. You can explore underwater shipwrecks, vibrant coral reefs, and marine life.
Grenada also boasts beautiful beaches and lush rainforests, perfect for hiking or taking a stroll.
One of the highlights of Grenada is the famous Grand Anse Beach, known for its turquoise waters and soft white sand.
If you're looking for some culture, visit St. George's, Grenada's capital city, which offers a colorful market and a picturesque harbor.
During your yacht charter vacation, make sure to sample Grenada's cuisine. The local food is a fusion of African, Indian, and European influences, making for a unique and delicious experience.
Some of the must-try dishes include oil down (a stew made with breadfruit and salted meat), callaloo soup (made with spinach and crabmeat), and fried bake (a doughy fried bread that's perfect for breakfast).
Grenada's warm hospitality and relaxed island vibe will make your yacht charter vacation an unforgettable experience. Add Grenada to your Caribbean itinerary and explore all the island offers.
St. Barth's | Amazing Caribbean Yacht Charters
Known as a playground for the rich and famous, St. Barths is a stunning Caribbean island that boasts picturesque white sandy beaches, crystal-clear waters, and incredible dining experiences. With its French-inspired culture and colonial architecture, St. Barths is a haven for luxury yachts, attracting travelers who seek to immerse themselves in the ultimate Caribbean vacation.
A highlight of a St. Barths yacht charter is the chance to discover secluded beaches and hidden coves only accessible by sea.
Spend the day exploring Anse de Grande Saline, known for its natural beauty, or Anse des Flamands, a long stretch of sand backed by coconut palms and lapped by calm, shallow waters.
If you're looking for a spot to indulge in water activities, St. Barths offers exceptional diving and snorkeling opportunities. With many tropical fish, rays, turtles, and even the occasional whale, there's no better place to explore the underwater world than St. Barths.
St. Barths also boasts an impressive dining scene, with some of the most incredible restaurants found in the Caribbean.
Experience world-class French cuisine at Bonito or indulge in Caribbean fusion dishes at On the Rocks. You can even enjoy a gourmet meal aboard your yacht with the help of your onboard chef, who can prepare delicious meals tailored to your preferences.
For those who love to shop, St. Barths has many upscale boutiques and designer stores. Wander the streets of Gustavia, the island's capital, and discover hidden gems tucked away among the pastel-colored buildings.
Anguilla
Nestled between St. Maarten and St. Barths, Anguilla is a hidden gem of the Caribbean. The island is known for its stunning beaches, crystal clear waters, and laid-back atmosphere.
One of the most popular beaches in Anguilla is Shoal Bay, with its powder white sand and turquoise waters. Meads Bay is another great option, featuring several beach bars and restaurants.
A yacht charter in Anguilla is perfect for those looking to escape the hustle and bustle of other Caribbean destinations. Relax on your yacht and enjoy the view of the secluded coves and deserted beaches that make Anguilla special.
For those looking for adventure, take a hike through the rugged terrain of Katouche Bay, home to a diverse array of plant and animal life. Snorkeling and scuba diving are popular activities, with the island's clear waters offering excellent visibility.
End your day with a sunset sail and soak in the beauty of Anguilla's coastline as the sun sets over the horizon.
Our Amazing Caribbean Yacht Charters are what dreams are made of, so contact us today!
Please call us today at 1 (321) 777-1707 or describe Your Vacation Vision to help you plan your fully-crewed private luxury yachting vacation! Inquire as soon as possible about your custom, crewed yacht charter.
You make the memories. We make the arrangements.