Luxurious Getaway | St Martin Yacht Charters
Enjoy a sailing vacation on a St Martin yacht charter arranged by Luxury Yacht Charters. The island offers a unique blend of Dutch and French cultures and a relaxing Caribbean atmosphere. Indeed, it is sure to produce a lifetime of treasured memories.
St. Martin is home to many large megayachts during the winter. It serves as a starting point for visiting the Leeward islands of Anguilla, St. Barths, Saba, St. Kitts and Nevis, and St. Eustatius. Many of the luxury charters make a stop at Tintamarie, with its incredible sandy beaches and mud baths.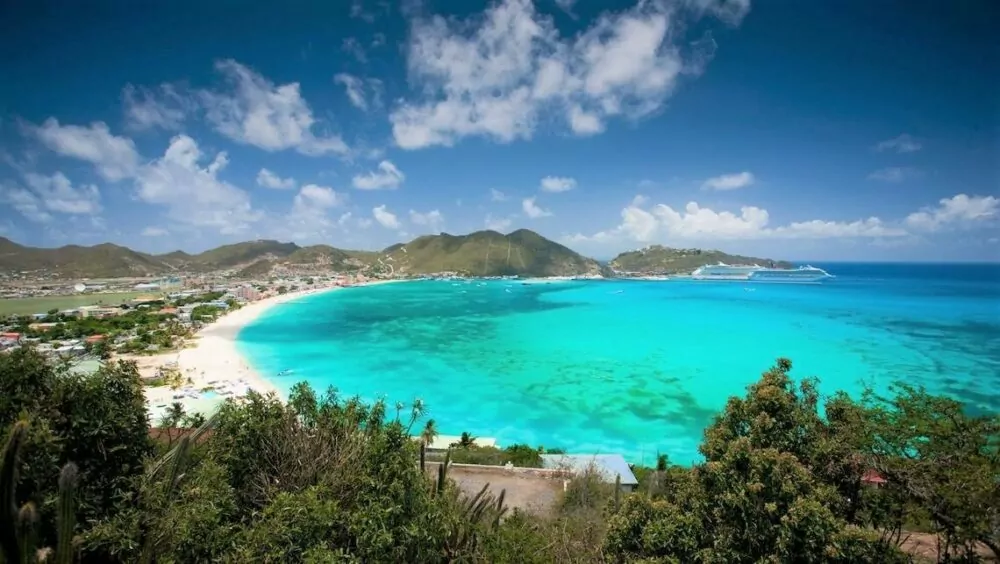 Climate
The Caribbean climate ensures pleasant sailing conditions year-round, but the high season runs from December to April when the weather is cooler and drier. Since hurricane season occurs from June to November, plan your St Martin Yacht Charters accordingly.
When the weather is warm, trade winds temper the humidity.
St Martin Yacht Charters | Fun Fact
The island of St. Martin is the smallest landmass in the world to be shared by two nations. Moreover, the island is split into separate countries — the French protectorate of St. Martin and the Dutch territory of St. Maarten.
Each dominion is unique. The French side offers numerous restaurants and open-air eateries. In addition, there are casinos and many duty-free stores with the latest electronics, jewelry, and souvenirs on the Dutch side.
French Side (St. Martin):
Marigot
Explore the charming capital of the French side. It is famous for its picturesque harbor, vibrant markets, and French-Caribbean ambiance. Certainly don't miss the Marigot Market for local crafts and fresh produce. Here are a few things to see and do in Marigot:
Marigot Market (Marketplace): The heart of Marigot comes alive with the vibrant Marigot Market, which typically takes place on Wednesdays and Saturdays.
Fort Louis: Perched atop a hill overlooking Marigot, Fort Louis is a historic 18th-century fortress. It offers stunning panoramic views of the town, the marina, and the surrounding coastline.
Marina Royale: Stroll along the Marina Royale, lined with yachts as well as a promenade of restaurants, cafes, and boutiques.
Le West Indies Shopping Mall: This waterfront shopping mall offers a mix of high-end boutiques, duty-free shops, and cafes.
Fort Louis Marina: Even if you're not mooring your yacht here, the Fort Louis Marina is a beautiful place to take a walk and appreciate the atmosphere.
Beaches: While Marigot itself doesn't have a major beach, you can head to nearby beaches like Baie Rouge (Red Bay), Friar's Bay, or Happy Bay. These beaches are just a short drive from Marigot.
Dining: Marigot boasts some excellent dining options, with a focus on French and Creole cuisine.
St. Martin Museum: The St. Martin Museum (Musée de Saint-Martin) provides insights into the island's history, culture, and heritage. It is also close to the marina.
Grand Case
Known as the "Gourmet Capital of the Caribbean," Grand Case is indeed a food lover's paradise. Sample exquisite French cuisine at the many restaurants and enjoy a romantic evening by the sea.
Culinary Delights: Grand Case is famous for its "Restaurant Row" along the main street, Boulevard de Grand Case. You'll find an impressive lineup of restaurants serving a wide range of cuisines, from traditional French and Creole to European food and fusion dishes.
Beaches: Grand Case Beach: The village is situated along a beautiful crescent-shaped bay with soft, white sand and calm, turquoise waters. It's a perfect spot for swimming and sunbathing, with views of Anguilla on the horizon.
Shopping: Boutiques and Galleries: Explore the charming streets of Grand Case to discover local boutiques, art galleries, and shops offering Caribbean-inspired fashion, jewelry, and artwork.
Grand Case Cultural Center: Located in the heart of the village, this cultural center provides insight into the history and culture of St. Martin through exhibits, art, and educational programs.
Grand Case Mardi Gras: If you're visiting during Carnival season, be sure to experience the lively Grand Case Mardi Gras celebrations. Enjoy the colorful parades, live music, and traditional costumes.
Anse Marcel
A peaceful bay with a marina and a lovely beach, Anse Marcel is perfect for a relaxing day of sunbathing, water sports, and beachfront dining.
Pic du Paradis
Hike to the highest point on the island, Pic du Paradis, for breathtaking panoramic views of the entire island and surrounding waters.
Dutch Side (Sint Maarten):
Philipsburg
The Dutch capital offers a bustling atmosphere, duty-free shopping, and a vibrant boardwalk. Here are specific places to see and things to do in Philipsburg:
Front Street: Front Street is the epicenter of shopping in Philipsburg. It's a bustling thoroughfare lined with duty-free shops, jewelry stores, boutiques, and souvenir shops. Popular stops include Colombian Emeralds for jewelry and Guavaberry Emporium for local liqueurs.
Great Bay Beach: This crescent-shaped beach offers soft white sand and calm, clear waters perfect for swimming and water sports.
Boardwalk: The newly renovated boardwalk along Great Bay Beach is a fantastic place for a stroll.
Fort Amsterdam: Overlooking Great Bay, Fort Amsterdam is a historical site that dates back to the 17th century when the island was divided between the Dutch and French. While not as extensive as some other forts on the island, it offers lovely views and some insight into the island's history.
Beach Activities: Great Bay Beach is not only for sunbathing but also for various water activities. Rent jet skis, go parasailing, or take a snorkeling excursion to explore the underwater world around the shipwreck near the pier.
St. Maarten Museum: Located on Front Street, the St. Maarten Museum provides an opportunity to delve into the island's history, culture, and heritage through exhibits and artifacts.
Divi Little Bay Beach Resort: If you're looking for an all-inclusive experience, Divi Little Bay Beach Resort offers a beautiful beach, dining options, water sports, and even a spa for a day pass or overnight stay.
Duty-Free Shopping: Aside from Front Street, Philipsburg has several duty-free shopping complexes, such as Port De Plaisance and Philipsburg Courthouse, where you can find a wide selection of luxury goods, electronics, and more.
Maho Beach
Maho Bay is a world-famous beach known for its thrilling and unique aviation experiences. Situated right at the threshold of Princess Juliana International Airport's runway, Maho Beach offers visitors the incredible opportunity to witness large commercial jets landing and taking off at an astonishingly close range.
Orient Bay
With its powdery white sand, fringed by swaying palm trees and crystal-clear azure waters, Orient Bay is often considered one of the most picturesque beaches in the region. The beach is a hub of activity, offering visitors an array of water sports, beachside dining, and lively beach bars. It's also a popular spot for snorkeling and sunbathing.
Fort Louis
Hike up to Fort Louis for a glimpse into the island's history and stunning views of Marigot and the surrounding areas.
Nearby Islands
Anguilla: Take a short sail to the nearby island of Anguilla, known for its stunning beaches, including Shoal Bay, often ranked among the world's best.
St. Barts (Saint-Barthélemy): Explore the chic and glamorous island of St. Barts, just a few hours away by yacht. Enjoy upscale boutiques, fine dining, and beautiful beaches like St. Jean and Anse de Colombier.
Tintamarre: Visit the uninhabited island of Tintamarre, known for its tranquil coves, snorkeling spots, and the chance to swim with sea turtles.
Yachts for St Martin Yacht Charters
Crewed yachts range from monohull sailboats to sailing, power catamarans, and motor yachts. Each offers the finest amenities, menus, crew services, and recreational activities. Many offer world-class scuba, snorkeling, and isolated beaches in crystal clear waters – all in your own St. Martin yacht charter.
These cruising grounds offer a variety of cultural experiences, and these are sure to provide rich memories and distinctive souvenirs. Luxury Yacht Charters will guide you as you select the luxury yacht and itinerary best suited to your vacation desires.
Charter Itineraries
Activities | General Information
MAP – St Martin Yacht Charter
Book your private yacht charter. You'll never run out of things to do in St Martin!
Please call us today at 1 (321) 777-1707 or describe Your Vacation Vision to help you plan your fully-crewed private luxury yachting vacation! Inquire as soon as possible about your custom, crewed yacht charter.
You make the memories. We make the arrangements.