If you're looking for a luxurious tropical getaway, consider booking a BVI catamaran charter crewed experience, where you can explore the stunning Caribbean waters in style and comfort. Cocktails & Dreams is a fantastic choice for your getaway in the British Virgin Islands.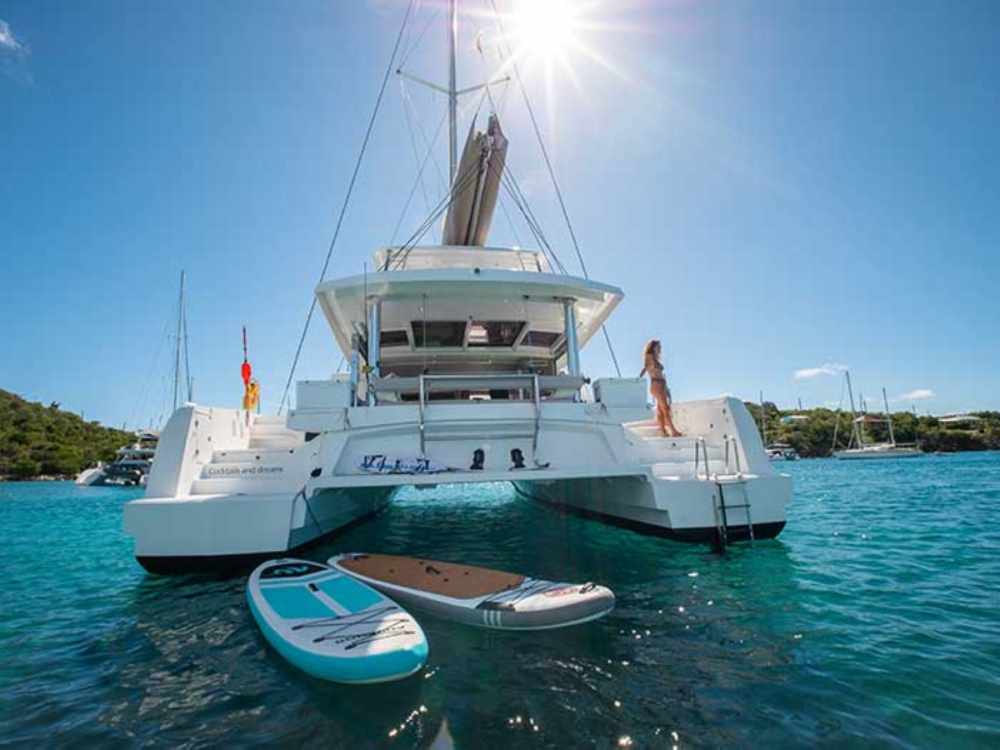 Discovering Cocktails & Dreams
Cocktails & Dreams is the newest gem in the BVI. This luxurious Bali catamaran was built in 2022 and is the epitome of style and comfort. With its sleek design and spacious interior, you'll certainly feel like royalty as you sail on crystal-clear Caribbean waters.
| | |
| --- | --- |
| 10 Guests | Year/Rebuilt: 2023 |
| $32,700 - $38,000 /wk | 54.00 Ft Cat |
Cruising with Comfort | Roomy Cabins
Cocktails & Dreams is where comfort meets cruising. This BVI catamaran crewed charter features five queen-sized cabins, each carefully designed to provide the utmost relaxation for its guests. Whether you're traveling with family or a group of friends, there's plenty of space for everyone to unwind and enjoy privacy.
Step into your cabin and be greeted by a plush queen-sized bed that promises a restful night's sleep after a day of adventure. The sleek and modern design of the cabins creates a calming ambiance, making it the perfect retreat after a day out on the water. Each cabin also has its own en-suite bathroom, complete with luxurious amenities.
But not just the stunning cabins set Cocktails & Dreams apart. This beauty boasts an array of water sports and activities to keep you entertained throughout your charter.
Water Sports and Activities to Keep You Entertained
Cocktails & Dreams has got you covered if you're seeking luxury and adventure! This incredible BVI catamaran charter offers a wide range of water sports and activities to keep you entertained throughout your trip. Whether you're a snorkeling enthusiast, a paddleboarding pro, or a diving lover, there's something for everyone to enjoy.
Imagine diving into the crystal-clear Caribbean waters and exploring vibrant coral reefs teeming with colorful marine life. Or paddleboarding along the coast, taking in the breathtaking views as you glide over the gentle waves. If you're feeling adventurous, you can try kayaking and exploring hidden coves and secluded beaches.
However, if you want a more leisurely encounter, seize a snorkel and mask to venture into the mesmerizing underwater wonders beneath the surface. Encounter lively coral gardens, colorful tropical fish, and perhaps even a curious sea turtle. Cocktails & Dreams offers an array of water sports and activities to enhance your charter experience.
Enjoy water toys and amenities such as:
x2 floating docks
x2 Bote Chairs
x2 SU Paddleboards
x1 Subwing
x1 2-person Kayak
x1 trolling fishing rod
x1 casting fishing rod
Unmatched Ocean Views
When it comes to ocean views, Cocktails & Dreams delivers like no other. Picture this: a large tilt-and-turn door and sliding windows that provide access to the stunning surroundings. From the moment you step foot on this luxurious boat, you'll enjoy stunning views of the sparkling Caribbean Sea.
Imagine waking up to the gentle sound of waves and the warm Caribbean sun streaming in through the open windows. Whether relaxing in the spacious social areas or lounging in your queen-size cabin, you'll have constant access to the ocean's beauty.
Exceptional Service | Meet the Captain and Chef
The Cocktails & Dreams crew is dedicated to providing exceptional service. This BVI catamaran charter has a captain and chef ready to cater to your every need, ensuring that your charter experience is nothing short of amazing.
The Captain
Captain Tiaan Greeff is a great captain who listens to everyone and creates a warm, inviting atmosphere for everyone on board. He will navigate the stunning British Virgin Islands, taking you to the best spots and hidden gems only locals know about. Whether you're looking for private beaches, vibrant coral reefs, or charming coastal towns, the captain will ensure you have the most memorable experience.
The Chef
Chef DeWet Van Zyl will delight your taste buds with mouthwatering meals prepared with the freshest ingredients. From delectable seafood dishes to yummy tropical flavors, every meal will be a culinary journey.
Experience a gourmet journey through a diverse menu. Start your day with avocado toast, overnight oats, or a family-style bagel & lox platter. Lunch delights with panini, antipasto salad, and fresh shrimp spring rolls. Dinner options span from Korean Bibimbap to crispy chipotle red snapper tacos.
So sit back, relax, and let the captain and chef of Cocktails & Dreams take care of everything. They will ensure that you and your charter guests have all you need. Cheers to one-of-a-kind memories and impeccable service!
Exploring the Beauty of a BVI Catamaran Crewed Charter
The beauty of the British Virgin Islands extends far beyond the luxurious confines of Cocktails & Dreams. Once you've experienced the comfort and adventure of this Bali catamaran charter, it's time to explore everything else this tropical paradise offers.
Embark on a journey of discovery as you set sail to some of the most breathtaking destinations in the Caribbean. Explore secluded beaches with pristine white sands, where you can relax and soak up the warm Caribbean sun. Dive into crystal-clear waters and discover vibrant coral reefs teeming with colorful marine life. Snorkel alongside curious sea turtles and marvel at the kaleidoscope of colors beneath the surface.
Visit charming Road Town on Tortola and immerse yourself in the local culture. Indulge in fresh seafood delicacies and sip on tropical cocktails at the beach on Jost Van Dyke. Watch the sunset over Virgin Gorda. We will certainly work with you to custom-craft a BVI itinerary to suit your interests.
The British Virgin Islands offer endless opportunities for exploration and adventure. Whether you're seeking tranquility or adrenaline-pumping activities, there's something for everyone. So set sail aboard Cocktails & Dreams and discover the true beauty of the British Virgin Islands. Call our charter brokers today to reserve your private yacht charter.
Book Your BVI Catamaran Charter Crewed Experience
Book your BVI catamaran charter crewed experience aboard Cocktails & Dreams. Enjoy this special offer: 15% off the posted rates for the entire 2023/2024 season! Call today for the best charter dates.
Please call us today at 1 (321) 777-1707 or describe Your Vacation Vision to help you plan your fully-crewed private luxury yachting vacation! Inquire as soon as possible about your custom, crewed yacht charter.
You make the memories. We make the arrangements.