Catamaran Skylark Perfect for the Adventurous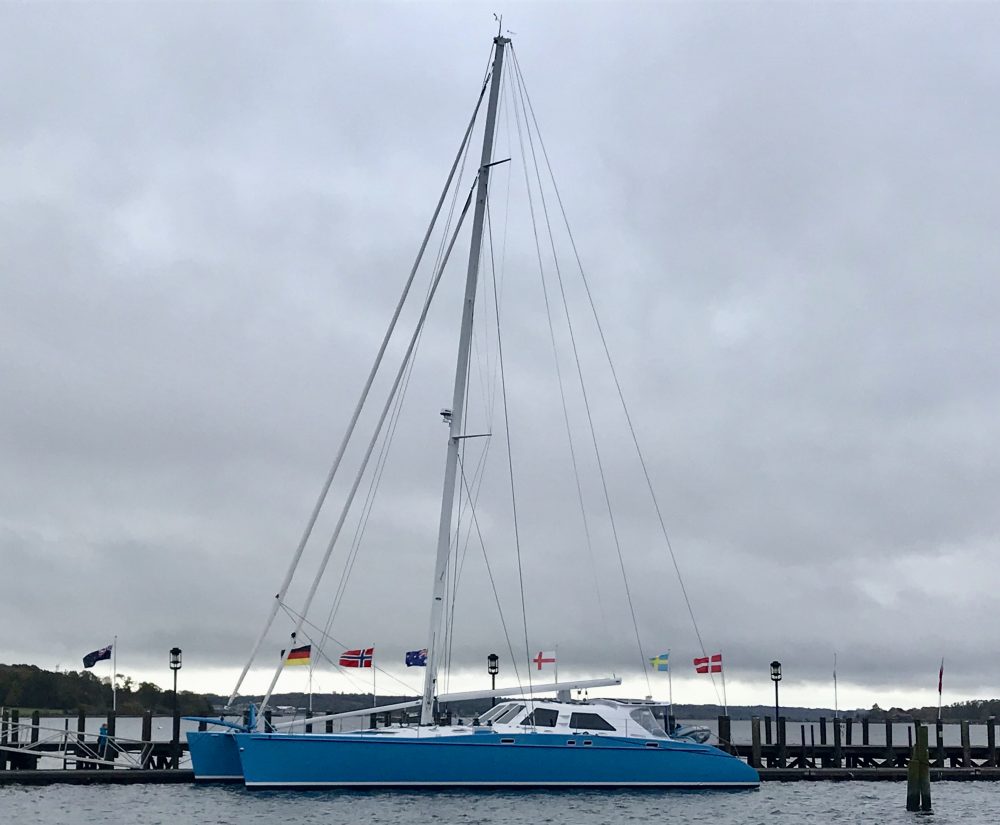 The 2018 Atlantic 72 Catamaran Skylark is perfect for those seeking an adventure charter, says Alan Weeks, the captain of the new Chris White-designed vessel. Caribbean Catamaran Skylark was built in Rhode Island, and Weeks and his crew are preparing her for her maiden voyage to the Caribbean in the coming weeks.
Alan Weeks and his wife Liz Weeks, first mate and chef, are no strangers to the design, "I've been on a Chris White '57 for several years," said Alan. The couple sailed around the world with the previous boat, and the owner decided it was time for a bigger one to accommodate more guests. "This one is much more luxurious," said Alan.
I got to take a peek at the boat while it was at the dock across from the Herreshoff Museum in Bristol. Workers were busily preparing her for the journey south. With a 31.5-foot beam, there is plenty of space both on deck and inside. Like most cats, her main salon is spacious with 360-degree views of the outside.
The cockpit sits in front of the main cabin and before the mast. It sits somewhat deep in the deck, so you have plenty of protection from wind and water, but there is also a navigation and steering station inside the main salon for those wetter days. The deck space gives guests plenty of room to enjoy the surroundings and the tropical sun.
Spacious Yet Sporty
Skylark can carry as many as eight passengers with her four queen cabins. The cabins are comfortable, but this boat is definitely for those who want to taste an actual, go-fast sailing boat. She can easily cruise at 12 knots, but in the right sailing conditions, she can hit 30. Under power, she can also cruise in the teens, so there aren't too many places outside her range for a week's charter in the Caribbean. And, according to Alan, she goes windward quite nicely.
Clean and Green

| Catamaran Skylark

Skylark has two engines onboard but no generator: just solar panels. She creates her water with the desalination system onboard. And the Weeks' have not allowed plastic water bottles onboard their boats for 15 years. "We buy nice glass bottles," said Alan.
Caribbean Cuisine
Liz is originally from Jamaica but grew up partly in the United States. Liz is both first-mate and chef onboard. "She has a real passion for food," said Alan. Liz is adept at cooking all types of food onboard "with a Caribbean flare," Alan continued.
Weronika Jasica is the second mate for the 2018 winter season and will be helping the Weeks' to ensure the season goes smoothly.
Although Skylark may not be the typical luxury catamaran charter, her speed and racy design should not put off those looking for a family adventure. "We like having families aboard," said Alan. He is an avid diver, surfer, wake, and kiteboarder, so he encourages guests to enjoy themselves in a variety of sports and activities while out on charter. "I'm 61, but I'm still a kid by heart. I like to play," he said. And the 14-foot RIB is great for waterboarding and tubing.
To charter Skylark this winter, rates run between $31,000 and $36,000, depending on the number of passengers. Click here for more information on Skylark and her crew.
For more on a Caribbean Catamaran SKYLARK, contact Luxury Yacht Charters, a division of CKIM Group.
Please call us today at 1 (321) 777-1707 or describe Your Vacation Vision to help you plan your fully-crewed private luxury yachting vacation! Inquire as soon as possible about your custom, crewed yacht charter.
You make the memories. We make the arrangements.