Christophe Harbour Nevis
Until recently St. Kitts was a brief stopover, if one at all, for luxury yachts. Christophe Harbour Nevis has changed that with its 24 full-service yacht berths, which can host boats between 147 and 213 feet. And there are currently six new berths being built to moor boats up to 400 feet in length.
Christophe Harbour offers a safe haven marina as well as a private beach club, a marina "village" with provisioning services and boutique shops as well as access to the Park Hyatt hotel just down the road and the Salt Plage Beach Bar.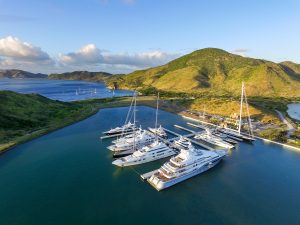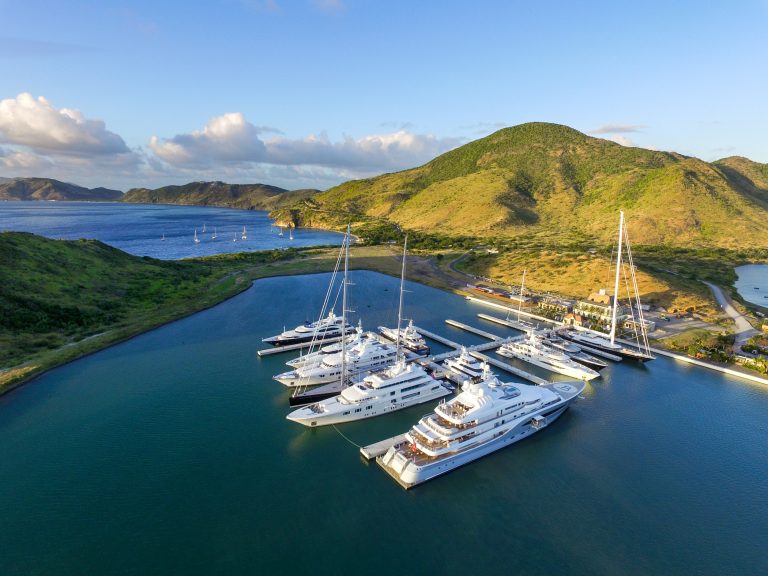 A Destination Marina
"The goal is to become a destination marina," said the Director of Yachting at Christophe Harbor, Aeneas Hollins.
St. Kitts is the larger of the two islands that make up the Federation of St. Kitts and Nevis (65 square miles). Christophe Harbour is located on the peninsula, on the southeast end of the island. There wasn't even a road along the peninsula until the 1990s and serious development of this pristine land didn't occur until the mid-2000s.
Growing up in Nevis, I remember looking over at the peninsula at night time and seeing no lights. Then one or two appeared and slowly, more and more came into existence. It was the same for Christophe Harbour: no one could believe that someone was going to make this desolate peninsula with shallow salt ponds into a deep-water marina.
But Charles P. "Buddy" Darby III saw potential here, as he had in his various developments around the world. He came up with a plan to offer real estate (you can buy land or a berth) which would then give access to the rest of what Darby planned to develop: a high-end community overlooking both the Caribbean and the Atlantic Ocean.
Hollins was Darby's boat captain before he moved ashore in 2012 and began helping with the development.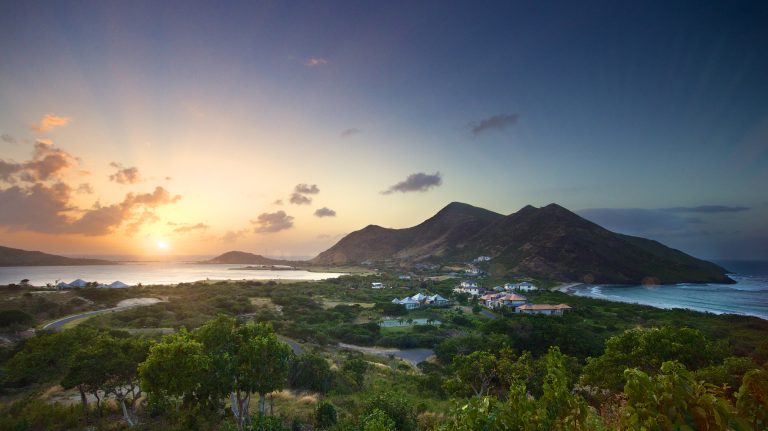 "All of a sudden, we have everything that a marina has," said Hollins. "And then some," he continued.
A Silver Lining to a Traumatic Event
Last year, hurricanes Irma and Maria brought with them devastation to many of the islands in the Caribbean including St. Martin, the British, and the United States Virgin Island as well as Puerto Rico.
St. Kitts was fortunate to not bare a direct hit. "We got very lucky," said Hollins. "We were up and running the next day," he continued. It was quickly decided that they would help in organizing relief to the affected islands. Hollins and his team also realized that there would be a need for a port-of-call for the luxury fleet as most of the other major ports had been destroyed.
And they were right. Christophe Harbour had a great year. Luxury yachts came flocking. "Far more than we anticipated," said Hollins. Which, according to Hollins, led to yacht owners and clients discovering or rediscovering the whole Caribbean region.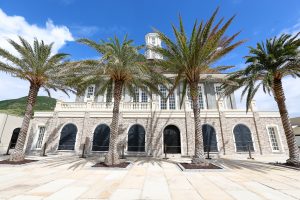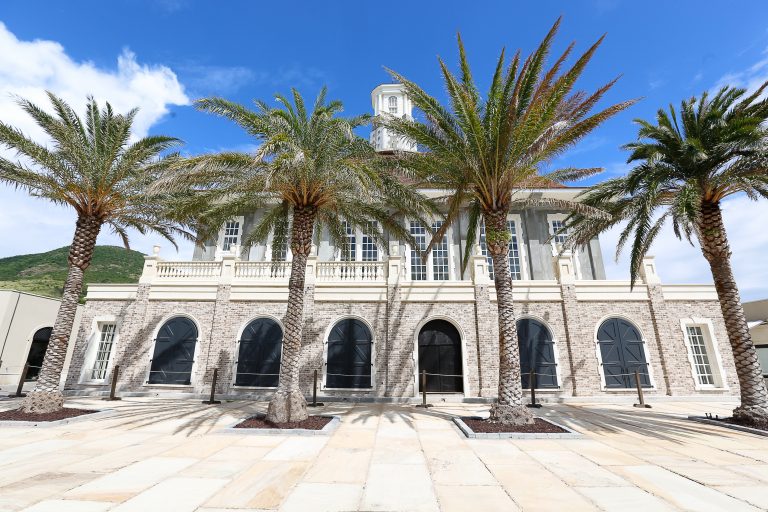 Phase II: Bigger is Better
This year, Hollins is expecting double the amount of boats coming through, hence the development of six mega-yacht berths. "They are coming back to the region en-mass," said Hollins.
What Hollins and his team really want is for Christophe Harbour to be considered a homeport for many of these yachts, as well as a gateway to other, less-traveled islands and beyond. "We're a good jumping-off point for Europe," said Hollins.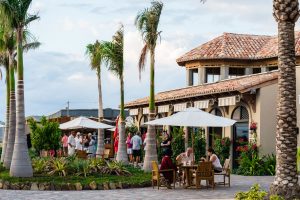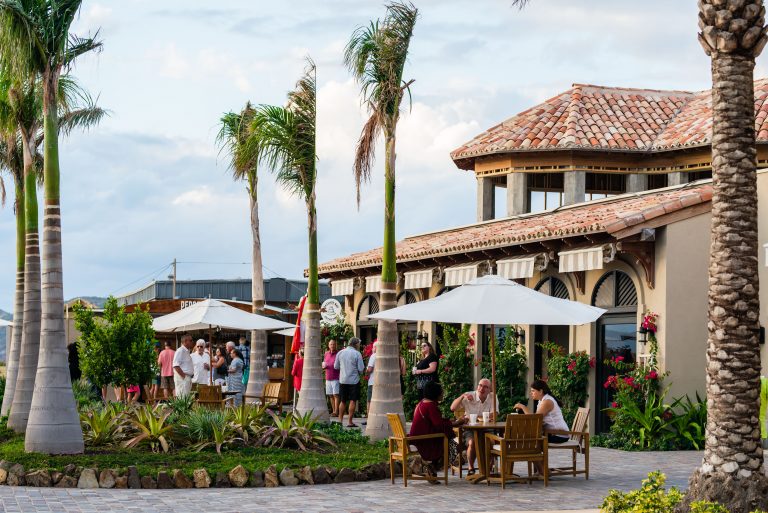 Food and provisions are brought in from the U.K. regularly as there are weekly flights from Gatwick and with the Park Hyatt now open (since last November), Christophe Harbour now offers guests as much as most main ports can offer.
Christophe Harbour also helps with creating detailed itineraries that captains and crew can be sure will wow their guests. "Charter crew loves us," said Hollins. "They know that we know how to look after guests," he continued.
They also have a partnership with the local private jet terminal to ensure painless and quality travel between yacht and jet. And they continue to develop more and more partnerships that will offer more high-end experiences for clients.
In summary, what does Hollins expect for this winter? "A very very busy season," he said. "And St. Kitts and Nevis will see the benefits of that," he continued.
If you do stop into Christophe Harbour this season, make a trip over to the neighboring island of Nevis as well. You will not be disappointed.
For more on luxury super yacht charter CLARITY, Contact Luxury Yacht Charters a division of CKIM Group.
Please call us today at 1 (321) 777-1707 or describe Your Vacation Vision to help you plan your fully-crewed private luxury yachting vacation! Inquire as soon as possible about your custom, crewed yacht charter.
You make the memories. We make the arrangements.