A Santorini, Greece, a yacht charter is one of the most luxurious ways to experience the stunning beauty of the Greek Isles. Santorini is a must-visit stop in the Greek islands with crystal-clear waters and whitewashed buildings. Although there are countless places to visit in Santorini, we've highlighted just a few.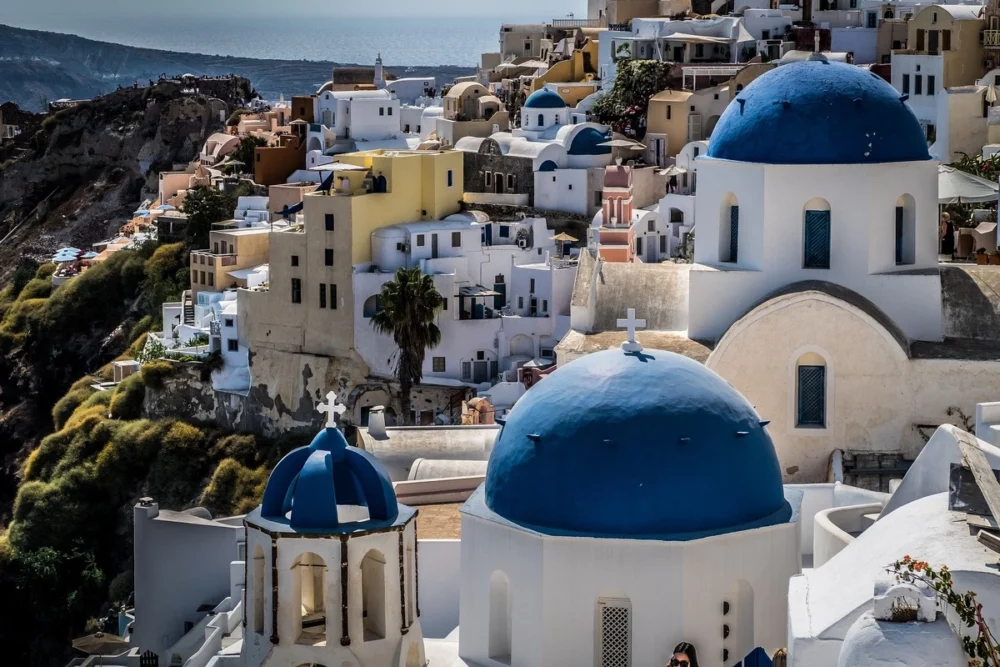 Greece Santorini Yacht Charter Destinations
Oia
Located at the northern tip of Santorini, Oia is a small town of narrow streets lined with whitewashed houses and windmills, offering visitors breathtaking views of the Caldera. It's one of the most picturesque places on the island.
Oia is full of romantic ambiance, with its whitewashed buildings and bright blue domed churches dotting the cliffside. There's plenty to see and do in Oia, from wandering the quaint alleyways to exploring the ruins of an old Venetian castle or watching the world-famous sunset from one of the many overlook points.
Oia is packed with art galleries, boutique stores, and tavernas where you can taste delicious local delicacies. Make sure to visit the Maritime Museum, which offers insight into the island's maritime history and culture. Don't forget to stroll down Skaros Rock, a historic landmark on a cliff.
If you're looking for adventure, take a boat tour to explore nearby caves or enjoy a traditional donkey ride through the alleys of Oia. Visit one of the strikingly black sandy beaches, or swim in a secluded cover.
Fira
Fira is the main town on the island of Santorini. This picturesque town is on Caldera's edge and offers stunning views of the Aegean Sea. Fira has unique architecture, with traditional Cycladic buildings with whitewashed walls and blue-domed roofs.
The narrow streets of Fira are full of restaurants, cafes, and shops. Visitors can experience traditional Greek life while wandering through the old neighborhoods. From the terraces of Fira, visitors can enjoy stunning views of the Caldera, Oia, and other villages on the island. The stunning sunsets here make it a popular spot for locals and tourists.
In addition to its beauty and quaint atmosphere, Fira is home to some of the best restaurants in Santorini. Visitors can savor delicious Greek cuisine, including freshly caught seafood, pastries, and traditional dishes like moussaka and souvlaki.
For travelers looking for a bit of nightlife, Fira is home to some lively bars and clubs that stay open until the wee hours of the morning. With its idyllic location, stunning views, delicious food, and lively nightlife, Fira is a must-visit destination on your Santorini yacht charter.
Imerovigli
Imerovigli is one of the most stunning and romantic locations in Santorini. The village offers incredible views of the sea, the volcano, and the iconic sunset. It's also home to some of the best restaurants on the island, such as Kapari Wine Restaurant, where you can enjoy a glass of local wine while admiring the spectacular views.
Imerovigli is the perfect spot for a romantic getaway. You can wander around the narrow cobblestone streets, walk down to the water's edge, or enjoy the scenery from one of the many terraces. There are plenty of activities for visitors to do here as well, such as swimming and kayaking. If you're looking for an escape from the hustle and bustle of Fira, then Imerovigli is an ideal choice.
At night, Imerovigli lights up with dozens of twinkling stars – making it an incredibly romantic setting. Several restaurants and bars offer traditional Greek dishes and some more modern offerings. From here, you can also admire the fantastic views from Skaros Rock, one of the highest points in Santorini.
So if you're looking for a picturesque and romantic setting for your Santorini yacht charter, Imerovigli is a must-visit destination.
Thera
The beautiful island of Thera is a must-see on any Santorini, Greece, luxury yacht charter. One of the most exciting places to explore in Thera is the ancient city of Akrotiri, which dates back to the Minoan period, around 1500 BC. Walk among the ruins, visit old homes, and see breathtaking caldera views.
The main port of Thera, the old port of Ormos, is also worth a visit. Plenty of bars, restaurants, and tavernas offer delicious local cuisine. For those who want to escape the hustle and bustle, there is also a lovely beach for swimming and sunbathing.
Ancient Thera
Ancient Thera is a must-visit for those looking to experience the history and culture of Santorini. Located on the island's east side, Ancient Thera is home to an archaeological site of the same name, once the capital of the ancient city-state. Here you can explore an ancient city's ruins that date back to the 5th century BC. The ruins include an acropolis, Agora (marketplace), Stadium, Roman baths, and numerous other monuments.
Megalochori
One of the most picturesque villages in Santorini is Megalochori. Located in the western part of the island, Megalochori is known for its traditional whitewashed buildings, quaint cobblestone streets, and stunning views of the Caldera. The village dates back to the 17th century and is home to some of the oldest churches in Santorini.
Greece Santorini Yacht Charters
You can start your Greek Islands Charter from Santorini in favorable weather conditions. However, you would be charged relocation fees to position the yacht in Santorini. The cost can range from 2,000.00 to 5,000 Euros +.
Yachts for charter in Greece include
Catamarans
Motor Yachts
Please call us today at 1 (321) 777-1707 or describe Your Vacation Vision to help you plan your fully-crewed private luxury yachting vacation! Inquire as soon as possible about your custom, crewed yacht charter.
You make the memories. We make the arrangements.