The Turkish Riviera Insights, also known as the Turquoise Coast, is a unique mix of rich archeological tourism and Mediterranean relaxation. The culture there is very similar to that in Greece, and they share many of the same Mediterranean flavors. But while there are many similarities, Turkey stands out for some of its historical and archeological treasures.
The Carian Coast
The two largest yacht charter bases are on the Carian Coast. Bodrum and Marmaris are popular places to begin and/or end your charter. Both offer plenty to do and see and are actual coastal cities.
Bodrum
A popular yachting destination on Turkey's Aegean coast, Bodrum is considered the home of sailing in Turkey. Traditional villages, bustling nightclubs, and sheltered bays illuminated by phosphorescence are just a few of the landscapes in the area that you can explore. The bustling city center is full of restaurants and bars, many of which feature live entertainment in the evenings. The shops around Bodrum's harbor are perfect for souvenir shopping and picking up unique items.
Bodrum is a must-see destination for anyone looking to explore the best of the Turkish Riviera. The area around Bodrum is home to many ancient ruins, including the remains of the Mausoleum at Halicarnassus, one of the Seven Wonders of the Ancient World. Bodrum Castle, which is built on top of the ruins, is a popular tourist attraction and provides stunning views of the harbor and town below.
Marmaris | Turkish Riviera Insights
Marmaris has all of the elements that make it an excellent yachting destination. The cool winds, sunshine, crystal clear water, vast bays, and blue sea make it irresistible. Located on the shore of the Aegean Sea, this area is renowned for its rugged coastline and unspoiled natural beauty. It's the ideal destination for a turkey yacht charter, offering both relaxation and adventure.
There are also plenty of activities for those looking to get out on the water. These include snorkeling, kayaking, and of course sailing. In addition, the city itself is full of historic sites, from ancient ruins to Ottoman-era mosques. You can even take a stroll through the old town and soak up the unique atmosphere. At night, Mamaris transforms into a vibrant nightlife scene with music, dance, and plenty of delicious food.
The Ionian Coast
The enticing Ionian Coast claims to have the best climate, which may have been what attracted the Ionians so many centuries ago. Today visitors to this coast can enjoy Izmir, Kusadasi, and Güllük —all very popular among charters.
Izmir
Today, the modern city of Izmir is the third largest city in Turkey. Visit ancient monuments, shop quaint markets, enjoy local cuisine and Turkish coffee, or lounge on the beach. In addition, you can charter in the Cesme area. This vibrant port city offers a plethora of activities, sightseeing opportunities, and attractions to enjoy.
The city of Izmir is home to some of the oldest and most beautiful monuments in the world, including the Library of Celsus, built during the 2nd century, and the Agora of Smyrna, a market and public gathering place that was originally constructed during the 7th century BC. Take a tour of the city's stunning temples and ancient sites, or wander around the bustling bazaars where you can purchase local goods. There are plenty of beaches to explore around Izmir too
Kusadasi
Kuşadası is a large resort town on Turkey's Aegean coast. Visit Ephesus nearby, play at Adaland, one of Europe's largest waterparks, golf, or go to the beach. Kusadasi is known for its many beautiful beaches and crystal clear water. Kusadasi is also a great spot for enjoying all kinds of watersports. From sailing and kayaking to snorkeling and scuba diving, there are activities to suit all interests. You can also charter a fishing boat or explore some of the nearby bays by motorboat.
Güllük
Güllük is a small fishing town that is growing in popularity. Located in the heart of the Turkish Riviera, this picturesque harbor town offers plenty of charm, culture, and excitement. From the spectacular turquoise waters to the delicious cuisine and historical sights, Gulluk is a must-see destination on any luxury vacation.
Gulluk's main attractions include the ancient ruins of Heraklia and the Gulluk Castle. The ruins date back to the 4th century BC and are some of the best preserved in the region. They provide an interesting insight into the history of the area, as well as stunning views of the coastline.
Gulluk Castle is a medieval fortification that was originally built by the Knights of Rhodes during the 14th century. It's perched atop a hill, offering magnificent views of Gulluk's harbor and surrounding countryside. The castle has been extensively restored and is now open to visitors.
The Lycian Coasts | Turkish Riviera Insights
If you're seeking adventure, the west Lycian Coast from Marmaris to Fethiye is the right place. Known as the pirate coast, the west Lycian Coast has wild, mountainous shores and hundreds of hidden coves. Your charter crew will help you explore the nooks and crannies and develop an appreciation for the relationship between the land and the people in the area.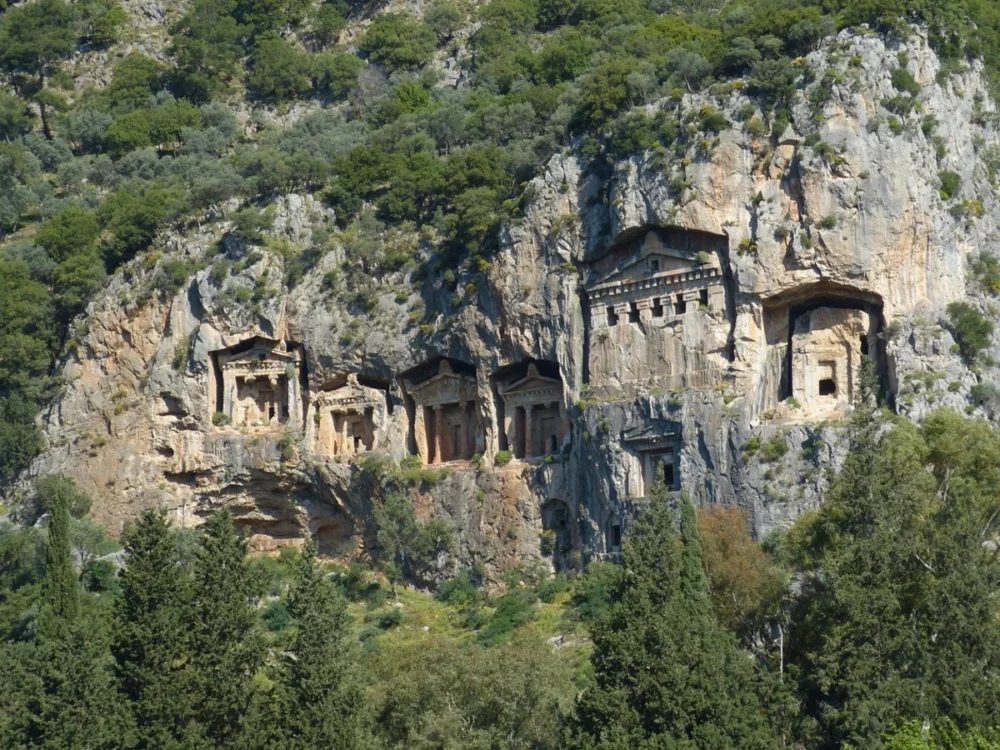 The east Lycian Coast, from Fethiye to Antalya, features numerous rock tombs and solid stone sarcophagi, which will transport you hundreds, if not thousands, of years in the past. These ancient tombs were built to be incorporated into their surrounding cities and were beautifully designed. How exciting to visit a modern tourist destination alongside displays of ancient civilizations!
Fethiye
Visitors can explore some of the many attractions located here including the Lycian Rock Tombs, the Ancient City of Tlos, and the peaceful village of Saklikent. Plus, for those who are interested in water activities, Fethiye provides plenty of options for sailing, swimming, scuba diving, fishing, and more. With its lush green hillsides, crystal blue waters, and unique cultural sites, Fethiye is a great destination for a relaxing and unforgettable Turkey yacht charter vacation.
Ölüdeniz
Ölüdeniz, or Dead Sea, is a small resort town located on the Mediterranean Sea, just south of Fethiye. It's known for its azure waters, and its lagoon and beach are particularly beautiful. This makes it a great destination for a turkey yacht charter, as you can spend days cruising around the stunningly blue waters. If you're looking for a truly luxurious experience, you won't be disappointed with a trip to Ölüdeniz.
One of the best things to do at Ölüdeniz is to take part in a paragliding experience. You can take off from Babadag mountain and soar over the bright blue waters below. It's an incredible experience that will make your turkey luxury vacation unforgettable. There are also plenty of other activities, such as kayaking, swimming, fishing, and scuba diving. If you're looking for a relaxing spot to relax after your day of adventure, you can find plenty of beachside bars and restaurants in Ölüdeniz. You can watch the sunset as you enjoy a delicious meal and a few drinks.
Istanbul & Cappadocia
To do justice to your vacation, we suggest spending some time in the larger inland cities before or after your charter. We can design a trip for you that will encompass unique tours of Istanbul, Ephesus in Kusadasi, and Cappadocia, along with the perfect Turkish gulet and crew for "sailing the Blue" along the Turkish Riviera.
Istanbul
Turkey's largest city and cultural capital, Istanbul is a must-see destination on any Turkey yacht charter. The city is full of magnificent monuments, breathtaking architecture, and incredible attractions. From the grand Hagia Sophia to the bustling Grand Bazaar, the sights and sounds of Istanbul will transport you to another world.
Explore the old city on foot or enjoy a traditional Turkish hammam (bathhouse) before heading off to explore the rest of the Turkish Riviera. Take in the magnificent view of the city from the rooftop terrace at Topkapi Palace and marvel at the intricately carved tiles in the Blue Mosque. Experience the vibrant nightlife in Beyoglu or take a ferry down the Bosphorus for a truly memorable experience.
Cappadocia
Cappadocia is one of the most beautiful and fascinating regions in Turkey. Its remarkable landscape of volcanic rock formations, valleys, and canyons is an unforgettable sight to behold. One of the best ways to take in the sweeping views of this magical region is by hot air balloon. You'll float above ancient caves, fairy chimneys, and cave churches, giving you a unique perspective on this natural wonderland. If you're feeling adventurous, there are also plenty of other activities to enjoy while you explore Cappadocia with your Turkey yacht charter.
On the ground, you can explore the underground cities that were carved out of soft rock by early Christians as a refuge from invading armies. These cities are an incredible testament to human engineering and imagination. Or perhaps take a guided tour of the nearby Goreme Open Air Museum and see some of the oldest Christian monasteries and churches.
Please call us today at 1 (321) 777-1707 or describe Your Vacation Vision to help you plan your fully-crewed private luxury yachting vacation! Inquire as soon as possible about your custom, crewed yacht charter.
You make the memories. We make the arrangements.