Ionian Islands Motor Yacht Charter
The Ionian Islands is a motor yacht charter destination that you will fall in love with. This breathtaking group of beautiful islands is located off the west coast of Greece and has a different feel than their Aegean neighbors. The sunshine and aqua water make it seem almost tropical.
Moreover, since these islands are generally less windy than the Aegean Islands, the Ionian Islands are often favored for summer charters.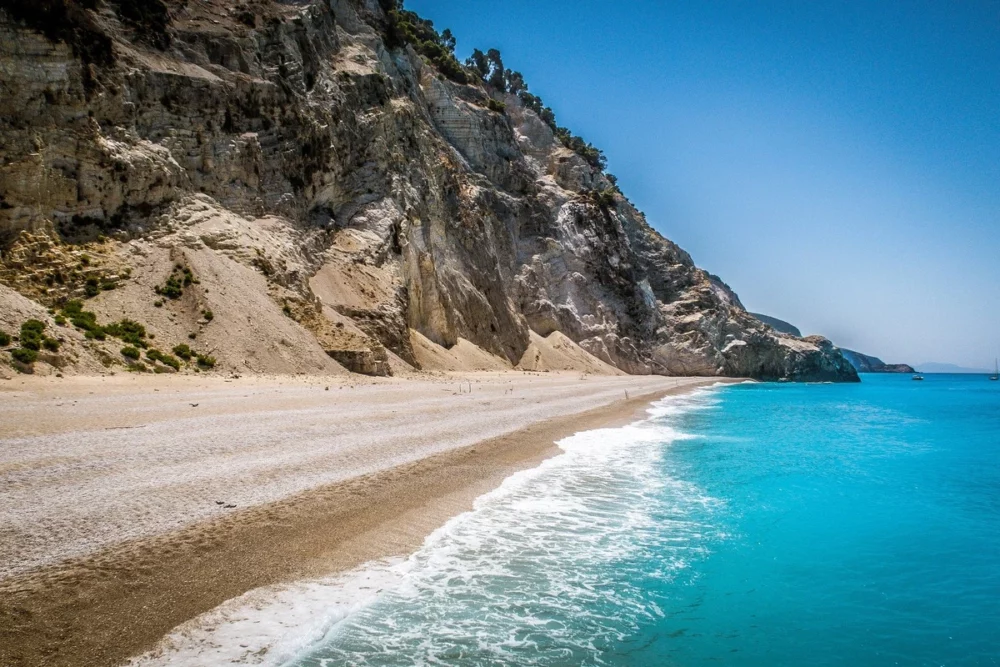 The Ionian Islands
The Ionian Islands in Greece have become a popular destination for luxury motor yacht charters. This is due to the stunning scenery, crystal clear waters, and spectacular landscapes. The Ionian Islands are also home to some of the most beautiful beaches in the Mediterranean, including the iconic Shipwreck Beach on Zakynthos.
The islands offer something for everyone, from relaxing on the beach to exploring the fascinating local culture and historical sites. Enjoy the region's fantastic seafood restaurants, nightlife, and shopping opportunities.
Please note that available Athens-based yachts will relocate to the Ionian Islands for the applicable delivery fees.
Explore at Your Own Pace
Chartering a motor yacht for your vacation in the Ionian Islands is one of the best ways to explore this stunning archipelago. You can set your schedule and enjoy all the Ionian Islands at your own leisurely pace. You'll be able to experience each of the islands as much or as little as you desire, allowing you to take in all their beauty.
With a motor yacht, you can explore the islands in any order and quickly move from one island to the next without worrying about wind direction or the weather. With a motor yacht, you will have access to beaches, coves, and bays that are not accessible by land, providing an intimate experience with the islands and their people.
Furthermore, you can travel between the islands quickly with a motor yacht.
Luxury and Comfort
When it comes to comfort, luxury motor yachts are second to none. These vessels come equipped with different social areas, decks, and staterooms. Think of your yacht as a floating luxury resort where you only have to unpack once!
M/Y CAPRI I
One-of-a-kind luxury motor yacht CAPRI I offers the best onboard amenities and an overflowing toy box full of the latest water sports equipment.
CAPRI I has a full beam master suite on the main deck with king size bed, vanity, and sitting room. A stunning and expansive onyx bathroom features his and hers facilities, four roomy closets including a large walk-in closet, a jacuzzi bathtub, and a spacious shower.
A twin guest cabin on the main deck with an en suite marble bathroom and bathtub make CAPRI I Ideal for families; the twin cabin is separated from the master suite by a large office. Three double guest cabins on the lower deck with queen-sized beds and a couch. All have en-suite marble bathrooms with bathtubs. In addition, there is one twin guest cabin with a couch and an en suite marble bathroom with a bathtub.
The main deck is where most of the action takes place and is usually the most significant open space on a motor yacht. Here you will find the main saloon, where you will spend most of your time lounging and entertaining guests.
M/Y PERSEFONI I
M/Y PERSEFONI I has a sundeck jacuzzi, a sundeck lounge area with dining space and a bar, an upper deck with seating, and an upper deck salon with dining. The views from the upper deck are spectacular and are sure to give you a sense of tranquility. For those seeking a more private experience, many private areas are located throughout the yacht.
When you charter a luxury motor yacht in the Ionian Islands, you can rest assured that you'll be surrounded by comfort and luxury throughout your journey. From the spacious common areas to the private staterooms and amenities, these vessels provide everything you need for an unforgettable experience.
M/Y GRACE
M/Y GRACE is a 30-meter San Lorenzo that accommodates 12 guests in 5 cabins. This yacht is loaded with water toys and is great for families with kids and teens.
GRACE offers wi-fi internet throughout. The main salon features a 70cm television, surround sound system, and Bluetooth compatibility for Spotify or iTunes. All cabins have a Smart TV, DVD player, and music systems.
Itineraries in the Ionian Islands
You can decide where to go and what activities you'd like to do on your yacht charter holiday.
Would you like to explore uninhabited islands? Snorkel or scuba dive among vibrant coral reefs? Or perhaps relax with a beach picnic? Your crew will be able to make all these arrangements for you.
To learn more, head to our experiences hub to be inspired by the many great destinations and activities you can enjoy.
Several itineraries can be taken if you are looking for an island-hopping adventure. Starting in Corfu, you can explore Paxos and Anti Paxos with its beautiful crystal-clear waters. You can sail to Lefkada and explore the beaches and quaint villages.
Then, venture south to Kefalonia and explore its stunning coastline and caves. You could also stop by Zakynthos for fun in the sun before returning to Corfu town.
For a more relaxed holiday, you can start in Corfu and explore this beautiful island's lush landscapes and culture. From there, take a day trip to Paxos and Anti Paxos, where you can snorkel in the clear blue waters and explore the caves. Then, head to Lefkada, where you can lounge on its breathtaking beaches or take a day trip to Meganisi Island. Finally, take a day trip to Kefalonia, stopping at the majestic Myrtos Beach before returning to Corfu.
No matter what kind of vacation you're looking for, we will work with you to craft the best itinerary based on your interests and desires.
Ionian Islands Motor Yachts | Activities
While cruising the gorgeous Ionian Islands on your luxury motor yacht, you will have many activities on land and sea. Besides the fun water toys and entertainment options available onboard the yacht, there are countless things to see and do in the water and on the shore. Following are just a few ideas.
On the Yacht
Relax. Relaxing is the only thing you must do while on your Ionian Islands Motor yacht charter!
Workout. Most motor yachts have fully-equipped gyms if you want to keep up your fitness routine.
Soak up the sun. Find a comfortable sunbed on deck and catch those warm Mediterranean rays.
Dine alfresco. Savor a romantic meal under the star.
In the Water
SUP with a friend. Your yacht will likely have more than one SUP (standup paddleboard). Exploring together is a great way to make memories.
Kayak. Alone or with a friend, gliding through the water and checking out what is just around the next curve in the shoreline is an excellent way to spend a morning or afternoon. Keep an eye out for local wildlife and marine life.
Swimming. Jump in the sea and refresh after a day of land-based fun.
Towable toys. Hang on tight as your crew pulls you behind the tender!
Blue caves in Zakynthos. These caves are magical and a must-see when visiting the Ionian Islands.
On the Shore of the Ionians
Go to the beach. Some of the most popular beaches of the Ionian islands include Corfu, Zakynthos, Kefalonia, and Lefkada. Navagio in Zakynthos, Myrtos in Kefalonia, Agios Gordis in Corfu, and Porto Katsiki in Lefkada are good sandy beaches. Notably, Lefkada is famous for its striking blue water.
Visit villages. Charming villages in the Ionians share a common characteristic: elegant Venetian architecture. Corfu Town is a good example. Wander the narrow paths and admire the stone houses and tiled roofs.
Dine. Although your yacht's chef will keep you well-fed, you'll want to try the local fare.
Shop. Look for small shops offering hand-made traditional products or more upscale boutiques on larger islands.
Please call us today at 1 (321) 777-1707 or describe Your Vacation Vision to help you plan your fully-crewed private luxury yachting vacation! Inquire as soon as possible about your custom, crewed yacht charter.
You make the memories. We make the arrangements.