The Caribbean is a place of enchantment. It is a tropical paradise where the rhythm of the ocean meets the beat of the islands. It's a place where azure waters sparkle like jewels, and the sun casts a golden glow on white sandy beaches. A crewed luxury yacht charter in the Caribbean is an amazing way to see this paradise up close.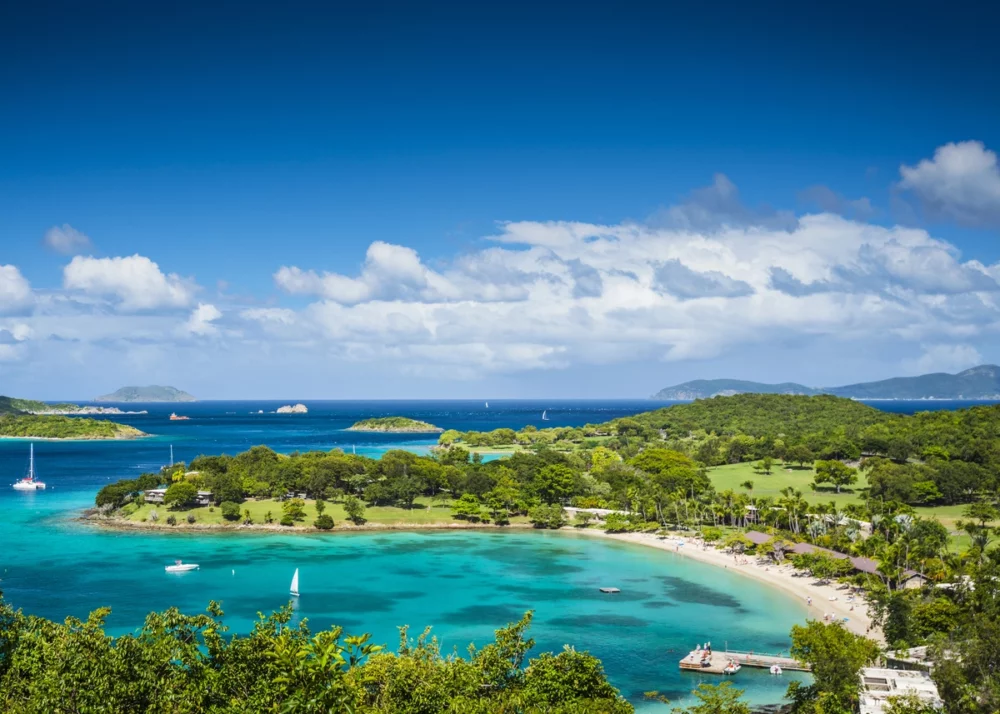 The air is thick with the scent of tropical flowers and the sweet aroma of fresh seafood. Meanwhile, the sound of reggae and calypso music fills the streets. Palm trees sway in the breeze, creating a natural canopy that invites you to slow down and take in the moment.
The Caribbean is a destination that captures the imagination, where you can detach from the world and reconnect with yourself. It's a place where the colors are more brilliant, the people are warmer, and the experiences are richer.
The Caribbean has so much to offer, and each island has its own special vibe. Swim with turtles, explore hidden coves, or relax in a hammock under the shade of a palm tree. The Caribbean has something to offer everyone.
But perhaps the greatest allure of the Caribbean is its sense of escape. It's a place where you can leave behind the stresses of everyday life. The plae allows you to immerse yourself in a world of natural beauty, relaxation, and adventure. It's where you can feel the sun on your skin and the ocean breeze in your hair.
Board Your Yacht and Begin Your Adventure
The experience begins when you step aboard your yacht, where your crew will greet you with champagne and canapés. With your every need catered for by your dedicated crew, you can sit back and enjoy the breathtaking scenery around you.
The Luxury Caribbean Yacht Charter
Many luxury Caribbean yacht charter options are available, with different yachts, crews, and trips. But regardless of which one you select, you can expect a curated experience that will cater to your every desire. Choose from:
These vessels have luxurious amenities like spacious cabins, gourmet kitchens, and the latest entertainment systems. You can also expect top-of-the-line furnishings and decor that create an atmosphere of elegance and sophistication.
Our skilled brokers will collaborate with you to plan your adventure, ensuring it caters to your interests and wishes. We can make it happen if you want to visit exclusive spas, sample local cuisine, or relax and unwind. We can also arrange private tours and other special experiences to make your trip memorable.
The Luxury Caribbean Yacht Charter Crew
One of the best things about a Caribbean yacht charter is the crew. Your captain, chef, and other staff members will meet your expectations with the highest level of service. They will also know the region and can help you plan your days based on your interests.
The Destination
The Caribbean is famous for its exquisite natural splendor, crystal-clear waters, leeward islands, and balmy tropical weather.
A luxury Caribbean yacht charter is an incredible way to experience this paradise in all its glory. There are a plethora of destinations to choose from when planning your trip. Here are just a few of the most popular ones:
The British Virgin Islands (BVI)
The BVI has over 60 islands and islets in the Caribbean Sea. These islands have excellent sailing conditions. They are famous for pristine white-sand beaches, crystal-clear turquoise waters, and lush tropical vegetation.
The BVI has become a popular destination for sailors and yacht enthusiasts. This is all thanks to its calm, protected waters and constant trade winds.
The islands offer various activities, including snorkeling, scuba diving, and fishing. There are also cultural experiences such as exploring the ruins of centuries-old sugar plantations.
The BVI is also home to a thriving culinary scene, with abundant seafood, fresh fruits, and locally produced rum. Despite its popularity, the BVI has maintained its natural beauty and charm. Indeed, it is a must-visit destination for those seeking a tropical paradise.
St. Barths
St Barths, officially known as Saint Barthelemy, is a small island in the French West Indies, just east of Puerto Rico. This stunning island offers visitors crystal-clear turquoise waters, white-sand beaches, and rugged terrain.
The island boasts an interesting mix of French and Caribbean culture, charming cobblestone streets, colonial architecture, and chic boutiques. The French influence is evident in the stylish boutiques and chic restaurants.
St Barths is also a popular destination for yacht enthusiasts, with its well-equipped marina and calm, protected waters.
It offers a range of activities, from snorkeling and scuba diving to hiking and exploring the island's nature reserves. St Barths is definitely a destination for a yacht in the Caribbean.
The island's vibrant culinary scene is a highlight, with a fusion of French and Creole flavors and fresh seafood. St Barths is a popular destination for the rich and famous with its luxurious villas, upscale resorts, and secluded beaches. Still, it also offers a warm welcome to all who visit.
Antigua
Antigua, located in the Eastern Caribbean, is an idyllic island with powder-white beaches, crystal-clear waters, and year-round sunshine. With over 365 beaches, Antigua is a beach lover's paradise. The island's warm, gentle trade winds make it a popular destination for sailing enthusiasts.
Antigua is a popular destination for water sports enthusiasts, with excellent opportunities for sailing, windsurfing, and kiteboarding. The island is also famous for its Antigua Sailing Week, a world-renowned sailing regatta every April.
St. John's, the island's capital, buzzes with life. You'll find vibrant markets, historical spots, and lots of dining and entertainment choices.
Antigua's history shines through its colonial architecture. It is also famous sites like Nelson's Dockyard, a UNESCO World Heritage gem that used to be a big naval base.
The island's diverse landscape also offers opportunities for hiking and exploring natural wonders such as rainforests and volcanoes.
Antigua's vibrant culture finds expression in its music, dance, and cuisine, blending African, European, and Caribbean influences.
The Grenadines
Over 30 islands make up the Grenadines, each with its unique character. From the exclusive island of Mustique to the laid-back vibe of Bequia, there's something for everyone here.
With their unspoiled natural beauty, the Grenadines are a popular destination for those seeking a peaceful and secluded escape. The sugar-white beaches and colorful coral reefs make the islands a haven for snorkeling and scuba diving enthusiasts.
The Grenadines also boast lush tropical forests and hills, providing opportunities for hiking and exploring the islands' natural wonders.
The colorful architecture, music, and cuisine reflect the local culture, blending African, European, and Caribbean influences.
The Grenadines offer a slower pace of life. It is where visitors can truly disconnect from the world and immerse themselves in the islands' natural tranquility.
Activities For Everyone with Luxury Caribbean Yacht Charter
Many luxury Caribbean luxury yacht charters offer a range of activities. You can try activities from snorkeling, scuba diving, water sports, and beach picnics.
The luxurious charter crew can show you the coolest places for these activities and give you all the gear you need. And when you're ready to relax, you can lounge on the deck and enjoy the sensational views.
Please call us today at 1 (321) 777-1707 or describe Your Vacation Vision to help you plan your fully-crewed private luxury yachting vacation! Inquire as soon as possible about your custom, crewed yacht charter.
You make the memories. We make the arrangements.